Rewards sites can be either a hit or miss.
There's an endless supply of them, and you never know if they're legit or a scam before you do your research online.
PointsPrizes is no exception to this.
You're here probably looking for the answer, so let's dive in and find out.
In this review, you're going to learn:
What is PointsPrizes
How to get started
How can you make money with it
How can you get paid
Is it legit?
At the end of this post, I also want to show you a worthwhile alternative that pays better than rewards sites, okay?
Without more time-wasting, let's find out if PointsPrizes is legit and worth joining.
What Is PointsPrizes?
PointsPrizes is yet another GPT-site (get-paid-to) where you can complete paid surveys and offers.
In practice, that includes:
Filling surveys
Downloading apps
Watching videos
Trying free trials
Playing games, etc.
And what's the carrot on a stick for doing so you may ask?
That would be the gift cards and money you get from exchanging your hard-earned points.
Yes, you earn points from the activities I mentioned above. Each activity rewards a different amount of points and I'll explain them in more detail further below.
As for the site in general, there are 1001 similar GPT-sites out there such as Prizes Drop and RewardingWays. In that regard, PointsPrizes doesn't offer anything new.
And in case you didn't know;
These types of reward sites are typically meant for you to earn some supplement cash (at best). If you're looking to make serious money, then you'd have to start an online business.
Who Can Join PointsPrizes?
Anyone can join PointsPrizes no matter where you are from.
Despite that, the survey & offer opportunities vary based on your country.
If you're not from the US, chances are you'll have much fewer earning opportunities within PointsPrizes (& other GPT-sites).
This is because the market research companies want feedback for their products from people who are their target customers. And that happens to be the US in most cases.
Also, some payout options may require you to be 18 years old (PayPal).
How To Get Started?
Getting started with PointsPrizes is fast.
You only need to enter your email address at the home page and you're in.
You don't even need to input a password to log in which I find extremely weird.
This led me to test something;
I inserted a random email and to my surprise, I was able to log in successfully to someone's account and it had earned 1070 points LOL.

Of course, I can't "steal" any rewards because I don't have access to his/her email account, but nonetheless, this system is borderline sketchy.
This could probably be used to grief people by claiming unwanted rewards if someone finds out the email you use to log in.
Apart from that, a general tip I can give is to not use your main email address for GPT-sites. Otherwise, you run the risk of getting spam.
How Can You Make Money With PointsPrizes?
In PointsPrizes, you earn points for completing tasks (surprising).
These points can then be exchanged for money or gift cards.
Currently, the point to money conversion rate is 100 points = $1
Let's now see how you actually go on to earn these points.
Surveys & Offer Walls
Offer walls have a wide variety of tasks that you can complete for points. These tasks can include anything from completing surveys, installing mobile phone apps, watching videos with ads, trying out free trials of products, and even gambling.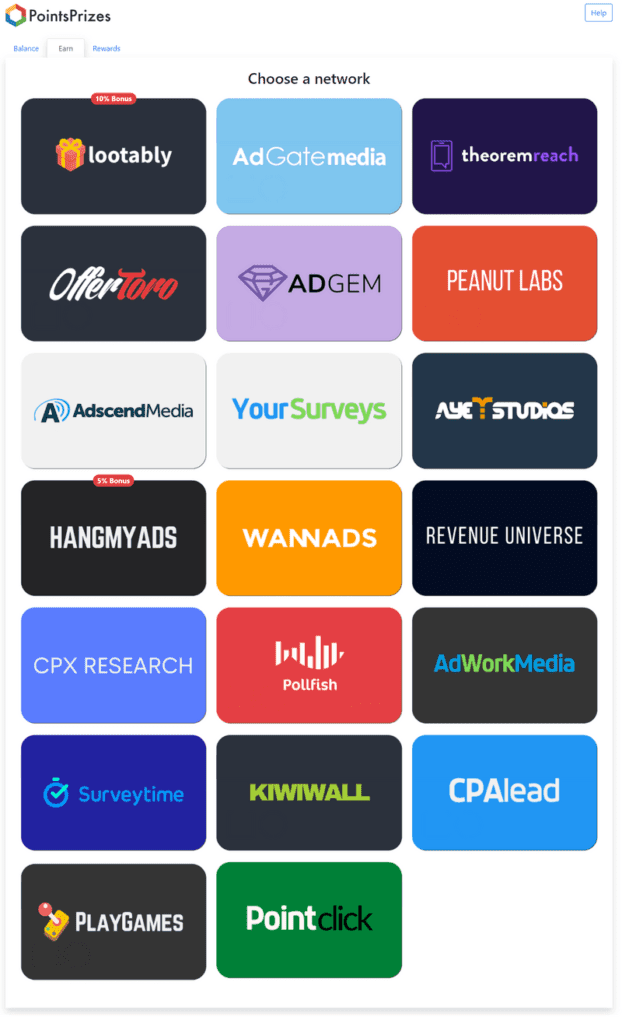 Once you are logged in, you can head over to the "earn" section to find 20 networks that provide different surveys & offers.
I'd advise testing all of them so you can find the ones that have a good supply of offers for your specific country.
The number of points you can earn from these can be anything from 5 to 10,000 — just be aware that the higher paying offers may require you to spend money so it doesn't work out if you're here to earn money.
To avoid those, generally, look for offers rewarding under 500 points.
The easiest offers are usually the ones rewarding under 100 points.
TikTok
You can also promote PointsPrizes on TikTok and earn a $10 Amazon gift code.
If that is something you'd like to do, here are the requirements for it:
Include the video caption "pointsprizes.com".
Include your own voice or use text-to-speech.
Have reached at least 1000 views.
Use the hashtag #pointsprizes.
Use the hashtag #2003291.
Use at least 3 more relevant hashtags.
After you're done, you have to send a link to the TikTok video from your PointsPrizes dashboard so they can review it and reward you.
It seems like a fast way to get your hands on a gift code if you are handy with TikTok.
The Referral Program
I'm a big fan of referral/affiliate programs because I monetize my websites with them.
Surprisingly, PointsPrizes offers a whopping 50% commissions which I was quite surprised to see.
What it means is that you can invite your friends to PointsPrizes and whenever they get rewarded points, you'll earn 50% of their points without doing anything.
For example, if your friend completes an offer that rewards 1000 points, your cut would be 500 points (your friend won't lose any points btw).
Joining affiliate programs can make you a lot of money and if that sounds interesting to you, I've written a quick guide for you here.
How Can You Get Paid?
Once you have earned enough points, you can finally exchange them for rewards.
Here's the reward list:
As you can see, it's a fairly comprehensive list of store gift cards, cash codes, and even cryptocurrencies. There's definitely something for everyone which is a plus.
Although, most rewards require you to have a minimum of 2000 points before you can redeem them. Unless there is a special giveaway running which enables you to redeem rewards with a lower point threshold
For example, the $20 XBOX codes are 2000 points. But then there are 5,10, and 15 USD rewards as well but you can't redeem them because their special giveaway is not running currently.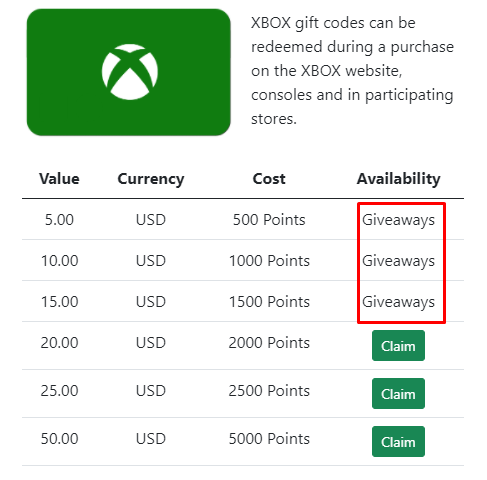 Once you redeem any reward, it'll be sent instantly to your email address.
Is PointsPrizes Legit?
To be honest, I'm suspicious about PointsPrizes.
At the surface, it seems like a legit platform. But after researching for a while, I can't help but notice some weird red flags.
For starters…
My points balance is increasing every 5 minutes even though I haven't completed any offers. If that was really the case, where does the money come from? I don't think PointsPrizes is giving out money off their goodwill.
Secondly, it's damn weird how you can log into anyone's account because the platform doesn't use passwords at all.
Also, if you read people's feedback around the web, many have said the prizes go out of stock when you reach the needed amount of points. I can't confirm this myself though.
Probably the biggest red flag is how there's no support or contact information anymore after their latest 2021 platform update.
Judging by their social media and a few other sources, they have moved onto a new NFT project called "Fearsome Foxes" and have left PointsPrizes running on autopilot without any support aspects.
I can't say it's a 100% scam, but I'd consider joining some other reputable GPT-site just to be on the safe side. For example:
See How I Make Money Online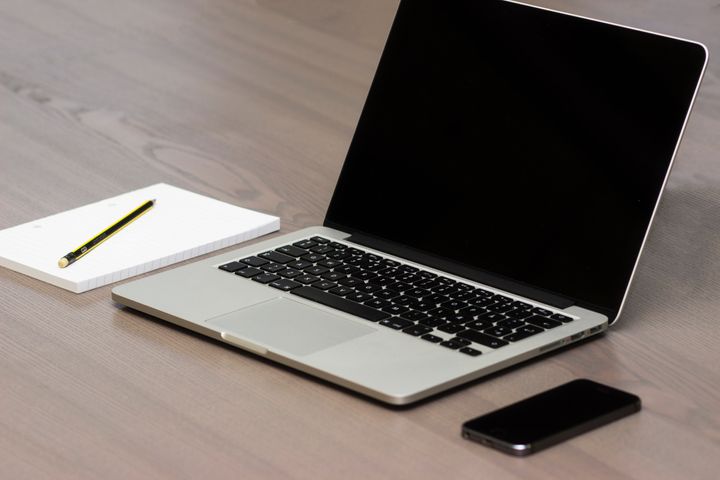 The earning potential of GPT-sites is not great.
If you're tired of grinding repetitive surveys that are not even guaranteed to pay you every time, then I have a worthwhile alternative for you.
I make money online with something called affiliate marketing.
It may sound intimidating and hard to do, but trust me; it's not.
If you'd like to try it out, you can get started for free with this video training course.
Thanks again for reading my PointsPrizes review and feel free to drop comments below.
Talk soon.