Welcome to my review of Prizes Drop; a site that promises free gift cards and prizes.
Now, are they really free?
Not so much, I regard time as a currency, and you do need to spend time collecting points before you can earn all this "free" stuff.
Despite that, you are probably still interested if it's worth your time, and if Prizes Drop is even a legit platform to begin with.
Here are some things you are going to learn in this post:
What is Prizes Drop? (Is it legit?)
How can you collect points?
How will you get paid?
Some pros & cons
Is it worth joining?
And if you are interested in a better-paying alternative, at the end of this post I want to show you my preferred method that I've been using since 2018.
Now then, let's find out what Prizes Drop is all about.
Prizes Drop Review Summary
$0
Earning Potential

Payment Systems

User Experience

Offer Providers
Prizes Drop Review TLDR;
Redeem gift cards & prizes with points that you collect from different offers
Reputable company (4.8 out of 5 rating on TrustPilot)
Impressive offer provider list (15 offer providers & 8 gaming offers)
A good selection of rewards ( 23 prizes)
The site lacks general information on features
Can be time-consuming with low earning potential (there are better alternatives)
What Is Prizes Drop?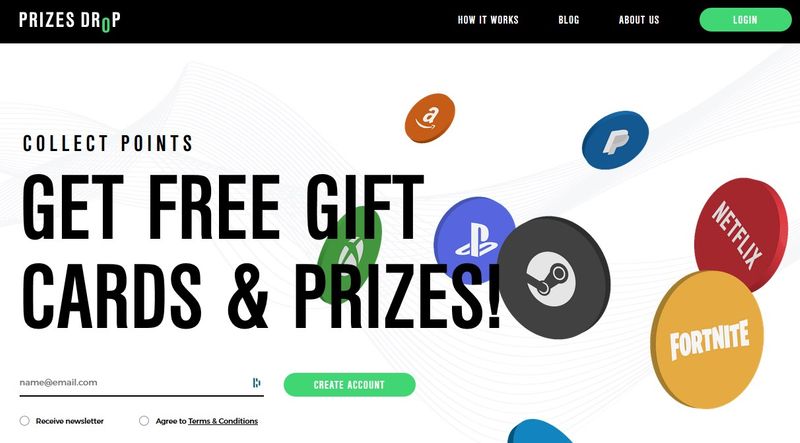 Prizes Drop is a rewards site, sometimes also known as GPT-sites (get-paid-to) where you can collect points by doing simple tasks and offers.
In Prizes Drop's case these simple tasks include:
Filling surveys
Watching videos
Downloading & playing games
Trying free trials on apps
& much more
Each method rewards a different amount of points, and we are going to look into these in more detail further below.
When you have collected enough points you can then exchange them for gift cards, digital rewards, or even cash.
Sounds simple enough, right?
But is the platform even legit and will they really pay you?
Is Prizes Drop Legit?
I have seen a fair share of scam rewards sites, but I do not think Prizes Drop is one of them.
Since the site doesn't tell us who is the person running the site, I had to do some digging.
Turns out it is actually managed by a fairly reputable company called SEDOC LLC in the US. The owner is called Michal Jedrzejczak, and he has been running the company for close to six years.
He has also been running a far larger GPT-site called Bananatic for over 5 years now. It seems Prizes Drop is his new addition to the portfolio, and it is a little over 2 years old at the time of writing this.
Now, is Prizes Drop legit?
One sign of credibility is that Sedoc LLC has been reviewed 3,162 times on Trustpilot, and is rated "Excellent" by 86% of its users. Their overall rating is 4.8 out of 5, so the majority of reviews are positive.
Prizes Drop boasts very similar stats on Trustpilot but with fewer reviews.
They are most definitely legit. Most of the time you can tell from angry feedback if a company is doing shady business and not paying its customers. This doesn't seem to be the case with Prizes Drop.
How To Get Started With Prizes Drop?
If you want to get started with Prizes Drop, it only takes a few minutes to do so.
You simply enter your email address and agree to the terms & conditions, and you are good to go.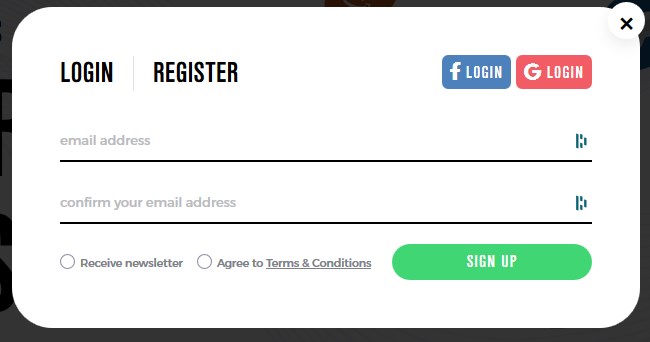 Keep in mind that you should press the activation link inside your email to activate your account as soon as possible. You can't get paid unless you activate the account.
Once you are inside, head to your account settings and add a password to your account, so you can log in at a later time.
What's Available On Prizes Drop?
Next, I'm going to show you the different methods used to collect the points, and what kind of earning potential comes with each method.
Each point is valued roughly at $0.002, so for example if you want to receive a $10 gift card, you would need to gather 5000 points.
Offer Walls
Offer walls have a wide variety of tasks that you can complete for points. These tasks can include anything from completing surveys, installing mobile phone apps, watching videos with ads, trying out free trials of products, and even gambling.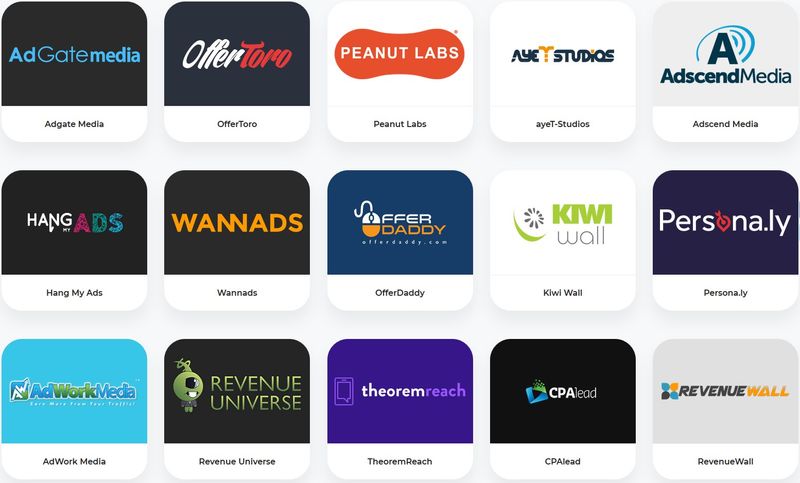 Prizes Drop has 15 different offer providers, most of them are popular brands that I recognize, and a few that I haven't seen before.
There are definitely enough offers for you to complete.
Nothing is worse than having to sign up for multiple GPT-sites to supply your offers. That's not a problem here.
And what comes to the point earning potential, you can expect to earn anywhere between 3 – 20,000 points per task.
Yes that's a pretty large range but it's just the nature of offer walls.
A general tip I can give you is that the more points a task rewards, the more effort it requires from you. It can be either time or money.
Also a good rule of thumb is that any task rewarding more than 4,000 points almost always requires you to spend money before you earn the points.
That's why you should always read what you are required to do for the points. It's not worth it to spend money for the points if you are purely after profits.
You should be cautious especially if you try free trials on products. You always have to remember to cancel the trial before it ends, otherwise you will get billed and the points you might have earned just "lost their value".
Gaming Offers
The Sedoc LLC that runs Prizes Drop also publishes games, so it is no surprise that you can find gaming-related offers here.
How it works is that you create a new account for the game you want to try, and then you play the game and get rewarded the points when you reach the task goal.
Each game may have a bit different goal to complete.
Some require you to make progress each day for 3 days, some require you to reach a certain level, and some have completely unique goals specific for the game.
It may not be the fastest way to earn points, but it's definitely the most fun and low effort way to earn easy points.
There are 8 gaming offers and if you complete all of them, you can earn 7,156 points in total. That's enough for one $10 gift card or cash. Pretty good deal if you ask me.
PrizesDrop TV
Here you can watch YouTube videos and earn points. It's simple and straightforward.
The interesting part is that anyone can add YouTube videos to PrizesDrop TV for generating views. If you want to do that, you simply pay for views with your earned points, and then a small portion of those points gets distributed for people as a reward when they watch your video.
Most videos I saw were gameplay trailers from indie game companies, games that Sedoc LLC publishes, and game reviews from Bananatic's YouTube channel. There were also a few random meme videos.
It's not a fast way to gain points, but it's semi-passive since you can just mute the video and play it on the background if you want.
It's semi-passive because you need to press play after every video, so it requires some effort. Most videos I saw were between 1-2 minutes long, but there was also one 30-minute developer interview video.
You can earn 1 point per every 5 minutes if you don't waste time in between the videos. It's not a lot of points if you ask me.
The Referral Program
Prizes Drop has a referral program just like most other GPT-sites.
It's a passive way to earn points, and it's done by sharing your unique referral link.
When someone joins the platform through your links and earns 500 points, you get rewarded $1 which equals 500 points.
How it works is not explained at all, but I assume you earn $1 only once when your referral reaches the 500 point threshold.
It would be better if the system was percentage based just like in most GPT referral programs. That would allow repeated earnings from your referrals when they earn points.
If you want to get the most out of referral programs, you should have an audience whom to promote your referral links. Promoting stuff like this can actually earn you a full-time income when done correctly, and it is something I actually do with my online business.
It's also called affiliate marketing and I have written a quick summary of it.
Advertising Prizes Drop
You can also earn points by advertising Prizes Drop with links on forums and gaming websites.
You submit the address where you advertised, and presumably someone manually reviews it and grants you 10-500 points.
It's hard to tell more about this because it's not explained at all.
How Do You Get Paid In Prizes Drop?
As you probably already know, you can get paid in gift cards, prepaid credit cards, or cash through PayPal.
The selection is pretty large as there are 23 different prizes to choose from.
These include gift cards to some of the most popular online stores and services. And since Sedoc LLC is working in the gaming industry, there are digital rewards related to gaming as well.
All the prizes are sent to your email when you redeem them, except if you decide to get paid through PayPal.
Something worth mentioning about the PayPal method is that the payments are only paid up to 5th day of each month. It means you may have to wait a few weeks for your payment to arrive if you cash out in the middle of the month.
Also note that if you decide to get paid in money, there's often a small transaction fee taken from the amount you withdraw.
Pros & Cons Of Prizes Drop
PRO: A Large Selection Of Rewards
There are 23 prizes to select from and they cover the most popular online stores and services out there, and I'm sure there is something for everyone.
Many of these gift cards also have a country and currency specific options. It means they are catering to a worldwide audience, which makes it very easy for anyone to get benefit out of Prizes Drop.
And if gift cards aren't your thing, you can always redeem your points for PayPal cash.
PRO: Many Offer Providers
Some rewards sites suffer from a lack of offers to complete but not this one.
Prizes Drop has 15 offer providers, and each provider has 10-50 tasks to complete for points. There are also 8 gaming offers that reward a lot of points for relatively low effort.
The good thing about Prizes Drop is that you don't need to sign up for multiple GPT-sites to have enough offers to complete.
PRO: Very Good Reputation
The reviews on TrustPilot tell a lot about the good reputation of the company.
If you missed it, it has been reviewed 3,162 times and has a 4.8 rating out of 5 with mostly positive reviews.
I don't think Prizes Drop is going to crash anytime soon or run with your money.
CON: Lacking Information
It would be nice to have a FAQ or something that explains the site features in more detail.
At the moment, the site feels very bare-boned.
The referral program in particular needs more information.
CON: Low Earning Potential
Now, this is a problem with every GPT-site out there.
It's not a big secret that the earning potential just isn't there with rewards sites.
You are earning very little in comparison to how much time you are spending on grinding those offers.
However, I have a solution to this that might interest you.
Is Prizes Drop Worth Joining?
If there is some specific prize you really want but don't want to spend cash (or you don't have money), then it could be worth joining for sure.
The gaming offers in particular seem to be a good way to earn points if you can wait a few days to complete them. If you complete all eight gaming offers, you can earn up to 7,156 points which are close to $12-13 judging by their gift card values.
If you are purely after cash, then I can't really recommend Prizes Drop or any other GPT-site for that matter. You may feel otherwise, and have different motives though.
The amount of time and effort you need to invest in grinding those offers is not worth it.
I have done offers in the past for money, and it gets unbelievably boring and grindy after a while.
That is why I don't do them anymore, I feel like my time is better spent on higher-paying methods which there are plenty these days.
If you feel the same and would like to earn dollars instead of cents, I have a worthwhile alternative to show you.
How I Make Money Online
Now before you head out and sign up for Prizes Drop, let me tell you how I make money online — It is not with rewards sites though.
I create simple websites that generate me money each and every month without much attention from me once the work is done.
It may sound intimidating and hard to do, but it's actually not.
Anyone can do it without coding experience or special skills.
The best part is that you can make a full-time income with this method when done correctly.
I have a quick guide about this if you'd like to take a look, and I also have a beginner-friendly 10-day video training course that you can join for free.
It's called Wealthy Affiliate, and it has been my number one recommendation for the past 3 years. It's the same place where I got started back then.
Thanks again for reading my Prizes Drop review, and I hope it was helpful.
If you'd like to ask any questions, feel free to drop them below, and I will gladly answer them.
I'll leave you to it.