Currently, an estimated 30.8 million adults in the US smoke cigarettes.
With such a big problem, there's also a big market for helping people quit smoking and this is where the opportunity lies for affiliates like you.
If you have a website, YouTube channel, or social media handle, you can connect addicts with helpful products (& earn decent affiliate commissions in the process).
So without further ado;
Below you can find my list of 10 quit-smoking affiliate programs that include everything from smoking cessation programs, fluid drops, online pharmacies, vapes, and even hypnotherapy.
You may also be interested in these related affiliate programs: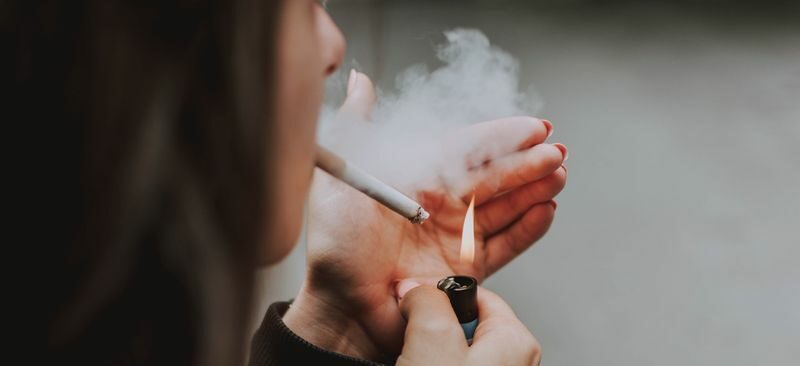 10 Quit Smoking Affiliate Programs To Promote
NicoBloc
Quit Smoking Online
Stop Smoking Sucks
RiteAid
Quit Smoking Magic
MindMaster
Black Buffalo
Vaporfi
Hypnotizr
Hypnosis Downloads
NicoBloc
NicoBloc is a US-based company selling fluid drops that reduce the amount of tar and nicotine you get from a cigarette. This product is aimed at people who want to quit or reduce their smoking.
The fluid is applied to a cigarette filter and it traps the nicotine and tar inside the filter. The more drops you apply, the more nicotine flow you can block.
The benefit is that you're not just changing to another nicotine delivery method (gum & patches), but gradually reducing the nicotine intake altogether (allowing you to quit).
Their website is well branded and I can see this could be a worthwhile company to promote as an affiliate.
You can become an affiliate for free through their affiliate program on AvantLink. They also have a dedicated affiliate team to assist you if needed.
They pay 8% commissions and according to them, their average order value is $800 which is mindblowing to me. You could earn some big commissions if their statement is true.
8% Commissions
30-Day Cookie Length
Quit Smoking Online
Quit Smoking Online is a free course on… well, quitting smoking. They've been around since 1996 and have helped more than 100,000 people quit smoking.
Now, you're probably wondering what's the point of promoting this if it's free?
At the end of the free course, people can donate $20-100 to receive all kinds of goods:
21-Day email course
A PDF version of the course
MP3 files
Personal "Quit Assistant"
Weight loss & health repair kit eBooks, etc.
Around 3% of people decide to donate after taking the free course so there is potential for earnings here.
Their website is quite old no doubt, but this free course is something you could offer to people as a free alternative on your website. And perhaps some people will donate.
Their affiliate program is on ClickBank which is rather easy to join (& free), and you can earn a generous 50% commission from all the donations made through your affiliate links.
50% Commissions
Cookie Length: –
Stop Smoking Sucks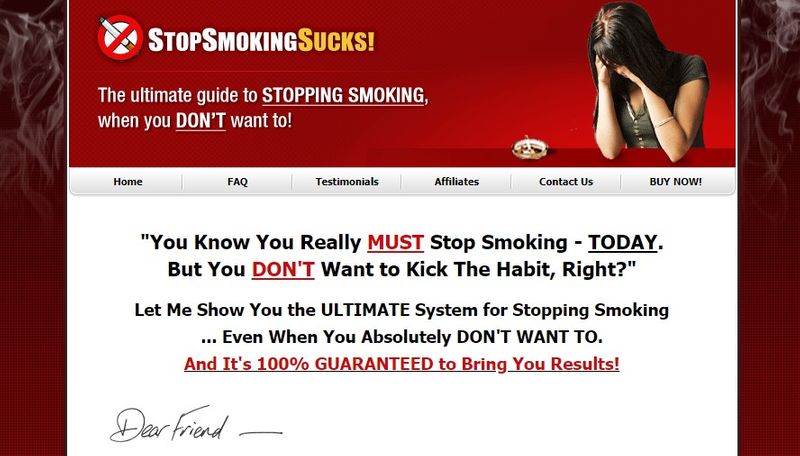 Stop Smoking Sucks is a downloadable eBook product created by "Self Development Network".
In short, it's a smoking cessation program where you get access to a 4-step plan to stop smoking in 28-days or less.
The eBook costs $24.95 and customers get a 100% satisfaction guarantee which is a positive selling point when promoting this product.
The "Self Development Network" also sells more than 100 other products which you can promote when you join their affiliate program.
As an affiliate, you can enjoy 50% commissions and a 60-day cookie length when you join them.
50% Commissions
60-Day Cookie Length
RiteAid
RiteAid is an online pharmacy store where you can find smoking cessation products such as nicotine gums, patches, & lozenges.
The store is not exclusive to smoking cessation, but I still wanted to list it since it's relevant.
The affiliate program for RiteAid is on the AscentPartner Network where they provide payments, tracking & reporting for affiliates. You also get access to banner ads and product feeds which you can embed to your website to showcase products.
Unfortunately, they are not disclosing their commission rates or cookie length.
Now, I also want to mention this;
There are tons of similar online pharmacies with affiliate programs that you could join and promote. Even Amazon has smoking cessation products and you could join their affiliate program here.
If you'd want to find other similar stores, you can check out my guide where I show you my methods:
Quit Smoking Magic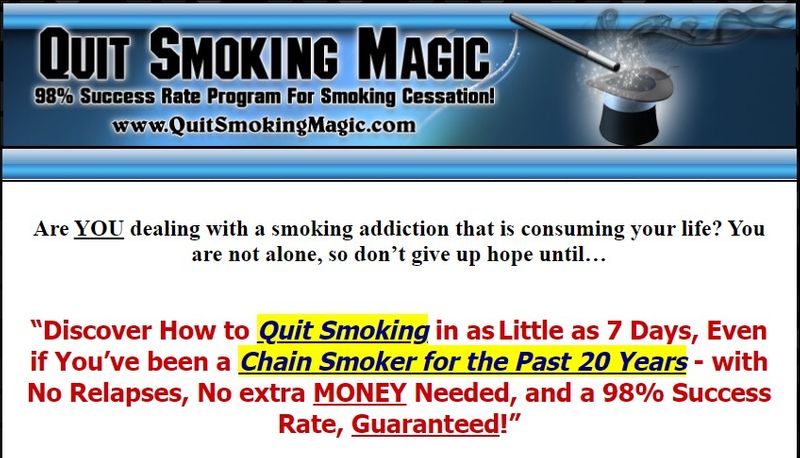 Quit Smoking Magic is another smoking cessation program offering a downloadable eBook.
The promise is that you can quit smoking in as little as 7 days and with a 98% success rate.
The product costs $37 and also comes with 3 bonuses called:
How to Whiten Your Teeth
End Bad Breath
How to Clean Your Lungs
It's a good addition that you can use to incentive people to buy the product.
Their affiliate program is on ClickBank and you can earn a sizable 75% commission on all sales made through your links. With this product, it amounts to $27.75 for each sale.
75% Commissions
Unknown Cookie Length
MindMaster
MindMaster is a self-development program sold on ClickBank.
The main focus is on quitting smoking, but it also comes with other perks like:
Increasing your self-confidence
Losing weight & getting in shape
Achieving your life goals
The product costs $39.95 and you also get like 30 different eBooks as a bonus when you buy this product.
The way this works is somewhat unique because this program is something you download on your PC and it shows motivational messages and images on your screen.
I suppose the idea is to get into your subconscious while you're working on your PC.
You can promote this program by joining ClickBank. They offer 56% commission rates and your cut would be around ~$22 per sale.
56% Commissions
Cookie length: –
Black Buffalo

Black Buffalo is a US-based online store that sells chewing tobacco. It's meant to be an alternative to cigarettes, dip pouches, & long cuts.
What makes this even better for affiliates to promote is that they now provide nicotine-free versions for people who want to get rid of the addiction.
You can join their affiliate program either through Refersion or CJ affiliate networks. Both methods are free and just require you to fill out an application.
They offer 12% commissions when you refer new customers to their products and 8% commissions for any returning customers. You have a 30-day cookie window to convert your customers.
12% Commissions (8% for returning customers)
30-Day Cookie Length
VaporFi

VaporFi is an online store selling vapes, e-liquids, mods, and even CBD. They were founded in 2013 and are a subsidiary of International Vapor Group, Inc.
While not directly related to smoking cessation, many smokers have made the switch to vapes and have successfully stopped smoking with their help.
Vapes are something you could offer as an alternative on your website.
What makes VaporFi interesting to promote is the 20% lifetime recurring commissions for e-liquids. The customers can set up an auto-delivery for these liquids and you'd earn commissions every time for that.
They also have a 365-day cookie duration which is plenty.
You can apply to their affiliate program directly on their website and once you get accepted, you'll get access to affiliate managers, website banners, email creatives, and much more.
10-20% Commissions
365-Day Cookie Length
Hypnotizr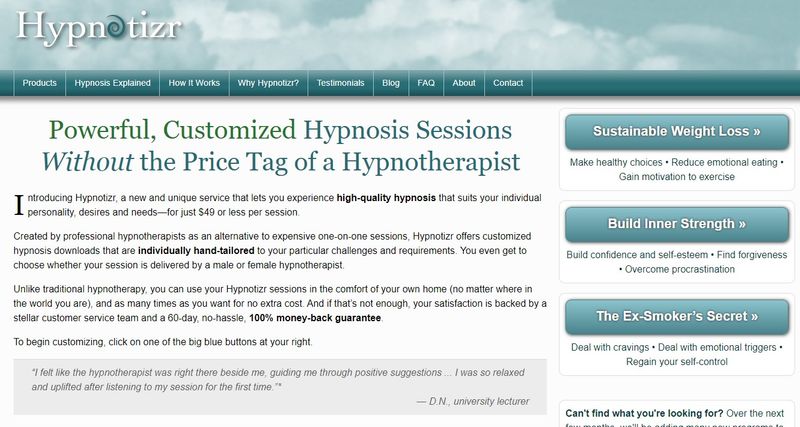 Hypnotizr is an online service that offers high-quality hypnosis sessions by professional hypnotherapists.
They have one program specifically for smokers and it should help deal with:
Cravings
Emotional triggers
& Regain your self-control.
How it works is that you first fill out a questionnaire and then decide how many sessions you want to have in your program.
Then, they'll build an individually hand-tailored session for your situation and email it to you in 24 hours.
One session typically costs $49 and you can earn 50% commissions with their affiliate program. So you can expect to earn between $24.95-$49.50 per sale (depending on the number of sessions).
50% Commissions
365-Day Cookie Length
Hypnosis Downloads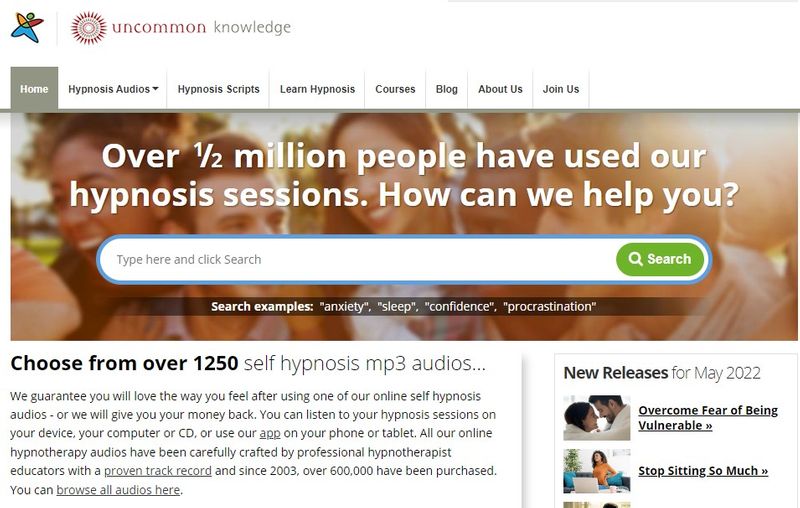 Hypnosis Downloads is an online hypnosis MP3 audio & script center founded in 2003 by "Uncommon Knowledge" specialist psychology company.
They have one of the world's largest collections of hypnosis audio tracks and scripts (1,000+) made by professional hypnotherapists.
Naturally, they also have a program for quitting smoking.
Customers can buy individual products for a flat fee or join the "Growth Zone" membership to access all products for ~$22/month.
As an affiliate, you can earn 35% commissions on all sales which makes especially the monthly membership lucrative to promote since you can earn recurring commissions.
35% Commissions
365-Day Cookie Length
How To Start An Affiliate Website In The "Quit Smoking" Niche
I hope this list of 10 "quit smoking" affiliate programs gave you some ideas on different ways you can make money in this niche.
If you already have a website or a YouTube channel to promote these products, then you probably already know what to do next.
But if you're completely new to affiliate marketing and would like to learn how to start your own affiliate website and (successfully) promote these programs to make money;
You can check out this free resource to get started.
---