Are you a cigar aficionado looking to turn your passion into profits?
If so, you'll be pleased to know that there are plenty of cigar affiliate programs available for you to join. By partnering with cigar companies as an affiliate, you can earn commissions on sales made through your unique affiliate link.
And with the cigar industry experiencing a steady annual growth of 4.54% per year, now is the perfect time to get in on the action.
So today, I'll introduce you to some of the best cigar affiliate programs that offer excellent commission rates, high-quality products, and great service.
Below you'll also find a detailed guide on how you can start making money with these cigar affiliate programs and some things to be aware of, so look out for that.
Now, grab your favorite cigar, and let's dive in!
You may also be interested in these related affiliate programs:
10 Cigar Affiliate Programs To Promote
Famous Smoke Shop
Cigar Club
Mike's Cigars
Kiki Momo Cigars
Cigar Country
Gotham Cigars
Cuvana E-Cigar
Cigar Month Club
Cigar Page
Custom Tobacco
Famous Smoke Shop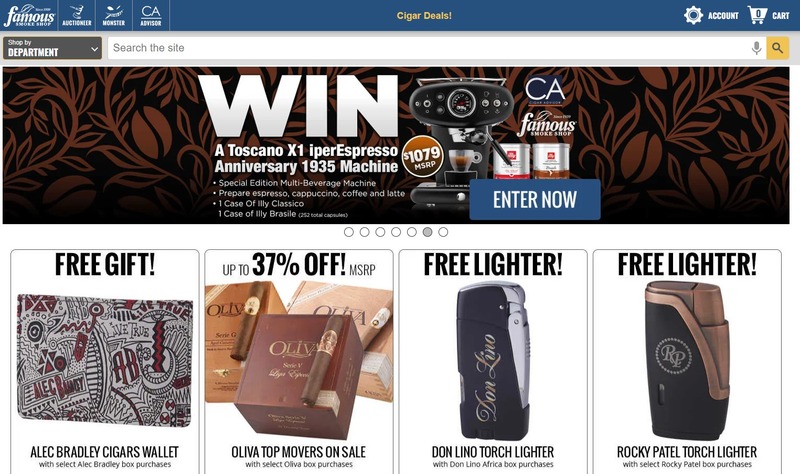 Famous Smoke Shop is one of the leading retailers of cigars in the United States since 1939.
Famous Smoke Shop has a wide variety of premium cigars, cigar humidors, and cigar accessories that are sure to appeal to any cigar lover. They also offer popular machine-made cigars, bundle cigars, and cigar samplers – all with a freshness guarantee.
As an affiliate, you can join their affiliate program on the Commission Junction platform. With commission rates of up to 15% and a 30-day cookie duration, you can earn a decent commission promoting high-quality cigars and cigar accessories.
The average order value is over $140, meaning you have the potential to earn over $21 per sale in commissions. Famous Smoke Shop also frequently releases new promotional coupon codes and special offers, giving you plenty of opportunities to promote their products on your website.
In addition, they provide a wide variety of creative banners with custom banners available upon request.
Overall, this brand is a great choice for affiliates who want to promote high-quality cigars and accessories along with generous commission rates, frequent promotions, and a dedicated affiliate manager.
15% Commissions
30-Day Cookie Length
Cigar Club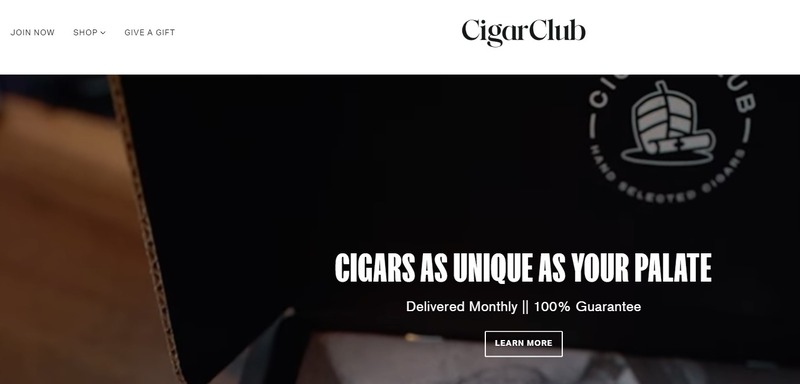 Cigar Club is a unique subscription service that provides customized cigars based on your taste preferences. This is done by taking a short quiz.
They offer two subscription options: Cigar Club Monthly and Cigar Club Customs.
With the CigarClub Monthly subscription, you can choose between 3, 5, or 10 cigars that are handpicked by their team. And with the CigarClub Customs subscription, you receive 5 or 10 custom-blended cigars that are created in small batches every other month.
One interesting aspect of Cigar Club is that they offer a 100% Discovery Guarantee, which means that if you don't like a cigar they send you, they will find a perfect replacement to add to your next box, free of charge. This ensures that every cigar that you receive is tailored to your preferences and satisfaction.
Their affiliate program offers a 10% commission rate and a 90-day cookie duration, making it a lucrative opportunity for affiliates to promote these subscriptions. With their unique and high-quality products, paired with excellent customer service, Cigar Club is an online store that your audience will surely love.
10% Commissions
90-Day Cookie Length
Mike's Cigars
Mike's Cigars has been serving customers since 1950 and is one of the largest cigar stores in the US. They're proud to offer an impressive inventory of over 10 million cigars and 1,000 different brands, as well as a wide variety of cigar accessories.
But what does Mike's Cigars offer for affiliates?
Well, they offer decent commissions, starting at 10% for new customer sales and 5% for any subsequent sales from the same customer. This means there is a chance to earn small recurring commissions.
Also, as your sales volume increases, so does your commission rate; 11% when you reach $5,000+/month and 12% at $8,000+/month.
So, with their average order value of $200+ and starting rates of 10%, you can expect to earn $20+ per sale.
They also have a dedicated affiliate manager who can offer you exclusive promotions to help you increase your sales. And if your audience is located in the US, they can receive free shipping on all orders over $150. International shipping is also available, so you can promote this brand across the globe!
If you're looking for a great partner in the cigar industry, you can't go wrong with Mike's Cigars.
10-12% Commissions
30-Day Cookie Length
Kiki Momo Cigars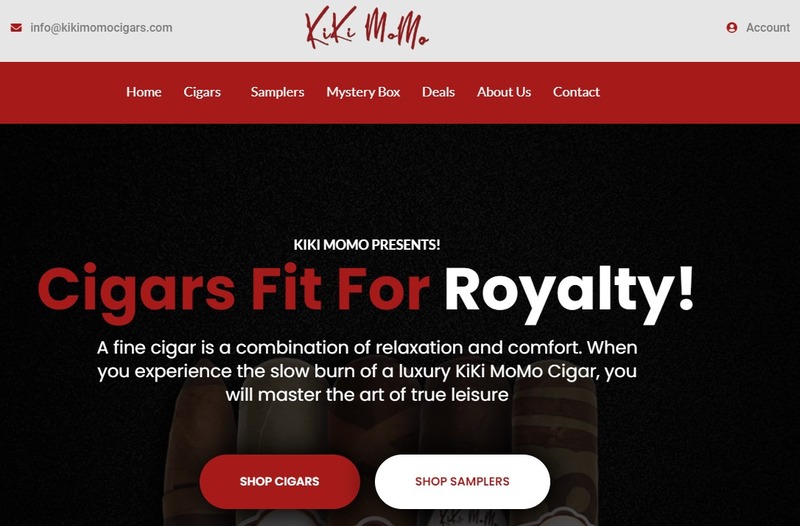 Kiki Momo Cigars is a luxury cigar brand that offers a wide range of cigar products, samplers, and accessories to cigar enthusiasts all over the world.
Their cigars come in various sizes, wrappers, and shapes, so there is something for every taste preference.
They also offer a monthly mystery box for $99/month that comes with a bundle of 25 cigars. The cigars consist of top sellers, trending products, and customer favorites.
When it comes to their affiliate program, you receive a 10% commission on all purchases made through your affiliate link or personalized coupon code.
Payments are made through PayPal at the end of the following month, making it easy and convenient for you to earn money promoting Kiki Momo Cigars.
You can become an affiliate by filling out a simple application on their affiliate page.
10% Commissions
30-Day Cookie Length
Cigar Country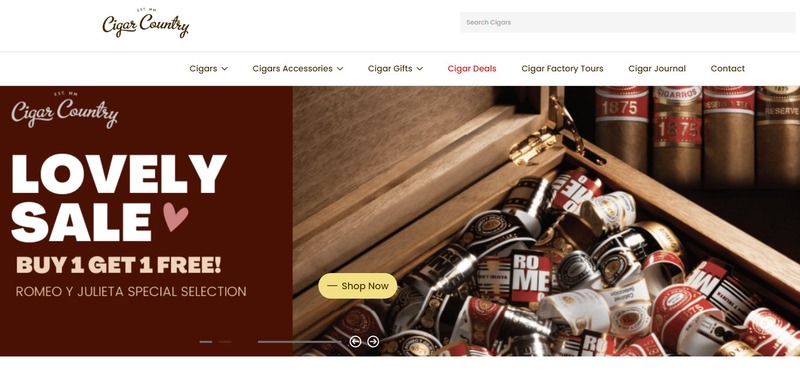 Cigar Country is the ultimate destination for all your cigar needs. Since 2000, they've been the go-to tobacconist and cigar expert based in the Dominican Republic.
They offer an extensive catalog of cigars, cutters, lighters, and humidors as well as a database to search by brand, factory, and country of origin. Customers also get free shipping on orders over $150.
Cigar Country's affiliate program features commission rates starting at 10% for every new customer and 5% for returning customers.
The average order value is over $100, and this means your average commissions are around $10+ per sale.
As an affiliate, you also get online video sales training, a 30-day referral period, monthly newsletters, and affiliate dashboards to track performance. Additionally, they offer a marketing calendar and exclusive coupon codes, along with a dedicated affiliate support team with exclusive promotions.
Commissions are paid out 15 days after the end of the month.
10% Commissions
30-Day Cookie Length
Gotham Cigars
Gotham Cigars was founded by Manny Balani and they offer a vast selection of premium cigars, cigar accessories, e-cigarettes, cigar cutters, cigar lighters, and more.
The brand is a division of a larger nationwide wholesale tobacco company, which ensures that all cigars have been thoroughly inspected by their manufacturers prior to arriving at their facility.
As an affiliate, you'll enjoy the same world-class service that Gotham Cigars provides to its cigar-buying customers; 10-12% commissions, Daily updated data feeds, a 30-day cookie, high-converting coupon offers, creatives, and holiday-themed promotional materials, and responsive knowledgeable affiliate managers.
10-12% Commissions
30-Day Cookie Length
Cuvana E-Cigar
Cuvana E-Cigar is a well-known and popular brand of high-quality electronic cigars.
Their products provide a cleaner and safer way to indulge in the cigar passion without any of the negative aspects associated with traditional cigars. Their electronic cigars contain no tobacco or tar, produce no ash or smoke, and have no odors.
For affiliates, promoting Cuvana E-Cigar comes with many benefits.
Their affiliate program offers 10% commissions on all referred sales, a 60-day cookie tracking period, and a wide variety of creative banners and text links to choose from. Furthermore, they provide data feeds and widgets as well as a dedicated affiliate manager to respond to any queries.
If you were to promote their 20-pack of cigs ($435) with 10% commission rates, your cut would be $43.5 per sale.
Cuvana E-Cigar provides a unique alternative to traditional cigars, and you may find success in promoting this for people who are looking for healthier choices or people who want to quit smoking.
10% Commissions
60-Day Cookie Length
Cigar Month Club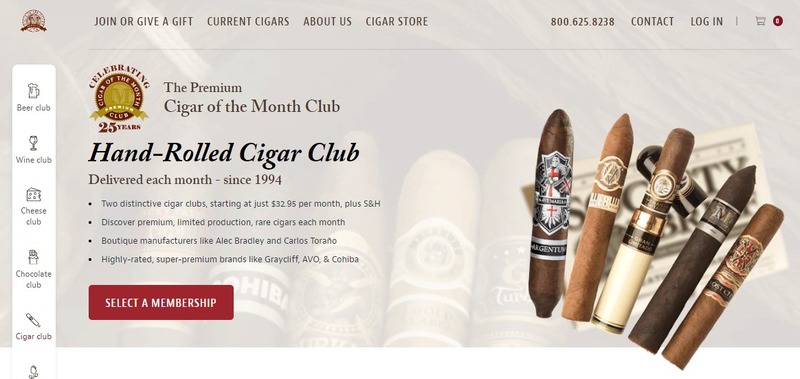 The Premium Cigar of the Month Club is a subscription service that has been delivering exceptional quality cigars every month since 1994.
They rate over 12,000 cigars every year and only the best will ever make it to their customer's lips.
If you're an affiliate looking to promote high-quality products to your visitors, The Premium Cigar of the Month Club is a great option. With its affiliate program on Commission Junction, you can earn up to $12 commission for every membership sale.
This cigar club is part of the larger MonthlyClubs.com affiliate program, so you can potentially promote their other memberships too, ranging from beer to cheese.
Commissions: up to $12 per sale (flat-rate)
90-Day Cookie Length
Cigar Page
Cigar Page is an online store where you can find top cigar brands, cutters, humidors, lighters, and more.
They offer a wide selection of premium cigars from trusted brands like Padron, Rocky Patel, and Arturo Fuente, to name a few. You'll also find all the accessories you need to fully enjoy your smoking experience.
Cigar Page's affiliate program is hosted on the Ascend platform, and it offers a 5% commission rate on all sales generated through your affiliate link. If you drive a significant amount of sales volume, there's a possibility for even higher commission rates.
By partnering with Cigar Page's affiliate program, you'll have the opportunity to earn commissions while promoting a brand that's passionate about providing cigar enthusiasts with quality products and exceptional customer service.
So, if you're an affiliate looking for a reliable and reputable partner, then Cigar Page might just be the right fit for you.
5% Commissions
30-Day Cookie Length
Custom Tobacco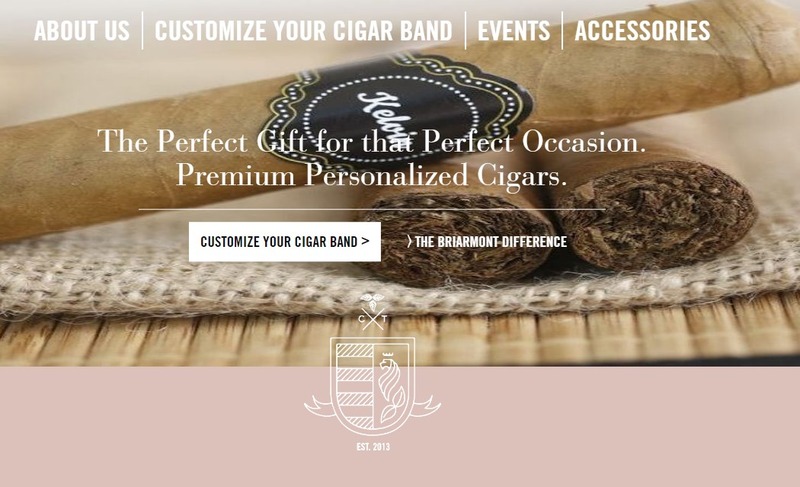 Custom Tobacco is a brand that offers fully customized premium cigars through its website.
Customers can create and purchase customized cigars with a private label cigar band featuring their own messaging, logo, and color scheme. Additionally, they can choose from a variety of blends to create a completely tailored experience.
This brand is not just for cigar enthusiasts, but also offers a memorable gift for special occasions such as bachelor parties, weddings, and corporate events.
Custom Tobacco also offers an attractive affiliate program that offers a commission rate of 25% for affiliates (which is unusually high for physical products). This makes it a great opportunity for affiliate marketers who are interested in promoting these unique cigars.
25% Commissions
30-Day Cookie Length
How To Start Your Own Cigar Affiliate Website
While starting and running an affiliate website might sound intimidating, it doesn't have to be when you have a proven roadmap to follow.
Below is a simplified version on how you could go about it.
Choosing a Domain Name for Your Website
The first step in building your cigar affiliate website is to choose a domain name.
Your domain name should be:
Memorable
Easy to type
Relevant to cigars
You should also get a ".com" domain, as it's the most recognized and trusted domain extension. You can use domain name registrar websites like Namecheap, GoDaddy, or Wealthy Affiliate to purchase your domain name.
I have also written an entire article on choosing the perfect domain name for your website.
Setting Up a WordPress Website
The next step is to set up your website.
I highly recommend you choose WordPress because it's easy to use and highly customizable.
You will need to purchase web hosting, which can be done through a variety of web hosting companies like Bluehost or SiteGround.
Once you have set up your website, you can customize it to your liking using WordPress themes and plugins. When it comes to themes, go with GeneratePress.
This step along with free starter hosting is explained in my more-detailed guide below.
Creating Content For Your Website
The most important aspect of your cigar affiliate website is the content.
You should create high-quality content that is informative, engaging, and relevant to your target audience. Your content should focus on topics related to cigars, such as cigar reviews, cigar accessories, cigar culture, etc.
To create content, you can write blog posts, create videos, or produce podcasts. You should also optimize your content for search engines by using relevant keywords.
For beginners, I'd recommend starting by creating blog posts.
Building a loyal audience is essential when promoting cigars. Your cigar customers are likely to be older, so it's important to keep them engaged by providing content catered to them.
Monetizing Your Website
The final step is to monetize your cigar affiliate website.
One of the best ways to do this is through the above-mentioned affiliate programs.
This involves signing up with cigar brands and promoting their products on your website and within the content. You'll earn a commission for every sale made through your affiliate links.
Once you have joined 1-2 affiliate programs, you can promote their products on your website by writing product reviews, buying guides, or placing banner ads.
Another way to monetize your website is through advertising.
You can display ads on your website using Google AdSense or other premium ad networks.
And that's about it in a nutshell!
With all that being said, there are certain rules and regulations that must be followed when promoting cigars.
For example, affiliates must comply with regulations for advertising age-restricted products and you may have to prevent minors from viewing or accessing your content.
If you want to get into the cigar niche, I'd research about these restrictions before you go all in with your website.
Now if this sparked your interest, you should check out this more-detailed guide:
Start building your cigar affiliate website for free.
It's a full step-by-step resource that will have you up and running in as quickly as today.
Yes, you'll have your cigar website live in under 1 hour if you get started now.
So make sure to check it out!