Welcome to my Surge 365 review!
Traveling and making money at the same time sounds like a dream come true for many.
Surge365 is offering a combination of these by saying that you can "make more, travel more, and save more".
Chances are someone introduced you to this seemingly amazing opportunity and wants you to join the bandwagon.
I'll show you if this opportunity is as good as they make it sound.
I'm not associated with Surge365 in any way, so you are going to get my opinion from a third-party perspective and as someone who reviews similar opportunities daily.
In addition to that, I'm going to show a better option that actually makes traveling while earning money a realistic option for you.
Sounds good? Let's get started.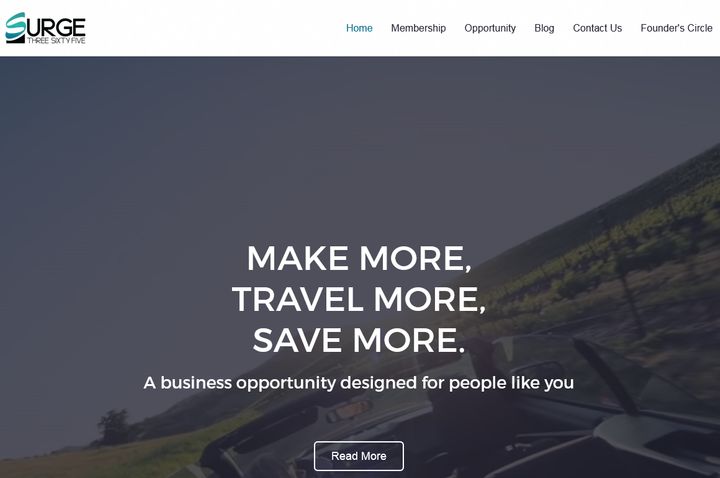 ---
Surge365 Review Summary
Product Name: Surge365
Owners: Scott Tomer, Lloyd Tomer, Chris Cokley
Product Type: Travel Booking MLM-Company
Price: $499 One time fee + $99.95/month thereafter, and additional $19.95/mo for business associates
Summary: At first sight, Surge 365 seems like a good option for travelers to save and earn money but this image is shattered quickly. The membership fees are so expensive that you won't benefit much from the travel discounts, if at all. The owners are also known for a gigantic pyramid scheme from the past called YTB and this could be a continuation for that. Lack of products and emphasis on the business opportunity (recruiting) signals that this could be possible a pyramid scheme in a disguise.
Rating: 3/10
Recommended: No
---
What Is Surge365?
Surge365 is an MLM-company selling a wholesale membership that grants access to a third-party travel booking platform.
This third-party company is called Pro Travel Network and you are supposed to get discount deals whenever you book vacations, flights, hotels, cars, and cruises through their platform.
Since this is a multi-level-marketing company, it has a business opportunity available for members who want to make money from home or while traveling.
Saving on trips and earning money while traveling sounds appealing but let me tell you that it's not all bees and honey with this company.
Surge365 was founded in 2015 by these gentlemen: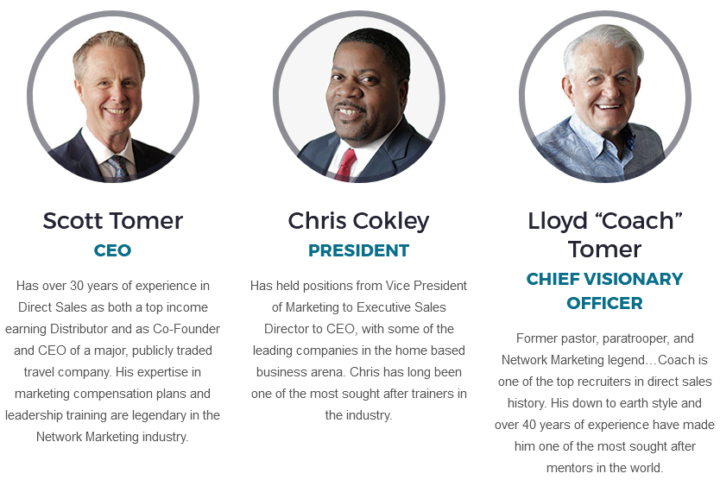 At least both Scott and Lloyd Tomer are known to be previous founders of a gigantic pyramid scheme called "Your Travel Biz (YTB)".
Just be careful and keep in mind that this could be their continuation for that shady business.
Surge365 Products And Costs
There isn't any "real" product line in Surge365. The membership is supposed to be the product but I don't see it as such.
The membership discount deals and traveling services come from the third-party company and that leaves Surge365 with not much else than the recruitment element which is a red flag.
Just so you know, an MLM-company without proper products and emphasis on recruitment is considered a pyramid scheme by the FTC.
All Pyramid schemes are illegal and this could be one in disguise.
With that said, let's look at the actual prices that were said to be "very affordable":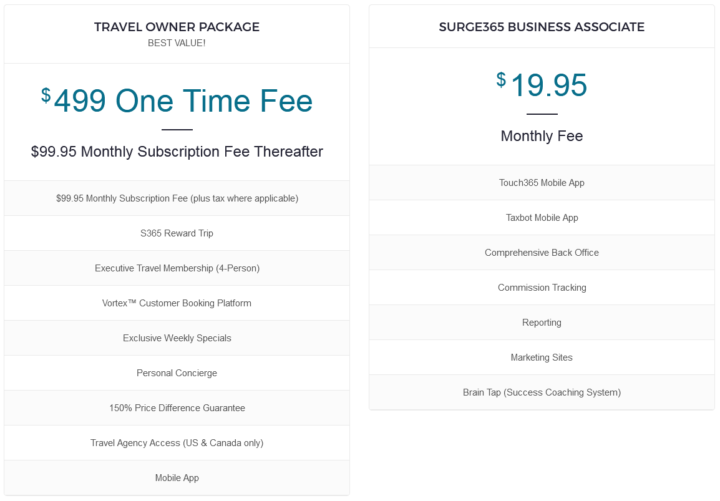 As you can see the prices are definitely not "affordable" and I don't see why you would want to buy this as a traveler if you want to "save" money.
The benefits of discounts are lost at the very moment when you spend $500 on membership and $100 every month thereafter.
High prices like that speak for themselves that recruitment commissions are the emphasis here rather than booking discounts.
And there sure seems to be many ways for members to make money with this opportunity.
Let's find out how.
How Can You Make Money With Surge365?
There are 3 ways to earn money with surge365:
The Vortex (Booking referrals)
Personal Travel Agency (Arrange group bookings)
Surge Business Model (Recruit promoters)
To be qualified to do any of these you need to pay for the rather expensive membership first.
Next, I'm going to briefly explain these 3 ways in more detail.
The Vortex Method
When you sign up for the membership you get access to the "Vortex" feature which is basically a pre-made website with your unique link that tracks your performance.
You are then supposed to share your unique website link on social media and to your relatives to get people to book a travel trip through your site (or join Surge365).
If they decide to do so, you will earn rewards and bonuses.
This way of earning is fairly similar to affiliate marketing (with its unique link tracking) and it's a good way to make money when implemented right (& you only earn hard cold cash instead of bonuses etc).
However, sharing your unique affiliate links on social media and harassing your relatives to buy rarely works. You typically end up with broken relationships.
It's a sad fact that most MLM-companies guide you to do exactly that.
Tactics like that are from stone-age and there are just way better options to promote your affiliate links.
Personal Travel Agency
The second way is to activate your personal travel agency with the help of the sister company Pro Travel Network.
Now, I'm just assuming here but I believe it works somewhat similar to the previous example that you get rewards and bonuses from every group trip arranged.
Apparently, Pro Travel Network provides you with training and tools to get started but I'm not familiar with how good these services are.
If someone has experience with this part of Surge365, I'd appreciate if you shared your experience in the comment section below.
Surge Business Model (Recruiter)
The last method is recruiting people to become a promoter for the company.
People you recruit become an underline for you and you get compensated for every person who joins and also when your "underling" recruits someone. This is the definition of Multi-level-marketing (and in some cases a pyramid scheme).
Below you can see how the compensation plan works and as you can see it's a typical over-complicated system that is a common feature in every MLM.
It's purposely made complicated so they can refuse things like money-back guarantees if you didn't achieve some small detail in the plan.
Here you can see how almost every Surge365 complaint has to do with getting your money back but magically the company finds a small print in their contract to refuse the request.
Is Surge365 Worth Joining?
Is it worth joining for the discounts?
No, unless you have an extra $500 to spend and travel literally every day. The monthly subscription fee just eats up the discount benefits.
How about joining for the business opportunities?
Personally, I wouldn't join for the sheer reason of high starting costs and suspicion of a pyramid scheme in a disguise.
Your "business" could disappear overnight if this ends up being a pyramid scheme and I'd also have ethical problems recruiting people to an opportunity whose creators are known for running a pyramid scheme in the past.
If you don't find those reasons problematic, then an experienced marketer could make money with this opportunity.
Newbie marketers? I don't see this as a good choice because they teach old-school methods where you are supposed to do face-to-face and social media marketing to your relatives.
(Nothing wrong with social media marketing but don't do it to your friends).
Overall, I imagine this business opportunity is hard to promote even for seasoned marketers. You are basically trying to promote a very expensive opportunity and the customer gets very little in return.
Is Surge365 A Scam?
Lack of proper products, emphasis on the business opportunity (recruiting), and the owners' involvement in a past pyramid scheme are suspicious, to say the least.
Surge365 could be a possible pyramid scheme in a disguise.
Here's something that supports my concerns:
Legit MLM-companies have little or no startup costs. Pyramid schemes may have expensive membership fees and charge you for sales training and materials.
Surge365 has a very expensive starting fee of $500 and on top of that, it has a monthly fee of $100 which makes my alarm bell ring loud.
The high fee wouldn't be a problem if you'd get a product in return but instead, you get travel discounts. What's the point of discounts when the membership fees are so high?
I wouldn't invest in this opportunity. There are far better and cheaper ways to make money which I'm going to show you next.
Affiliate Marketing vs MLM
What if I told you that there is a way to make great money online without having to harass your relatives or face-to-face sell?
I see affiliate marketing to be superior when compared to MLM's in multiple ways:
No recruiting
Promote any product you believe in, not just from one company
No team-building and earn based on your own efforts
No complicated compensation plans
Affiliate programs are free to join
Build a legitimate online business you fully own (full-time income)
The best of all; this doesn't cost you an arm and leg as most MLM's do.
You can run a full-time affiliate marketing business with the cost of a daily coffee cup.
Domain costs $11/year and hosting around $10/month.
Affiliate marketing is one of the cheapest forms of business to start and yet it offers realistic life-changing income if you are willing to work for it.
If this is something you find interesting, I suggest you take a look at this affiliate training course which is free to join. I highly credit this course for teaching me the necessary skills to run my online business.
Thanks for reading my review and I'll leave you to it.