Interested in promoting and earning commissions with telescopes & microscopes?
Below I've gathered a list of affiliate programs for you to join and find new affiliate income opportunities if you have a blog (or some other optics-related page) you're looking to monetize.
If you're new to affiliate marketing, I also left resources for you at the end of this post in case you want to learn how to make money with these programs.
Let's get started with the list.
Related blog posts: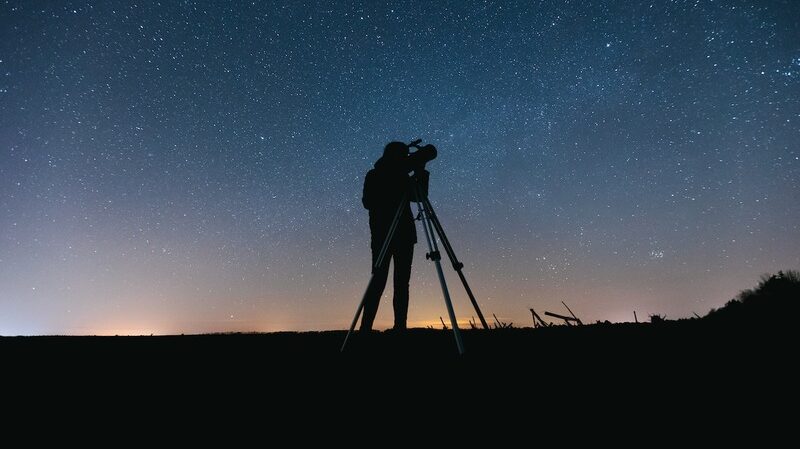 11 Telescope & Microscope Affiliate Programs
High Point Scientific
Agena Astro
Farpoint Astro
Orion Telescopes
Levenhuk
OPT Telescopes
Adorama
Astroshop
Andorstar Microscope
Mass Measure
Smart Micro Optics
High Point Scientific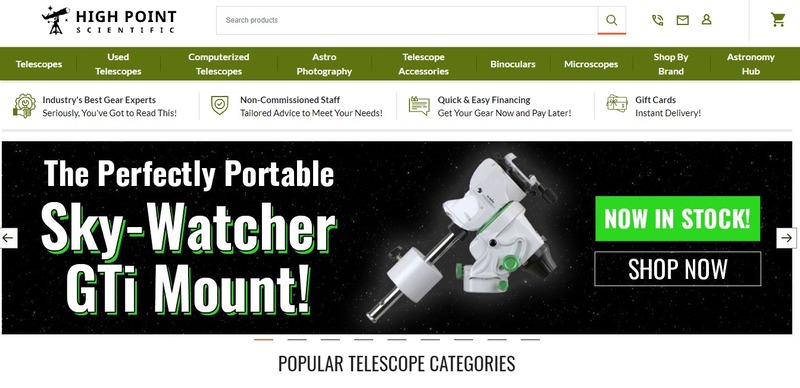 High Point Scientific is a US-based online store with one of the largest selections of telescopes and accessories. They also sell microscopes and binoculars.
They're offering products from well-over 70 brands for beginner and advanced astronomers. Customers also enjoy free lifetime tech support from non-commissioned professionals.
Many of the products have free shipping within the US along with a 30-day return policy. They also ship products worldwide but some brands can't be shipped outside the US due to contracts with the manufacturers.
HPC is a great choice to promote for affiliates, especially if your audience resides in the states.
You can join their affiliate program through the Refersion platform that provides all the analytics, tracking, & reporting for affiliates. It takes 5-10 business days to review your application.
Unfortunately, they're not disclosing commission rates and cookie durations so I can't say much about that side of things.
Commissions: –
Cookie Length: –
Agena Astro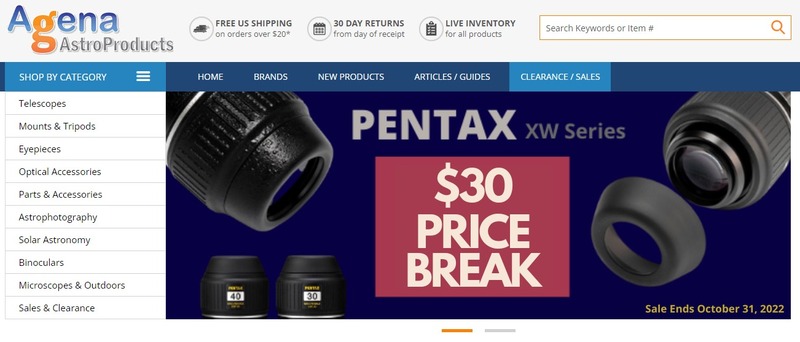 Agena Astro was founded in 2003, and they provide affordable and quality products for astronomy enthusiasts.
They have an impressive telescope catalog (300+) and are also regarded as a great place for finding accessories and parts for your telescope. Overall, they have over 5,000 unique products from the top astronomy brands.
On their website, you can also find many guides & articles for customers. They help you understand the products better as well as how to install them and how to do maintenance.
People living in the US get free shipping on orders over $20, and international orders have regular shipping costs based on where you live.
Something worth noting is the minimum orders of $200 for the EU & UK people due to VAT collection requirements.
Many of the telescopes can cost well over $200 so I don't think this would affect your campaigns too much (if you intend to promote to EU audiences).
If you want to become an affiliate for Agena Astro, you have to email them with some basic information about you and how you're going to promote them.
They don't disclose commission rates either, but their cookie length seems to be more than 7-days.
Commissions: –
Cookie Length: –
Farpoint Astro
Farpoint Astro belongs to Optical Structures Inc, and since 1972 they've been helping astronomy enthusiasts and professionals by providing premium astronomy equipment.
They don't have the largest telescope selection, but what you'll find is an excellent selection of accessories across the board. It's a great place if you want to upgrade your telescope with new additions.
Their customer service has also received lots of positive feedback.
You can promote this brand to worldwide audiences since Farpoint Astro ships products to many places across the globe.
If you want to become an affiliate for Farpoint Astro, you can find their affiliate program on the ShareASale network. It's fairly easy to get accepted into and completely free.
Commissions: –
Cookie Length: –
Orion Telescopes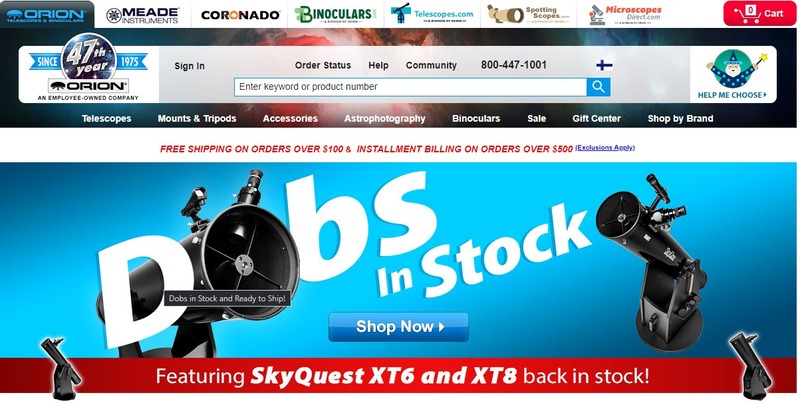 Orion Telescopes has been around since 1975 and they specialize in telescopes, binoculars, and accessories.
You can find outdoor optics products for all skill levels (refractor, reflector, Dobsonian, Cassegrain telescopes, etc). What's also great is that they ship products to many places around the world.
You have 3 options when it comes to becoming an affiliate for them. You can choose from CJ, LinkShare, or Pepperjam affiliate networks depending on what you prefer the most.
Before you get accepted, your website must receive medium to high traffic and your content has to be relevant to their products.
The commission rates for Orion brand telescopes are 8% (decent rates for high-ticket products) and 1% for all other items in their store. The minimum payout is $25 and they're paid out each month.
1-8% Commissions
Cookie Length: –
Levenhuk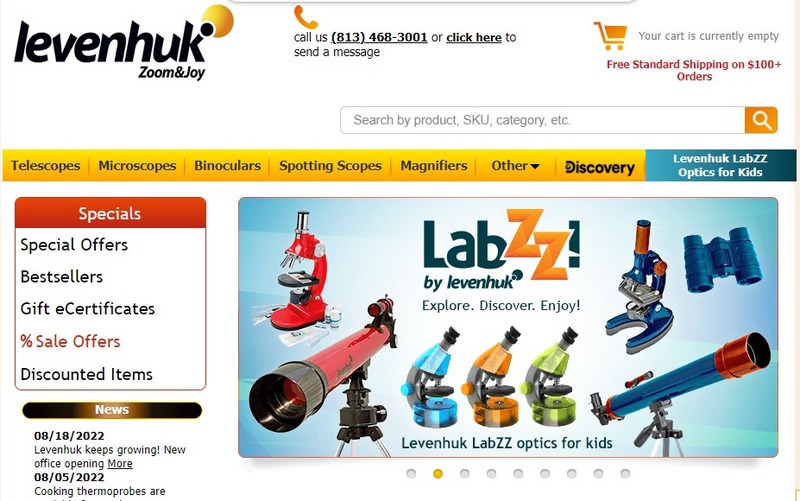 Levenhuk manufactures and sells optical instruments such as telescopes, microscopes, binoculars, spotting scopes, and magnifiers as well as accessories.
Their product line consists mostly of their own Levenhuk products with 72 telescopes and 134 microscope products in total.
You can find products telescopes and microscopes for all skill levels and this also includes a large section for kids. Promoting this store would be a good choice if you have a niche related to kids and learning.
What makes this brand even better for affiliates is their 20% commission rates. You could earn some worthwhile commissions with the higher-end products.
To become an affiliate, you need to register a free account on their website. Once you get in, they'll supply you with promotional material to use in your campaigns.
20% Commissions
Cookie Length: –
OPT Telescopes
OPT Telescopes has been selling astronomy and telescope equipment online since 1994.
You can find a wide range of telescopes from popular brands aimed at entry, medium, and professional levels.
They have free shipping on most items (within the US) and can also ship worldwide except for some restricted items. Even so, they also sell used items which can be shipped without limitations.
You can join their affiliate program on Refersion and it takes 5-7 business days to know if you've been accepted. They pay through PayPal and $25 is the minimum payout.
There's no information about their commission rates.
Commissions: –
Cookie Length: –
Adorama
Adorama is more about photography equipment, but they still have a telescope and a microscope section you may be interested in.
In short, Adorama is not an astronomy specialty store but it's something you could promote if you don't find some specific product elsewhere.
They have over 250,000 products in catalog and offer worldwide shipping to 250 countries with over $500 average order value. Their base commission rates start at 2%, but these are negotiable based on your performance.
You can find their affiliate program on the Impact network and they offer a 30-day cookie duration during which you'll be credited for any sales made through your affiliate links.
You also get a bunch of promotional material and smart tools to use in your campaigns.
2% Commissions
30-Day Cookie Length
Astroshop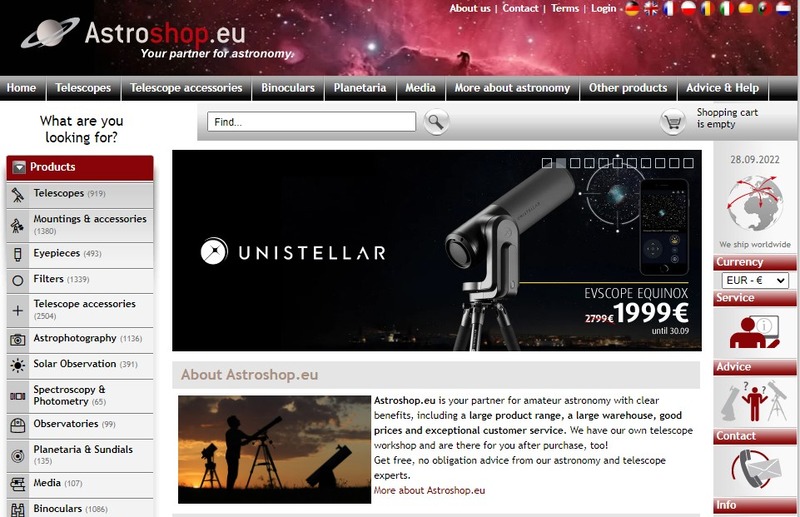 Astroshop is a specialty astronomy retailer for telescopes and accessories for hobbyist astronomers. They also sell microscopes, binoculars, and other outdoor products.
They started as a small garage company in 2000 and have since grown to become one of the largest telescope dealers in Europe.
Their product selection is massive and that combined with their 10% commission rates makes this a lucrative brand to promote for affiliates.
To join, you have to fill out a simple application on their website. They ship products worldwide and accept affiliates from across the globe.
10% Commissions
30-Day Cookie Length
Andonstar Microscope
Andonstar Microscope was established in 2013 and they manufacture & sell digital microscopes.
These digital microscopes can be used in repairing and restoring products such as mobile phones, PC parts, coins, jewelry & handicrafts.
You can find many types of microscopes in their store. Some with digital screens and cameras, HDMI & USB microscopes, portables, and even small microscopes for kids.
They have warehouses across the globe so they can ship products to all corners of the world which is great for affiliates.
You can join their affiliate program either through GoAffPro or ShareASale networks. They offer you 10% commission rates and with some of these products being high-ticket (up to $620), you can earn some excellent commissions promoting them.
10% Commissions
30-Day Cookie Length
Mass Measure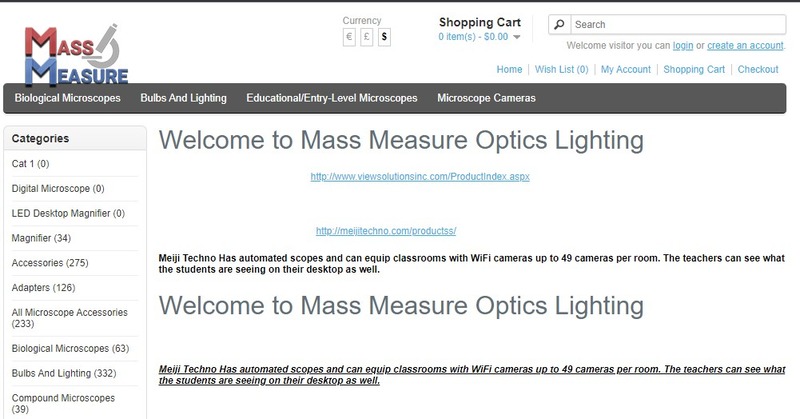 Mass Measure belongs to Meiji Techno Co. Ltd. and they're the 3rd largest optical microscopes manufacturer in Japan.
They've been around since 1964 and are today serving a worldwide market.
When it comes to microscopes they have a large collection of:
Stereo microscopes
Compound microscopes
Biological microscopes
& Educational/Entry-level microscopes
As well as tons of accessories to go with them.
They have an "in-house" affiliate program that you can join for free by registering an account on their website. Mass Measure offers 5% commissions, but since some of their items can cost over $2,000, your sales can lead to decent commissions.
5% Commissions
Cookie Length: –
Smart Micro Optics
Last but not least we have Smart Micro Optics which is a startup established by the Italian institute of technology.
They manufacture and sell special lenses called "Blips" and "Diples" that allow you to turn your mobile phone into a digital microscope.
Through these lenses, you can even see living micro-organisms and blood cells on the prepared slices. Of course, you can then take a photo or video since you're using your mobile phone to see the view.
Their affiliate program pays 15% commissions and the minimum payout is $20. Payments are made each month.
15% Commissions
Cookie Length: –
How To Start A Telescope & Microscope Affiliate Website
Unless you already have a website, you may also be interested in learning how to start one so you can start promoting these above-mentioned affiliate programs.
It all starts with choosing a topic for your website and how you want to help people.
You could promote telescopes or microscopes in a variety of niches so it comes down to what topic you're be most interested in.
Perhaps you want to help beginners get into astronomy or maybe you want to help parents choose the right microscope for their kids. You could also do product reviews of professional-level telescopes and explain how to best use them.
Just throwing some ideas at you.
The topic doesn't have to be set in stone, you can always change it later.
The next step is to start creating helpful content (articles or videos) that answers questions people have typed into search engines like Google. Once you publish content, you'll start getting visitors to your website.
When that happens, you can join these above-mentioned programs and start promoting telescopes or microscopes to earn affiliate commissions. Maybe add display ads to your site to earn even more.
At this point, you just create more content to increase your traffic and earnings.
That's the method in a nutshell.
If this is something you'd want to do properly, then I have a more detailed guide for you here;
Start building your affiliate website for Free.
It comes with everything you need to succeed (step-by-step lessons, 24/7 support, and a helpful community).
Make sure to check it out before you go.