Wanna grow a thriving affiliate business around anime?
This niche comes with a devoted audience who also spends lots of money on products & services (such as art, streaming services figures, cosplay, and many more).
I'm not a stranger to this niche either, so today I've gathered some of the best anime affiliate programs you can start promoting to fellow anime lovers on your blog, YouTube, or social media channels.
Below you'll find a list of different anime-related brands and I also left resources for you at the end of this post if you want to start your own money-making anime website.
Let's get started.
Related Blog Posts: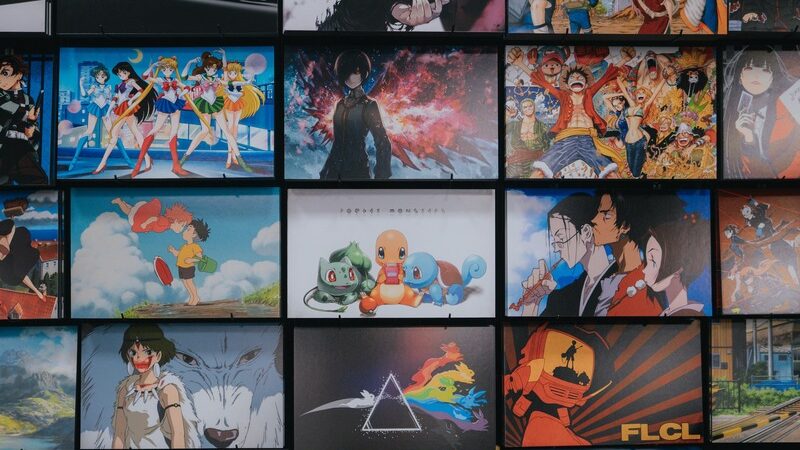 11 Best Anime Affiliate Programs To Promote
Anime Art Academy
Manga-Mafia
Otaku Lamps
CrateJoy
J-List
Weeb Stuff
Tokyo Otaku Mode
Right Stuf Anime
CDJapan
Saiyan Stuff
EzCosplay
Anime Art Academy
Anime Art Academy is an online learning platform that provides drawing lessons.
They're based in Akihabara where professional Japanese illustrators and manga-ka create the learning material. All the lessons are taught in English and you can even get feedback on your work by submitting it to the teachers.
When it comes to promoting Anime Art Academy as an affiliate, they have many lucrative aspects in their affiliate program.
For starters, you can earn recurring commissions from their subscription-service model. Currently, they're offering 2 different subscription courses:
$35/Month – Learn how to illustrate in manga style from Japanese professionals
$45/Month – Watch and learn! Practical advice for professional results
With their 20% commission rates, you can earn $7 or $9 per sale when people join through your affiliate links. Now, $7-9 may not sound much, but these payments are recurring every month and they can stack up fast.
You can also buy the course material with one-off purchases and these cost $325, $465, and $542 allowing you to earn commissions of $65, $93, and $108.4 per sale.
All these courses also have free lectures where people can get a taste of the course and see if it's the right choice for them. I really like this approach as it makes Anime Art Academy a lot easier to promote.
20% Commissions
365-Day Cookie Length
Manga-Mafia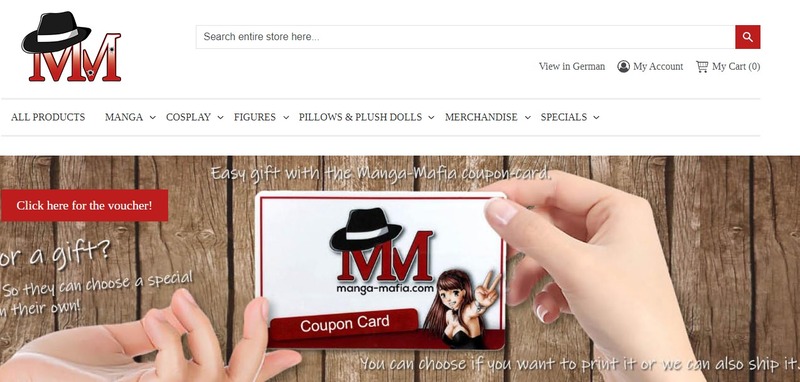 Manga-Mafia is an anime and manga online store for figures, cosplay, pillows & plush dolls, and other related merchandise.
What I find interesting to promote here are the figures, snack bags, and lucky bags.
The figures can cost up to $500, and they are in a price range where you can earn worthwhile commissions by promoting them.
Manga Mafia is based in Germany and ships products worldwide, but the shipping costs can be quite high to the US ($49.90). Even though you could promote this brand to worldwide audiences, you'll likely have better conversion rates if you stick to the EU due to the shipping costs.
As an affiliate, you can earn 6% commissions for all first-time purchases and 2% for any subsequent purchases. This means there's an opportunity for you to earn small recurring commissions if a customer decides to buy again later.
6% Commissions
Cookie Length: –
Otaku Lamps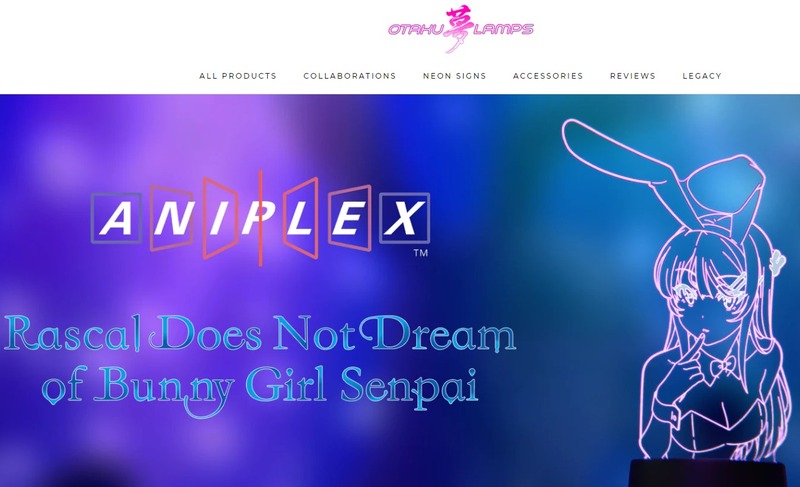 Otaku Lamps is an online store selling officially licensed anime LED lamps and lighting products.
You can use these lights to illuminate your bedroom, living room, desk, or office space to create a beautiful atmosphere. And since they have the licenses, you can find lamps of almost all your favorite anime characters from popular shows.
They also have neon signs and some of them cost up to $800 per piece. These are definitely in the high-ticket section and could earn you decent commissions.
With 10% commissions, your cut for successfully promoting those $800 neon signs would earn you $80 per sale. Not bad.
They also ship to many places across the globe (depending on the product) so you can promote this brand to many different audiences.
You can become an affiliate for Otaku Lamps through the GoAffPro network which provides all the analytics & tracking for affiliates.
10% Commissions
Cookie Length: –
CrateJoy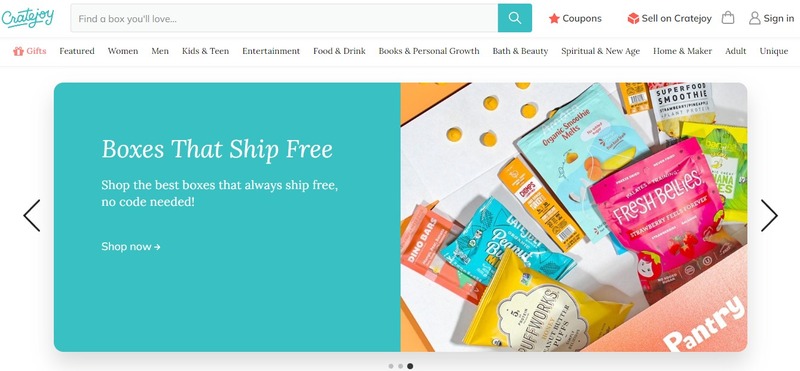 CrateJoy is a monthly subscription service where you can choose surprise boxes related to your preferred hobbies, interests, or passions.
And as you can probably guess, they also have a category for anime and manga.
They have 11 different anime & manga subscription boxes and here are some of the goodies you can find inside:
Manga
3D Light lamps
Jewelry & accessories
Japanese snacks & drinks
Anime merch, and many more.
You can find CrateJoy's affiliate program on the ShareASale affiliate network. They offer 10% commissions and you can negotiate better commission rates if you drive enough traffic their way.
They also provide custom landing pages, promotional material, and a dedicated affiliate team if you need support.
10% Commissions
60-Day Cookie Length
J-List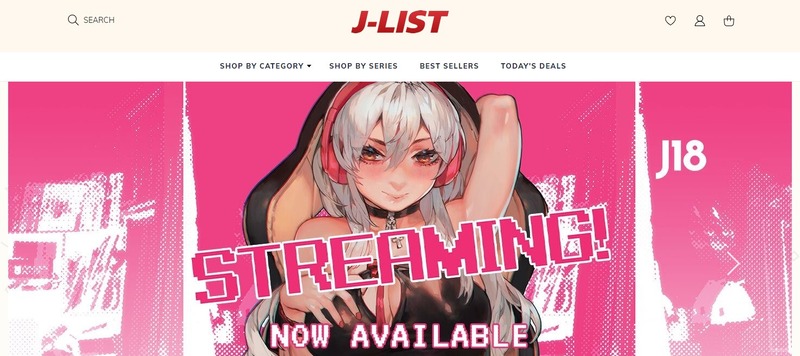 J-List established in 1996 by Peter Payne, is an online store for Japanese goods aimed at consumers outside Japan.
They are selling goods such as magazines, apparel, figures & toys, snacks, games, and tons of adult-related products (their website is NSFW).
One strong aspect of partnering up with J-List is that they're working with Japanese manufacturers and the product quality reflects that.
What I really like here is how you can search for products based on series, and when it comes to promoting products, the figures will fetch you decent commissions here as well.
Something I dislike is how it costs $5 to signup as an affiliate. So make sure you really want to promote this brand before you join.
8% Commissions
Cookie Length: –
Weeb Stuff

Weeb Stuff is an online store that sells anime merch and weeb accessories.
They have quite an extensive product catalog including apparel, cosplay, toys, plushies, phone cases, and even a small NSFW section. You can also shop products based on anime series which is a nice addition.
One benefit of promoting Weeb Stuff is that all customers get free shipping on their orders and they ship products across the globe.
You can easily join their affiliate program by filling out a simple form on their website. They offer decent 10% commissions and basic 30-day cookie duration.
10% Commissions
30-Day Cookie Length
Tokyo Otaku Mode
Tokyo Otaku Mode sells anime figures and merch such as plushies, games, music, and apparel.
The store was founded in 2012 by Tomo Kamei and they are headquartered in Japan.
While you can find all kinds of anime merch in their store, their emphasis is definitely on the figures as they are offering a selection from over 18 different figure manufacturers across Japan.
The big figure selection makes this store a great choice to promote for affiliates as they are in a great price range and can earn you decent commissions.
Although, the commission rates are not the highest here (5%) compared to other stores on this list. The positive aspect is that you can negotiate better rates if you perform well.
5% Commissions
Cookie Length: –
Right Stuf Anime
Right Stuf Anime is one of the largest anime specialty retailers in the US & Canada with more than 24,000 unique products They were established in 1987 by Robert Ferson.
In their product catalog, you can find anime DVDs & Blu-rays, manga, merchandise, figures, apparel, and much more.
One benefit of promoting Right Stuf is the fast shipping to the US audience. If you intend to run content websites, you may notice most of the organic search traffic will come from the US so this brand is a decent choice to partner up with.
Their affiliate program is on the ShareASale network which provides you with all the payments, analytics, & tracking.
8% Commissions
Cookie Length: –
CDJapan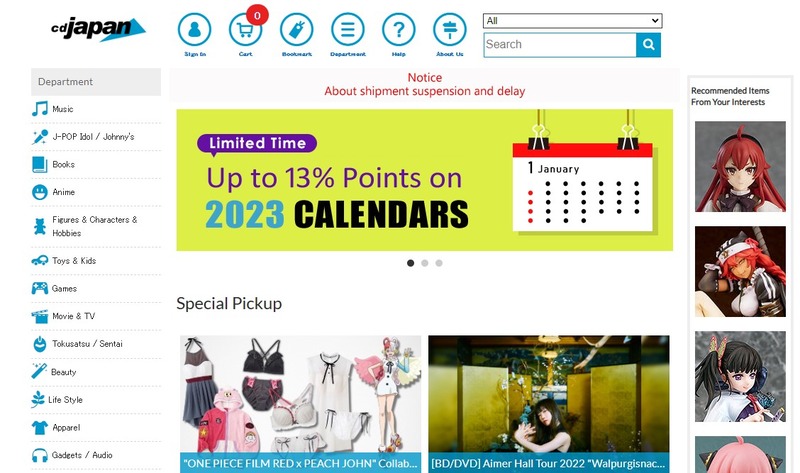 CDJapan is offering Japanese CDs, DVDs, Blu-rays, and collectibles related to:
Anime
Music
Movies
& Game music.
They were established in 1995 so they have more than 25 years of experience and an impressive product selection to go with that.
CDJapan is serving a worldwide market so you can promote this brand to many demographics across the globe.
With 7% commission rates, you probably won't make a bank promoting the DVDs and such, but there is still worthwhile money to be made with the figures and toys as they're in a better price range for affiliates.
7% Commissions
30-Day Cookie Length
Saiyan Stuff
Saiyan Stuff is an online store for Dragonball Z merch and other popular series such as Naruto, One Piece, and Demon slayer (+ weed and stoner clothing).
What's also interesting here is how you can order custom Dragonball Z digital portraits of yourself or your family. It sounds like an interesting choice to promote on your website or YouTube if you create DBZ-related content.
Another positive aspect is that Saiyan Stuff provides worldwide shipping and has warehouses in the US, UK, and China for faster delivery times.
The minimum payout for affiliates is $50 and all the payments are made through PayPal.
10% Commissions
Cookie Length: –
EzCosplay
EzCosplay specializes in providing anime cosplay costumes, accessories, & props.
They were founded in 2009 by Lei & Stella Wang and today they have a large product selection ranging from popular anime series to games and movies.
What's even more interesting is that you can order custom-tailored costumes and these can cost multiple thousands depending on the costume. You could earn high-ticket affiliate commissions by promoting these.
The average order value for EZCosplay is $200 so even the normal orders can earn you rather decent commissions with their 10% commission rates.
You can find their affiliate program on the ShareASale network which is free to join and provides affiliate dashboards and other essentials.
10% Commissions
30-Day Cookie Length
Can You Make Money In The Anime Niche With Affiliate Marketing?
The anime niche can be wildly profitable in the right hands.
After all, it comes with a passionate audience that's willing to spend lots of money on products & services.
If you were to start an affiliate website or YouTube channel around anime, I'd focus on promoting the figures and other higher-cost products ($200+) to earn worthwhile commissions.
I would also try to find and promote some kind of digital product with recurring commissions to bring more stability to your earnings.
The thing is that most of these anime-related stores don't have the best starting commission rates, and that combined with low-priced products means you may struggle to earn enough if you're only monetizing with affiliate marketing.
This is why you should stick to higher-cost products until you can negotiate better commission rates.
Now, this doesn't mean you're "doomed" before you even start. Affiliate marketing is just one way to monetize your website & YouTube channel (or whatever medium you prefer).
What you should also use to make money is display ads (basically, you put ads on your website and when people click those, you earn money).
I can see it working really well with this type of niche.
If all this sounds interesting and you'd want to get started on building your money-making anime website, then I have just the right guide for you;
Start building your Anime affiliate website for free.
It comes with free training, a helpful community, and 24/7 support along with my coaching. Make sure to check it out before you go.