Do you have a passion for all things related to Japan?
If so, I've gathered 9 Japan-related affiliate programs for you to start earning commissions while sharing your love for this intriguing culture with other like-minded people.
You can do this on your blog, YouTube, social media, email list, or whatever medium you may prefer.
Below you can find a mixed bag of affiliate programs for various niches related to Japanese culture, products, language learning, consumables, and even katanas.
At the end of this post, you'll also find a detailed guide on how to start your own successful affiliate website where you can promote these Japanese brands.
Let's get started.
Related Blog Posts: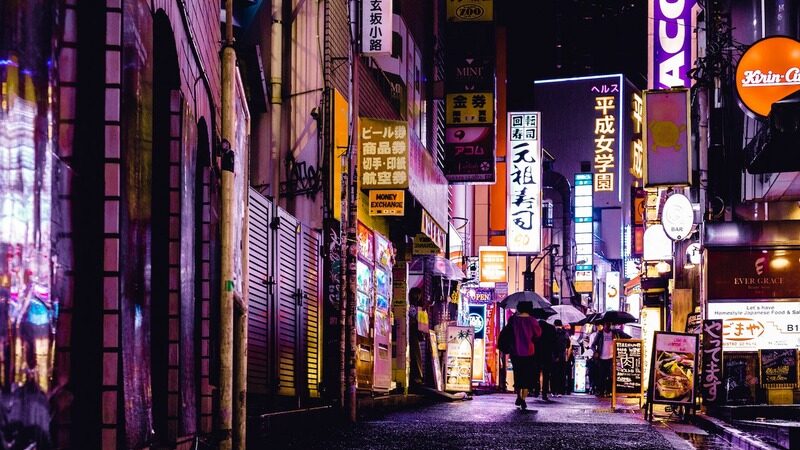 9 Japanese Affiliate Programs
Senbird Tea
Go! Go! Nihon
Language Mastery
Omg Japan
Japan Store
Japan Candy Box
Bokksu
SoKawaii
Swords Of The East
Senbird Tea
Senbird Tea sells organic Japanese green tea, herbal tea, and handcrafted teaware.
They are working directly with local tea farmers in Japan's Hokkaido, Kyoto, and Shizuoka to bring the finest Japanese tea to people worldwide.
This would be a good choice to promote if you're in the tea niche or making content about Japanese culture.
The branding of the store looks trustworthy, they have a great product selection, and you can earn worthwhile 15% commissions as an affiliate.
Their teas cost anywhere between $10 – $60, and the price roof for teaware is around $200. People will likely buy multiple batches of tea and I can also see them wanting to prepare the tea with authentic tools to get the "real experience".
I highly recommend promoting this store if it fits your niche.
There's also free shipping on US orders over $49 so that's nice for your audience.
15% Commissions
Cookie Length: –
Go! Go! Nihon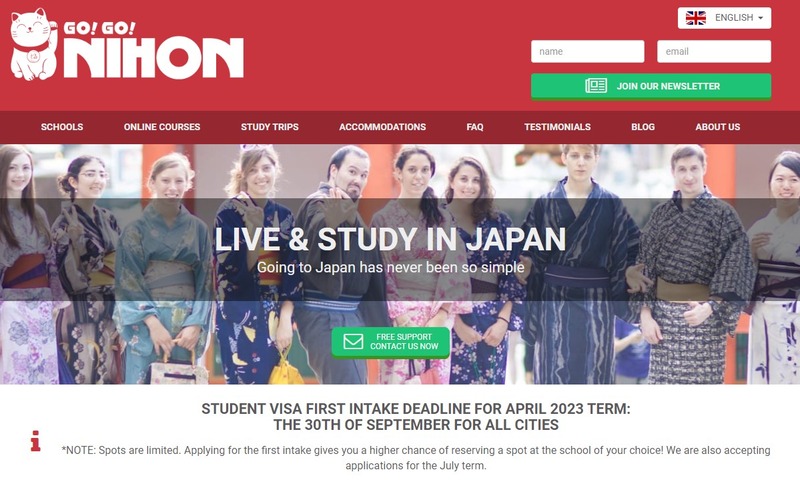 Go! Go! Nihon was established in 2009 by Davide & John who wanted to make living and studying in Japan much easier.
They provide help with getting into Japanese schools, housing, learning the language, and networking with other students. So far they've helped over 8,000 people get into Japan.
What you as an affiliate might be interested in here is the online courses for learning Japanese as you can earn commissions from promoting them.
They offer beginner & advanced lessons with help from Japanese schools and educational partners along with support in 7 different languages.
At the moment, you can only promote these courses:
Akamonkai Japanese 12 Week Beginner Course
Business Bundle
(French) Akamonkai Japonais 3 Semaines Cours en Ligne our Débutant
(Released soon) Akamonkai Japanese 12 Week Beginner Course PART 2
(Released soon) Akamonkai Beginner Course Bundle
As an affiliate, you can earn a flat rate of 1100 JPY ($7.67) by promoting the above-mentioned courses. However, you need 2500 followers before you get accepted into the affiliate program.
Not the highest commissions in my opinion, but this could be one option to promote if you have a website or YouTube channel around learning languages or Japanese culture.
Commissions: Flat-rate 1100 JPY ($7.67)
Cookie Length: –
Language Mastery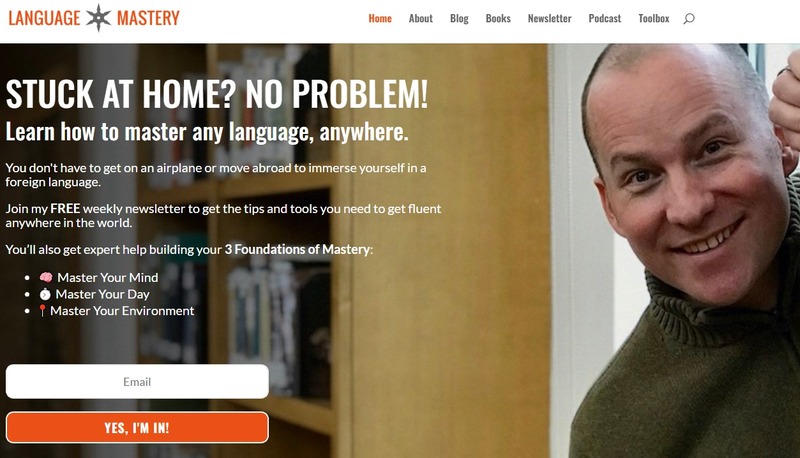 Language Mastery is an online language learning resource for Japanese and Mandarin by John Fotheringham who is a linguist and also a teacher.
The site has lots of free resources such as articles, newsletters, and podcasts for learning languages, but also two online courses you can promote as an affiliate.
You can use the course to learn Japanese at your own pace and no matter where you're located. The course puts emphasis on figuring out what learning methods work best for you and using materials that fit your unique interests and goals.
The course costs $79 and you can earn 50% commissions by promoting it.
This means you can earn $39.5 for every sale made through your affiliate links.
Promoting digital products such as this one is a great choice because you'll often earn higher commissions when compared to physical products.
50% Commissions
Cookie Length: –
Omg Japan
Omg Japan is an online store where you can discover trending products from Japan.
They have tons of products, but most of them can be categorized into language, snacks, and general products (beauty, fashion, tech, etc).
In short, it's one of those "impulse buy" stores where you add a little bit of this and that to your cart, and in the end, be surprised how you just spent $100 on Japanese goods.
You can become an affiliate for this store through the Refersion network which handles all the payments, analytics, & tracking for affiliates. They offer 8-12% commissions depending on the item and a fantastic 180-Day cookie duration.
The payments are done through PayPal.
8-12% Commissions
180-Day Cookie Length
Japan Store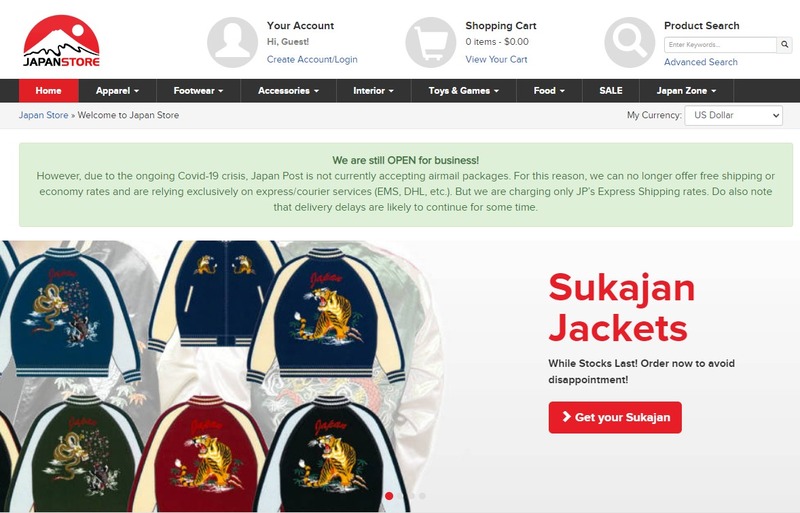 Japan Store is an online store for traditional Japanese clothing, shoes, and toys, but you can also find Japanese food and accessories in their selection.
This could be an interesting choice to promote if you have a website or YouTube channel around fashion or maybe even history/culture.
One benefit of promoting this store is how the crediting system works similar to Amazon's affiliate program. You'll get credited for all items in the customer's cart, and not only the one item you linked to.
They're also offering free worldwide shipping on orders over $100 and have 90-day returns. That's something you can mention in your campaigns.
As an affiliate, you can earn 7-20% commissions depending on your monthly sales volume. To reach the highest commission bracket (20%) you need to get 101+ orders a month.
7-20% Commissions
Cookie Length: –
Japan Candy Box
Japan Candy Box is a subscription service where you get delivered Japanese snacks to your door straight from Tokyo.
A new candy box is sent every month containing 10 exclusive treats that Japanese people actually find popular and eat often.
You can start promoting these boxes and earn a $5 flat commission for each sale you make (it's not recurring though which is a shame).
All boxes come with free shipping worldwide which I'm sure will increase your conversion rates.
Once you become an affiliate, you get promotional material like banners, logos, and images, and you'll get paid monthly via Paypal with $50 being the minimum payout.
Commissions: $5 flat-rate
Cookie Length: –
Bokksu
Bokksu is another popular subscription service for monthly snack delivery.
It was established in 2016 by Danny Taing when he couldn't give up all the snacks he had discovered after living in Japan for a while.
When you subscribe to Bokksu, you receive a new box each month containing snacks and tea complementing that month's flavors and theme.
The snacks are sourced from local and well-known makers to bring you unique experiences each month.
If you want to start promoting Bokksu, you can offer coupons to people where they get $15 off their first purchase, and you'll earn $15 in flat commission for referring them.
This is a rather flexible brand to promote and would work in many niches.
Commissions: $15 flat-rate
Cookie Length: –
SoKawaii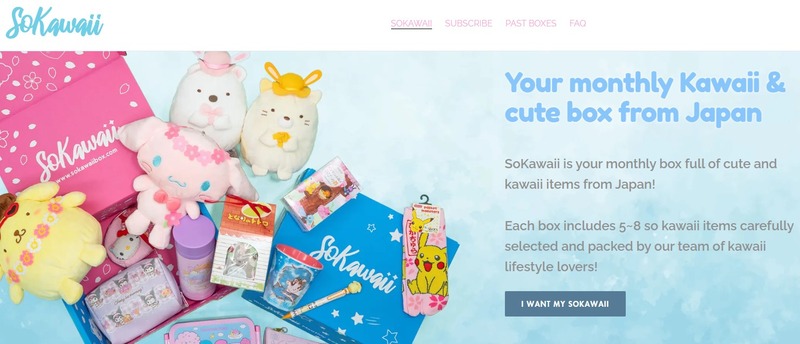 SoKawaii is a subscription service for a monthly box containing cute merch from Japan.
These boxes have 5-8 kawaii – or in other words, cute items – ranging from plushies, figurines, stationery, useful items, kitchen tools, household goods, etc.
They provide worldwide shipping so you can promote this brand to different audiences across the globe.
I can see this being a good fit for niches where kids are involved. Maybe parenting & mom blogs, and perhaps even anime-related blogs.
You can earn a $5 flat rate for referring people to this service and you'll receive marketing material such as banners, logos, and images to use in your campaigns.
I wish the commissions were a bit higher. Otherwise, a decent choice to promote.
Commissions: $5 flat-rate
Cookie Length: –
Swords Of The East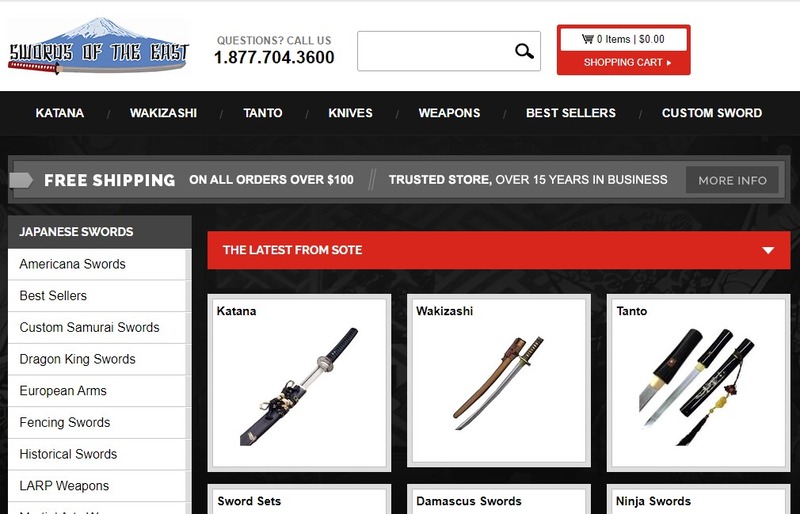 Swords Of The East is one of the world's largest martial arts equipment suppliers.
Even though they sell many types of swords and armor, they specialize in Japanese katana swords because they're the most desirable type of sword in the current day.
This brand is certainly one of the more interesting choices on this list due to their fantastic average order value of $350 and decent 10% commission rates.
With these rates, your average commission would be $35 per sale and I'm sure you could negotiate better rates if you drive lots of sales volume their way.
Promoting this brand would work well in a niche that deals with Japanese culture, knives & swords, history, and martial arts.
You can find their affiliate program on ShareASale and it's fairly easy to get accepted into, even as a beginner. They provide all the necessary affiliate tools and lengthy 90-Day cookie duration.
10% Commissions
90-Day Cookie Length
How To Start An Affiliate Website Around Japan
Now that you've read about Japan-related affiliate programs, you probably already know what to do with them to make money if you have an engaged audience waiting somewhere.
But if you're entirely new to affiliate marketing, you may also be interested in learning how to start promoting these above-mentioned programs so you can start earning commissions.
When it comes to creating an affiliate website around Japan, there are many angles you could take and it really depends on what you're most interested in.
Some topic ideas for a website from the top of my head would be:
Japanese history & culture
Food & recipes (ramen, seafood, tea, etc)
Anime, manga, & cosplay
Language learning
Japanese toilet seats
Product reviews (Japanese gadgets, fashion, beauty, etc)
No matter what topic you'd choose, all of them can make good money.
With some consistent effort, a proper affiliate website in this niche could earn you passive income every month and not just with affiliate marketing, but also with display ads and other monetizing methods.
If you have a passion for Japan and you'd want a more detailed guide on how to make this work, then look no further;
Start building your Japan-related affiliate website for Free.
It comes with everything you need to succeed with affiliate marketing (step-by-step lessons, 24/7 support, a helpful community and my personal help).