Yesterday I made a post about the best anime affiliate programs to promote.
Today, I want to zoom in more and make a post just about anime figures and show you the best brands to partner with so you can start promoting your beloved waifu.
But jokes aside, there's decent money to be made (as an affiliate) with these figure & statue art pieces. In many cases, these products can cost up to $500 or even more, and they're in the perfect price range for affiliates to earn decent commissions.
Below you can find an affiliate program list of brands selling authentic anime figures, and if you want to learn how to make money with these products I also left a guide for you at the end of this post.
Related Blog Posts:
5 Anime Figure Affiliate Programs To Promote
Solaris Japan
Tokyo Otaku Mode
HobbyLink Japan
Right stuf
Amazon
Solaris Japan
Solaris Japan is one of the most popular places to buy authentic anime figures online.
They have perhaps the biggest catalog out of any other online store with over 50,000 anime figures that you could start promoting to your audience.
You can find all the popular anime franchises made into general figures, Nendoroid, Figma, cast off's, and rare exclusives to name a few.
Solaris Japan also has great shipping options and delivers products worldwide so you can promote this brand no matter where your audience resides.
You can become an affiliate for Solaris Japan by signing through Affiliatly. They provide tiered commission rates of 3-8% depending on how many sales you make each month.
3-8% Commissions
1-Day Cookie Length
Tokyo Otaku Mode
Tokyo Otaku Mode is another wildly popular online store with a great selection of anime figures along with other merch from Japan.
What makes Otaku Mode a great brand to promote is their fantastic reputation and how they are retailing anime figures from 18 of Japan's top figure lines.
They also have a warehouse in the US enabling faster shipping for some figures, but not all. Regardless, this is great if you want to promote to audiences residing in the US (they do ship products worldwide as well).
Another interesting aspect is that they seem to put items up for preorder earlier than other sites. Maybe you can use this to your advantage in your campaigns.
The 5% starting commission rates are not the highest, but you can negotiate better rates when you drive enough sales.
5% Commissions
Cookie Length: –
HobbyLink Japan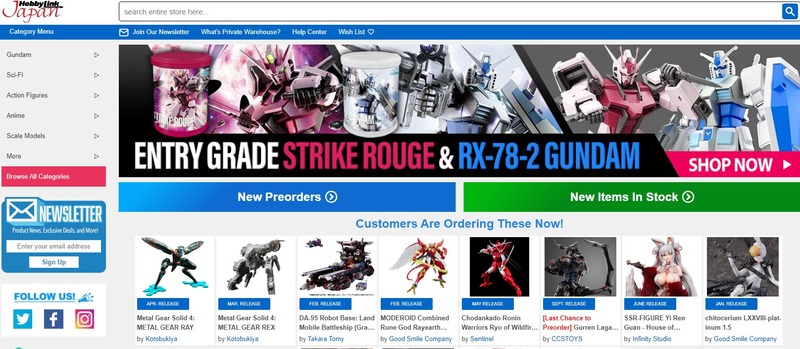 HobbyLink Japan has over 20 years of experience in selling high-quality authentic anime figures and licensed statues.
They have everything ranging from classics like Sailor Moon to newer series like Jujutsu Kaisen. People also say they have great customer support and decent prices.
Something worth mentioning is their private warehouse option. It allows you to store multiple orders in a warehouse for unlimited time for free, and then ship them once you're ready. This way you only pay for shipping once and save money.
HobbyLink Japan ships products to many places across the globe so you can promote this brand to multiple target audiences.
Some downsides are the rather low starting commission rates and monthly earning caps, but they also mention these can be negotiated if you perform well.
3% Commissions
Cookie Length: –
Right Stuf
Right Stuf was established in 1987 by Robert Ferson, and they're one of the biggest anime specialty retailers in the US & Canada.
They have over 24,000 products in their catalog, and close to 4,000 of them are figures & collectibles. The rest of it is everything ranging from merch, media, apparel, games, etc.
People say the prices are a bit higher on Right Stuf when compared to other figure stores. This is kind of a double-edged sword as it's not the best deal for customers, but as an affiliate, you'll enjoy higher commissions from sales.
However, Right Stuf is often hosting fantastic promos and deals making it a valid choice to shop for customers (& these will boost your sales as well).
You can become an affiliate for Right Stuf through the ShareASale affiliate network. It's free, and they'll handle all the payments, tracking, & reporting.
8% Commissions
Cookie Length: –
Amazon Associates

Amazon is not really a "go-to" source for buying authentic anime figures since you're not directly supporting the independent stores, but I still decided to include it for a few reasons.
From the customer's perspective, it just happens to be the simplest way to order something online. They trust buying from Amazon and they don't have to deal with expensive shipping from abroad.
Amazon also comes with a massive selection of products.
In that regard, it makes sense for you to also promote products from Amazon so you can secure some earnings that you may otherwise lose.
There's also the thing that you'll be credited for other items in the customer's cart and it can lead to unexpected, yet big commissions.
3% Commissions
1-Day Cookie Length
How To Get Started With Anime Affiliate Marketing
Now that you know where you can start promoting anime figures, you may also want to learn how to make money with these above-mentioned affiliate programs.
You could do it in many ways, but what I focus on is creating simple affiliate websites.
In this case, I'd not create a website just about anime figures. You should broaden the niche and create content about other anime-related topics as well to make this work.
Perhaps reviews about shows & products, top 10 lists, basic question-answer articles about characters and anime in general, etc. If you wanted to take it one level further, you could do the same but with Japan and have anime as one of the sub-categories.
Once you have the foundation set up and you start getting visitors, you could monetize the traffic with affiliate marketing (anime figures for example) and display ads.
All you'd have to do to make money with the anime figures is to connect the passionate audience of a specific show with corresponding figures.
From there on it's all about scaling by creating more content to increase your earnings.
In a nutshell, that's about it.
If this sparked your interest and you'd want a more detailed guide on how to do all this (successfully), then seek no further;
Start building your Anime affiliate website for Free.
It's the same place where I learned to build my sites (highly recommend it). It comes with step-by-step lessons, a helpful community, and 24/7 support.
Make sure to check it out before you go.