Are you interested in selling nail polish strips online (& offline)?
You've probably seen or used Color Street products and now you're wondering if selling their products could be a good way to make some extra money.
I've reviewed many similar opportunities and today I'd like to show you if you can really make money as a Color Street stylist (as they seem to promise).
In this Color Street review, you'll learn:
What is Color Street?
How can you make money with them?
How much does it cost to join
How much can you really earn
Is it a pyramid scheme (or a scam)?
& is it worth joining.
I'd also like to show you how I make money online if you decide Color Street is not for you. Okay?
Let's see if they are legit or not.
Color Street Review Summary
$129 + $9.95/month
Earning Potential

Products

Reputation
Color Street Business Opportunity
A beauty MLM selling nail polish strips
25-35% commission rates for stylists
One flagship product with 100's of design choices
Great reputation and no lawsuits
Available only in the US & Canada
Low commissions + low-ticket products = low earning potential
What Is Color Street?
Color Street is a multi-level marketing company (MLM) based in New York City and founded in 2017 by Fa Park.
They are in the beauty industry and are best known for selling nail polish strips
Although Color Street started in 2017, the original idea for Fa Park's nail polish strips started in 1988 when he saw a woman struggling in a cab trying to polish her nails while on the go.
He thought "there has to be a better way to do that!"
After that, he started experimenting and invented nail polish strips that won't spill or smear — basically dry nail polish.
Where are the products made?
All their nail polish strips are made in New Jersey, US, and the products are currently only sold through independent distributors in US & Canada.
Color Street is owned by a parent company called Incoco which also owns Coconut Nail Art and all these 3 brands sell nail polish strips.
What does it mean when a company is an MLM?
Since Color Street is an MLM, it means their products are sold through independent distributors (or stylists as they like to call them) and you typically can't find the products from physical retail stores.
Although in this case, you can find the products from Amazon marketplace and Incoco sells similar nail polish strips in Walmarts for $4.95 (2-3x cheaper than Color Street products)
These "stylists" are basically customers of the company who buy products at wholesale prices and then sell them to you at retail prices. In addition, they may try to recruit you to become a distributor.
Every distributor also has access to a replica website where they can promote Color Street products and earn commissions.
In short, that's the business opportunity they're offering on their website.
Some competitors of Color Street would be Red Aspen, Tori Belle, and Younique.
What Are Color Street Products Like?
If you want to become a distributor for the company, then you need to know the products really well to be able to sell them.
Luckily, they make that part really easy since there's only one product line; their nail polish strips.
They do come in different designs but at the core, they are the same product.
This makes it easier to learn the "ins and outs" of the product when you don't have to educate yourself about 100's of different products.
What's so great about the product and why would you want to sell them?
For starters, there are 100's different designs and they constantly create new ones for each season. There's something for everyone's taste.
And of course, there's the practical aspect of the product since you don't need to wait for the polish to dry + it doesn't smear & can't spill.
I also read the strips are not vinyl but 100% nail polish meaning you can remove them with nail polish remover.
How much do the strips cost?
All the nail polish strips cost $11-14 and each set includes 16 strips.
The prices are just a bit higher than some non-MLM brands (which is typical) but overall I find it reasonably priced.
I don't think it will affect your ability to sell them.
What do people think about the products?
I checked many places around the web and people really seem to like them.
Not too many negatives, some said they don't last as long as promised (10 days) but I don't think it's a dealbreaker if you want to sell these.
A positive reputation is a good sign because they will be easier to sell.
How Can You Make Money With Color Street?
As an independent stylist, Color Street offers 25-35% commissions on your sales.
There are two "main" ways you can make money with Color Street.
Retail commissions and
Recruiting people
Retail commissions: You can buy Color Street products at a 25% discount and then sell them to customers at retail price. The price difference is your profit.
Recruiting people: When you recruit people to become distributors, you will earn bonuses from their sales.
The more sales you make and the more people you recruit, the more money you will make.
Additionally, distributors get access to a "replica website" that you can advertise online. Whenever someone buys something you'll earn a 25-35% commission depending on your rank.
If you manage to sell one nail polish strip for $14, with 25% commissions you'd earn $3.5 from that.
A typical way for distributors to sell & recruit is through hosting nail parties or creating a following on social media and then selling through the replica website.
Something to be aware of is that Color Street products are shipped to people living in the US & Canada only.
How Much Does It Cost To Join Color Street?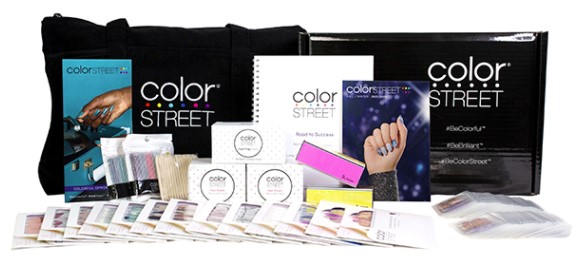 To get started, you need to buy a $129 starter kit.
It has $250 worth of products and business supplies that'll get you started:
12 Sets of Manicure Strips
1 Set of Pedicure Strips
72 Testers
40 Remover Pads
100 Prep Pads
2 Large Nail Files
2 Nail Buffers
60 Mini Nail Files
50 Cuticle Sticks
25 Catalogs
25 Opportunity Brochures
Road to Success Booklet
Tote Bag
You also need to pay $9.95 per month to keep the "eSuite" (replica website) subscription active.
On top of that, you can expect to have more expenses from product samples, training, advertising & promoting, traveling, hosting parties, etc.
Distributors will also need to make $300 worth of sales in one calendar month every 6-months to stay "active".
If you can't do it, it often means losing your rank and team = part of your potential income.
How Much Can You Earn With Color Street?
You're probably wondering if becoming a "stylist" is worth the money.
Let's take a look at some numbers to figure that out.
Your starting commissions are 25% and the products are 11-14 dollars.
If you sell one nail polish strip for $14, your commission is $3.5.
And if you want to earn $1000/month, you'd have to sell 285 nail polish strips each month to achieve that.
You'd basically have to find 285 customers to sell to if they buy just one strip. That's a lot of customers.
What if one customer buys multiple products at once?
They probably do because there's a "Buy 3, Get 1 Free" deal running. But even if every customer bought 3 nail polish strips, you'd still have to find 95 customers each month to reach the $1000 mark.
I can tell you, finding that many customers as a beginner every month is not easy.
Of course, this was a rather simple example and there are many variables. For example, you could grow your team to earn more, but that's not the easiest thing in the world either.
My whole point is that the earning potential is not very high.
You will most likely have a hard time if you'd want to earn a full-time (or even part-time) income.
I see this as a way to earn supplement cash for most distributors.
And we can actually take a look at Color Streets income disclosure which supports this idea of supplement cash.
And here's what they say on their website:
The weighted average annual income by stylists' rank for all Color Street Stylists in 2020 was $2588.04. In 2020, 88.96% of all Color Street Stylists received commissions or rebates.
Is Color Street a Pyramid Scheme Or a Scam?
No, I don't think Color Street is a pyramid scheme (or a scam).
They are selling real products and the emphasis is not on recruiting people.
In fact, they are one of the more transparent direct selling companies out there that I've reviewed.
Their reputation is surprisingly positive and I couldn't find any scandals or lawsuits against them either.
Although this doesn't necessarily make it any better business opportunity.
MLMs are typically constructed in a way that maximizes profits for the company while the majority of distributors earn very little.
You can clearly see this in the income disclosure and just how successful Color Street is in general.
Should You Join Color Street?
If you like the products, this could be a fun way to earn supplement cash.
Just don't expect to earn too much and keep in mind that you could end up losing money if you can't sell the products.
Something I also noticed is that the products are sold on Amazon which could mean people don't have a reason to buy from distributors.
There seems to be a quite lot of competition since Color Street is a fairly popular brand.
Would I personally join an MLM?
Nah, I don't like the confusing compensation plans and how the whole MLM system seems to be designed to make money for the company and not the distributor.
There are too many fees and risks in my opinion. It's not for me.
What's A Better Way To Make Money Online?
I don't know if you've heard, but many former MLM reps are moving over to affiliate marketing.
It's a lot simpler and in my humble opinion a better option than MLMs:
No recruiting
No confusing compensation plans
No need to be brand loyal
No recurring heavy investments
Easy to get started with realistic full-time income potential
Affiliate marketing also completely resides in the online space and this means there's almost an endless supply of customers. It's also a growth industry rather than a shrinking one.
If you'd like to start your own online business with a flexible schedule, here's a free 7-day course on getting started with affiliate marketing.
Thanks for reading my Color Street review.
I'll leave you to it.