Are you interested in selling Tori Belle products?
They do have a fairly inexpensive business opportunity, but when it comes to MLMs; you never really know what you're getting into.
It could be yet another pyramid-like scam.
So let's find out if you can really make money selling their products.
In this Tori Belle review, you'll learn:
What is Tori Belle?
How can you make money with them?
How much does it cost to join?
How much can you earn?
Is it a pyramid scheme or a scam?
I would also like to show you an alternative way to promote Tori Belle (or something else completely). It's a method I've personally used to make money online since 2018.
(I'm not affiliated with Tori Belle by the way).
Let's get started.
Tori Belle Review Summary
$9/month
Earning Potential

Products

Reputation
Tori Belle Business Opportunity
Beauty & cosmetics MLM with a business opportunity
Combination of direct-selling & affiliate marketing (mostly online-based sales using replica website)
Low entry-cost
No need to buy inventory
25-40% commissions for affiliates
Not the best earning potential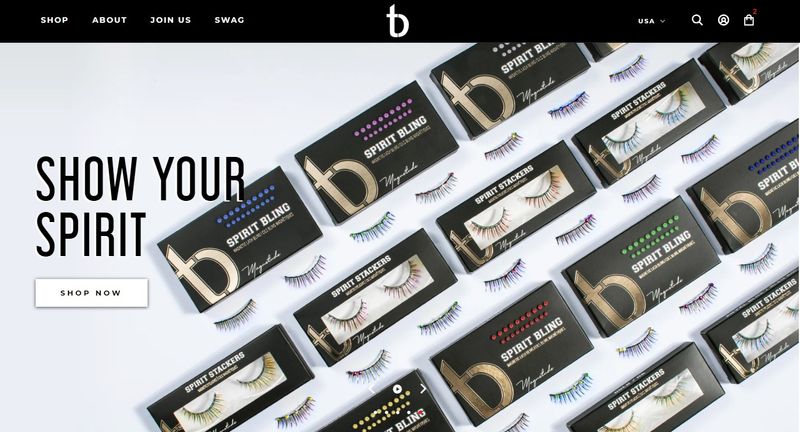 What Is Tori Belle?
Tori Belle is a multi-level marketing company (MLM) best known for selling cosmetics & beauty products. Their flagship product is magnetic eyeliners & lashes.
Their headquarters are in Greater Seattle, Washington.
Everything started in 2018 when Laura Hunter invented a magnetic eyeliner that makes it easier to apply and wear false eyelashes. With the co-founder Bob Kitzberger, they started LashLiner Inc to bring this new invention to the market.
Later in 2019, they launched Tori Belle Cosmetics (subsidiary of LashLiner LLC) to expand their reach using the direct-selling business model.
Contrary to many MLMs, Tori Belle leans more to the "affiliate" side of things meaning;
You are not required to carry inventory around your house because the majority of sales are made online (with "replica" websites) and the products are shipped straight to customers — basically dropshipping.
Despite that, the "affiliates" can build teams and earn bonuses from their "downline".
The whole system is basically a combination of direct-selling and affiliate marketing.
Tori Belle is a fairly new startup company and it is yet unclear whether they can survive past the 5-year mark (where most MLMs fail to reach). The risks of getting involved are high but so are the potential rewards.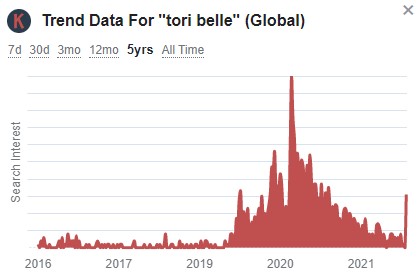 The initial launch of Tori Belle saw interest spikes but has since been on a downward trend despite many opposing assurances. Only time will tell whether they can keep going.
There's certainly no lack of competitors in the cosmetics space.
Some direct competitors of Tori Belle would be Red Aspen, Color Street, and Younique.
What Are Tori Belle Products Like?
If you want to become an affiliate and successfully sell Tori Belle products;
You need to know the products inside out and preferably have used them yourself (with a positive experience, of course).
Otherwise, you may have a hard time convincing people to buy.
And of course, learning all this is a time commitment so you shouldn't expect to make a quick buck with MLMs.
So let's see what kind of products they have available.
Tori Belle is selling products in the following categories:
Lashes (Magnetic & adhesive lashes, tools) – $18-35
Lips (Liners, plumpers, gloss, kits) – $25-130
Eyes (Liners, mascara, palettes, bundles) – $29-79
Face (Skincare, creams, serums, gels, moisturizers, palettes) – $15-220
Skincare (Acne care, gels, night creams, makeup remover) – $25-220
Accessories (Brush kits, sponges, scissors, lash applicators) – $10-125
Holiday & Bridal (Bride bags, makeup removers, palettes) – $20-45
Their flagship products are definitely their magnetic eyeliners & lashes.
Together they cost around $55 which I find a bit expensive when I compare them to other similar brands.
Of course, you'll earn better commissions when the products cost more, but they'll also become harder to sell if there are cheaper options available.
I can't really say much about what makes these different from other magnetic lashes since I'm a man. But maybe some lady can explain this to me over the comment section.
Are Tori Belle products FDA approved?
They only use FDA-approved ingredients, but the products themselves are not FDA-approved.
Is it a dealbreaker when it comes to selling these products? No, it doesn't matter. I don't think I've ever encountered an FDA-approved MLM product for that matter.
How Can You Make Money With Tori Belle?
Let's talk about the money as I'm sure that's what you want to know about.
There are two main ways to earn with Tori Belle:
Earning commissions from the products you sell
Earning bonuses when your downline makes sales
As I said before, Tori Belle affiliates operate almost exclusively online using the "replica" websites.
Basically, these "replica" websites look almost identical to the official Tori Belle website, but any sales made through them will be attributed to the affiliate who referred the sales (& will be compensated accordingly).
Also, the customer who buys through a replica website will automatically become the "downline" of the affiliate.
Of course, the customers can buy Tori Belle products without participating in the opportunity.
Tori Belle offers 25-40% commissions on your sales depending on your rank.
The more you sell, the higher you climb in the ranks.
And as I understood it, after the "Senior Affiliate" rank you need to start building a team before you can advance any further ranks.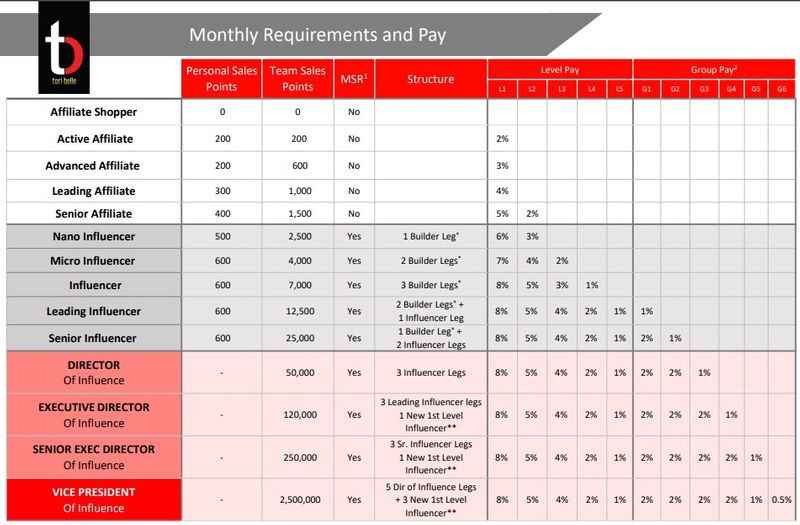 The good thing about Tori Belle is that you are not required to buy inventory, BUT; you need to have $200 worth of orders every month to remain active.
You can either sell (or buy) $200 worth of products to remain active.
In this case, not being active means you won't earn from your downline.
Frankly, I've never been a fan of this type of practice.
You are basically risking losing your rank & downline = part of your potential income. You can probably see how it can become a vicious circle of having to buy products to keep your "business" alive.
What do you think, does it sound like a good deal?
How Much Does It Cost To Join Tori Belle?
Tori Belle used to have $129 starter kits, but not anymore.
At the moment, the only cost seems to be $9/month for the replica website.
Some other potential expenses are advertising & promotional costs and the $200 sales requirement if you intend to stay active and can't sell enough products to reach it (then you'd have to buy the products).
The potential first-year expenses:
12 x $9 = $108
12 x $200 = $2400 (if you buy the products to stay active)
= $2508
If you don't care about being "active" which would enable you to earn bonuses and downline payments, then it's a fairly inexpensive opportunity to get into since you'll be paying just $9/month.
How Much Can You Earn With Tori Belle?
Unfortunately, Tori Belle has not published a public income disclosure so we can't see how much their affiliates are earning.
All I could find was this short snippet in their compensation plan:
We expect the typical participant to earn $0-140 USD per year in commissions and bonuses. This number includes Affiliates that sign up to receive a discount on products but do not sell. We expect
the average Active Affiliate to earn $5160 USD per year in bonuses and commissions.
Their website also mentions 22,000 affiliates joined in the first 9 months and that they have paid out $2 million in commissions for them.
If that is true, each affiliate would have received $90 in commissions. And we don't really know whether they made a profit or not because we don't know their expenses.
Of course, things might have changed for the better, but those numbers don't look too optimistic to my eyes. They seem fairly typical MLM earnings.
Can you make money with Tori Belle?
I'm sure you can, but I wouldn't expect the average affiliate to earn more than some supplement cash (unless you know what you're doing).
The main problem I have is that 25% starting commissions on $20-80 products won't earn you very much.
For example, one $55 magnetic eyeliner & lash combo earns you $13.75 only.
Although I do know how you could make this work.
Do This Instead
If I wanted to start a business and promote Tori Belle products, I would take a slightly different route to what they're probably teaching.
They're probably teaching the very "traditional" (& bad) way of posting links of your replica website to social media and hoping for sales to happen.
Or worse, they teach you to chase after people on Facebook and try to recruit them which is not effective in the long run (nor fun).
You do not want to trade time for money when it comes to business.
Here's what you could do instead;
You could start an affiliate website in the cosmetics & beauty niche and then create content around Tori Belle products (& other brands, of course).
That content would then rank in the search engines like Google and bring free visitors (potential customers) to your website. That way you wouldn't have to chase after the customers.
A prime practical example would be how you got to this post.
In the content, you could then link directly to your replica website and earn commissions that way. And yes — nothing would stop you from joining other affiliate programs from different brands and earning from them as well.
On top of that, you could monetize the site with display ads to earn more.
Sounds hard? It's not, and at the end of this post, I'll show you where to get started (or you can go there straight now).
Is Tori Belle a Pyramid Scheme Or a Scam?
Many people think all MLMs are pyramid schemes or scams because people have had notoriously bad experiences trying to make money with them.
And it's true — not many people succeed.
In many cases, MLMs are structured in a way that maximizes profits for the company while the distributors are earning very little.
This is because the distributors are often required to sell (or buy) a specific amount of products each month to stay active (at the risk of losing their potential monthly income).
This is a common risk in the MLMs that require you to buy & hold inventory.
Most of the time people are unsuccessful at selling these items and they have to pour money back into the company to stay active.
So is Tori Belle a pyramid scheme or a scam?
Tori Belle is not a scam or a pyramid scheme, but it doesn't necessarily make it a better business opportunity for you.
They do have real products and they can be bought without joining the business opportunity.
They also don't require you to buy inventory which is a great thing.
Their business opportunity is mostly online-based which gets rid of most (but not all) problems that the more "traditional" MLMs usually have.
Overall, I find it to be one of the more "ethical" MLMs around.
Should You Join Tori Belle?
That would be up to you.
I don't have huge confidence in the way MLMs teach online marketing.
Posting links on social media and PMing people is not going to cut it in 2021 anymore.
The replica website also lacks customization options and you don't have any meaningful way to rank them well on search engines.
Thus if you really want to promote them, I would instead create a basic WordPress website and promote your replica website inside the content you create there.
Your own WordPress website can rank on search engines and that means you don't have to chase after the customers, they will come to you instead.
An Alternative Way To Make Money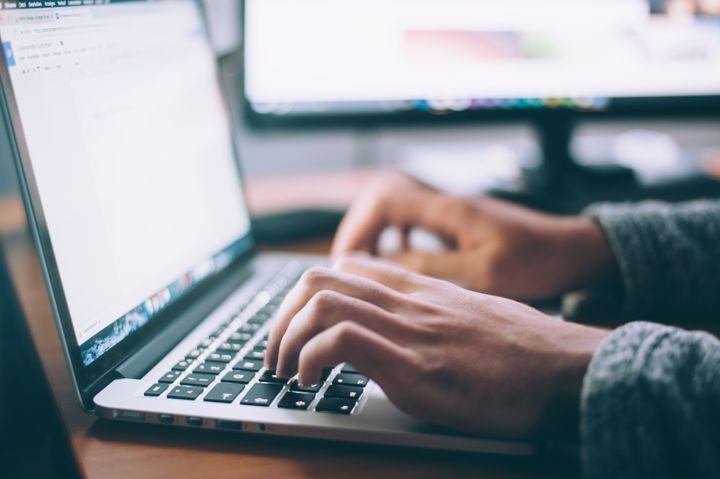 Now, one great thing about Tori Belle is that they don't require brand loyalty.
This means you can promote products from multiple companies and they won't mind.
While I'm not the biggest fan of MLMs, I do recommend affiliate marketing and especially in this case if you're into promoting Tori Belle.
In fact, many former MLM reps are moving over to affiliate marketing because it's simply a better way to earn:
No recruiting
No compensation plans
No need to be brand loyal
No recurring heavy investments
Easy to get started with realistic income potential
Nonetheless, you could create an affiliate website around Tori Belle and take advantage of their recruiting & compensation plan aspects.
The thing is that you'll have a much larger earning potential if you create an affiliate website and promote not just Tori Belle, but other beauty brands as well.
If that sounds interesting and something you'd like to try out;
Here's my free 7-day course on getting started with affiliate marketing.
Thanks for reading my Tori Belle review, and feel free to comment if you disagree with me on something.
Talk soon.