Home-based businesses are becoming increasingly popular in today's world.
It's the luxury of being able to make money from the comfort of your home and not having to commute that seems to resonate with people.
Fortunately, we live in times where the opportunities of the Internet allow anyone to craft such a lifestyle.
I've reviewed many of these opportunities and If I've learned anything; their quality varies a lot.
That's why today we are going to see if you can really make money with JBloom Designs business model — an MLM jewelry opportunity to be more specific.
In this JBloom review, you'll learn:
What JBloom is all about
How does the business model work
How to become a JBloom designer
Can you make any money with JBloom
Problems you might encounter
On top of that, I'm also going to show you a worthwhile alternative in case you decide JBlooms is not for you.
Are you interested in becoming a JBloom designer? Let's find out if it's worth it.

JBloom Designs Review Summary
$99 or $199
Earning Potential

Price

Availability

Compensation Plan
Can You Really Make Money With JBloom Designs?
Jewelry MLM with a business opportunity
Only available in North America
People with existing marketing experience can make this work
An average person typically loses money with any MLM
There are better risk-free methods to making money from home.
What Is JBloom Designs?
JBloom Designs is a direct sales jewelry company formerly known as U Design Jewelry co-founded by Jennifer and Bret Bonacorsi in 2003.
Just like many direct sales companies, recruiting customers into their business opportunity plays a major role in their business model.
(Currently, their business opportunity is available only for people living in North America.)
It allows anyone to become a "designer" for the company where your objective is to buy jewelry in large bulks at wholesale prices, and then sell them to potential new customers for retail prices while also recruiting them to your team.
When you successfully recruit someone to your down line, you'll earn a portion whenever they make sales.
This makes JBloom a multi-level marketing company (MLM).
Now, this alone doesn't make the company a pyramid scheme even though many believe so (due to so many MLM scams out there).
After doing my research, JBloom doesn't seem to have the typical red flags of a pyramid scheme. Additionally, they are emphasizing on many occasions that they are following the DSA (Direct Selling Association) rules with their business.
Although, this doesn't necessarily make it a better business opportunity for the customers and I'll explain my thoughts on this soon.
JBloom Design Products
JBLooms products include crafted jewelry with personalized options and interchangeable pieces.
These personalized options let you choose different fonts and texts to be engraved on the jewelry — some have premade options only and the ones requiring a name have the custom text available.
JBlooms jewelry products include:
Charms
Bracelets
Necklaces
Earrings
Rings, and more.
They also have 2 different subscription boxes called "Earring Extravaganza" and "Bloom Box".
Earring Extravaganza costs $17 per month and you'll receive a new pair of earrings every month.
The Bloom Box costs $49 per month and you'll receive new random accessories every month.
How Does The JBloom Designs Business Model Work?

I briefly mentioned earlier how JBloom is an MLM company and now I'm going to explain what this means in practice.
MLM stands for multi-level marketing or sometimes also called direct selling or network marketing.
What this means is that you can't buy JBlooms products from your typical retail stores.
Instead, the trade of goods is mainly done through "independent distributors" which in this case are called the JBloom "designers" — or in even simpler terms; other JBloom customers.
Meaning the customers are the ones marketing and spreading the word of the company.
And what this means in practice:
The customers are paying to promote the company without any guarantee of income.
Yes, there is no fixed salary in MLMs.
When you take part in any MLM opportunity, you have to buy the products in large bulks which are often called "starter kits" or something similar.
(Some MLMs already make the majority of their revenue by selling these "starter kits" as a business opportunity and those are often classed as pyramid schemes.)
Then your goal is to sell these products to your social circle and also recruit them to the "business opportunity". This is how the word spreads and the company gains more income sources as people keep buying more stock to resell.
More often than not, people are not successful in selling these products.
Typically, the company's compensation plan forces you to buy more stock, or else you'll lose the team for being "inactive" which means losing the majority of your income.
JBloom is no exception to this.
Does it sound like a good deal to you?
How To Become A JBloom Designer
Step #1 – Choosing A Starter Kit
You start by choosing a jewelry starter kit for your upcoming home party.
At the time of writing this, there are two starter kits available:
Designer Starter Collection $99
Designer Starter Collection $199
The difference between the two is that the more expensive one has more variety of jewelry.
Step #2 – Personalizing Your Jewelry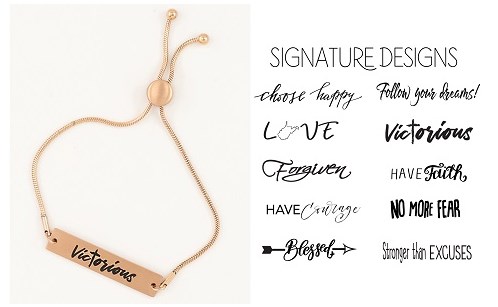 After you have chosen your kit, then it's time to personalize your jewelry.
Depending on the jewelry piece, you can choose from pre-made texts with different fonts or you can engrave a custom text on the jewelry.
Once you are done personalizing, it's time to checkout.
Step #3 – Checking Out And Finding A Designer
Since you are joining an MLM opportunity, you need to find a designer who will be your upline, meaning he/she will earn a portion when you make sales.
Often your upline is also responsible for mentoring and helping you arrange the upcoming party where you are supposed to sell all the jewelry.
You can search for a designer by their first and last name, or if you don't know anyone, you can then find one near you by inserting your address.
Can You Make Money With JBloom Designs?
As an independent distributor, you get 40% commissions from the jewelry you sell. Meaning you buy the jewelry at a 40% discount and sell them to your customers at retail price.

If you want to make any meaningful money with JBloom Designs, you have to constantly both sell products and recruit new designers to your downline.
Achieving a constant supply of new customers is the key here and that's where most fail.
You might make some sales at your first party where you've invited all your friends and family but that's often where the roadblocks begin. After pitching to your relatives, you start wondering where to get more customers?
It's a common problem in almost all MLMs because your customers are often limited to the size of your social circle and your geographical location. Unless you travel and meet new people every day.
If you can attract new customers and know how to sell effectively, then you can make this work.
Problems You Might Encounter
The hard truth is that 99% of distributors lose money when they join an MLM.
You often face the common limitations and roadblocks of MLM's and here are some of them listed:
The potential customers are often tied to the size of your social circle
You are limited by your geographical location
You are expected to be brand loyal and can't promote products from other companies
Trying to sell to your relatives is awkward and breaks friendships
You need to keep buying expensive stock even if you haven't sold the previous ones (to keep your rank)
Is JBloom Designs A Scam Or A Pyramid Scheme?
No, JBloom Designs is not a scam or a pyramid scheme.
Many people believe that every MLM is a pyramid scheme but this is not the case.
So far, they have been following the Direct-Selling Association rules and I couldn't find any lawsuits against them.
My Two Cents On The Business Opportunity
I don't like to pay huge sums every month to be able to participate in the opportunity. The risk of losing money is just too big.
The compensation plan also forces you to keep buying more stock or you'll end up losing your team (part of your potential income).
I simply don't see the reason to join MLMs because there are way better home-based business opportunities that are cheaper and don't have the same risks. Also, the earning potential is much better in the online space.
A Worthwhile Home-Based Business Alternative
I do something called affiliate marketing from the comfort of my home.
It's a lot more straightforward and overall safer option than MLMs.
Here are some of the differences:
No recruiting
No compensation plans
No need to be brand loyal
No recurring heavy investments
Easy to get started with realistic income potential
The affiliate marketing business also resides in the online space which means there's pretty much an endless supply of new customers.
If making money from home sounds interesting to you, I suggest you take a look at this free 7-day course on how to get started with affiliate marketing.
You'll get all the support, training, tools, a website, and hosting along with a great community to help you succeed.
Thanks again for reading my review.
I'll leave you to it.