Are you interested in promoting cleaning products and earning great commissions?
Good!
Finding worthwhile affiliate programs can be a challenge, but I've done the legwork for you below by researching and compiling a list of 10 affiliate programs all related to cleaning.
If you have a website, social media, or YouTube channel in the cleaning niche, make sure to stick around to find new hot brands and products to promote.
Even if you haven't started yet, I'll make sure to include resources for you at the end of this post so you can start racking in commissions in this highly profitable niche.
Let's get started.
10 Cleaning Products Affiliate Programs To Promote
Puracy
Branch Basics
Safely
My Cleaning Products
ThreeMain
SOLI Cleaning
Green Blaster
Meliora Cleaning Products
Vacuum Cleaner Mart
iRobot
Puracy

Puracy is a US-based online store that sells natural & organic household cleaning products.
Their goal is to make the products plant-based, hypoallergenic, and free from harsh chemicals so they are safe enough to use around children and pets.
People have liked the products a lot as they have sold over 8 million products and have over 25,000 5-star reviews on Amazon. They're enjoying a good reputation which makes your efforts a bit easier (less pre-selling) if you want to promote this brand.
You can start promoting Puracy products by joining their affiliate program on the Rakuten affiliate network. They offer 5% commissions on all sales made through your affiliate links.
5% Commissions
Cookie Length: –
Branch Basics
Branch Basics sells non-toxic & plant-based cleaning kits that allow you to replace toxic cleaning supplies and have a safer home environment.
Their flagship products are the starter kits ($5-$89) and a subscription auto-delivery service ($15-$55) to refill the cleaning concentrate used in the kits.
They offer decent 15% commissions on all sales and the payments are paid through PayPal.
However, there are requirements if you want to get accepted into the program. The main ones are that you must have 10,000 followers on Instagram and be located in the US or Canada.
15% Commissions
30-Day Cookie Length
Safely

Safely sells plant-powered & luxuriously scented cleaning products and is founded by the media personality, Kris Jenner.
The products are developed by experts and contain no harsh chemicals, artificial stabilizers, dyes, or any other harmful ingredients. This is always a positive selling point if you want to promote these products.
Another curiosity factor is definitely Kris Jenner's association with the Kardashian's TV show so people may already be familiar with the brand and this is something you can use to your advantage in your campaigns.
Their affiliate program is on the Impact network and you can sign up by filling out a form on the Safely website.
10% Commissions
30-Day Cookie Length
My Cleaning Products
My Cleaning Products is an online store founded by Markus Skupeika and they sell natural cleaning products aimed at enhancing your home, life, and wellbeing.
They have cleaning products for many categories such as:
Household
Pest control
Mold & rust
Carpets
Pets, and even boats.
I find this brand to be a great choice to promote. They cover many categories giving you more freedom to target different target audiences and they have an excellent affiliate program to go with it.
They're offering some of the highest commission rates (30%) I've seen so far in this niche. The average order value for businesses is $500-$5000 and $150-$300 for retail buyers which makes this brand really lucrative for affiliates.
You could earn some exceptionally high commissions especially by promoting to business audiences.
The affiliate program is also on the ShareASale affiliate network which is free to join and provides all the payments, tracking & reporting.
When you join you also get promotional material and occasional sales coupons to use in your campaigns. You could use the coupons to incentive people to buy through your affiliate links.
I highly recommend this one.
30% Commissions
30-Day Cookie Length
ThreeMain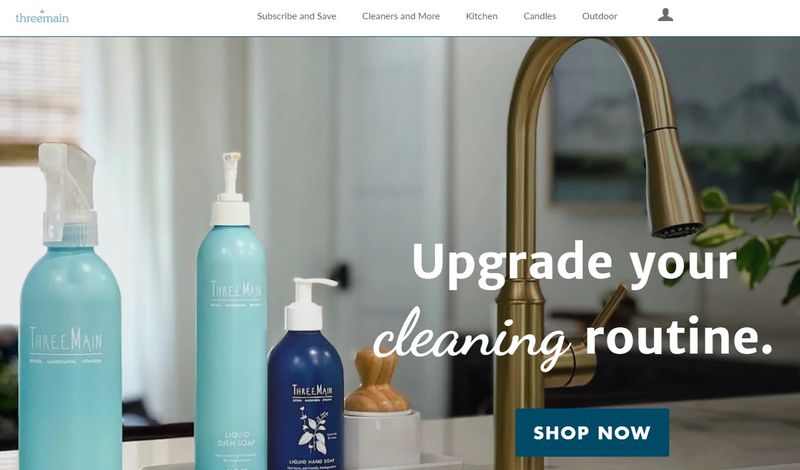 ThreeMain sells refillable & reusable aluminum bottles for eco-friendly and sustainable household cleaning along with a subscription service to refill the bottles.
The products come with health & wellness in mind as they are non-toxic, cruelty-free, and safe for pets & kids. Around 3% of all sales are also donated to programs that clean and protect our oceans.
You can become an affiliate for ThreeMain by signing up through the ShareASale network. Once you get accepted, you get access to coupons, deals, banners, and data feeds.
15% Commissions
30-Day Cookie Length
SOLI Cleaning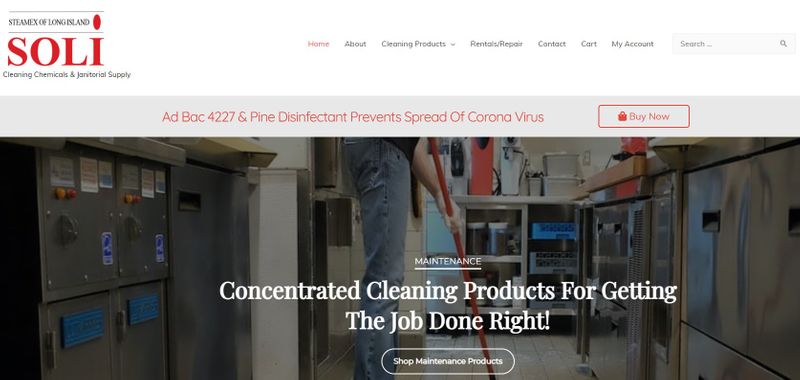 SOLI Cleaning has 40 years of experience in selling cleaning chemicals, equipment, and janitorial supplies for professionals.
They have commercial cleaning products for:
Carpets
Floors
Maintenance
Restoration
Odors
Basically, everything a professional may need to get the job done in the industrial cleaning market.
They're also taking pride in saying their cleaning products are 4X more concentrated than other brands, meaning you'll save time and money by using their solutions.
Similar to "My Cleaning Products", the average order value here for business buyers is $500 to $5000 and $150 to $300 for retail buyers. This brings great opportunities to earn high-ticket commissions if you want to start promoting SOLI Cleaning.
However, they offer slightly lower (but still good) commission rates of 20% for all sales. And here too you'll get access to special promotions and codes to use in your marketing efforts.
20% Commissions
30-Day Cookie Length
Green Blaster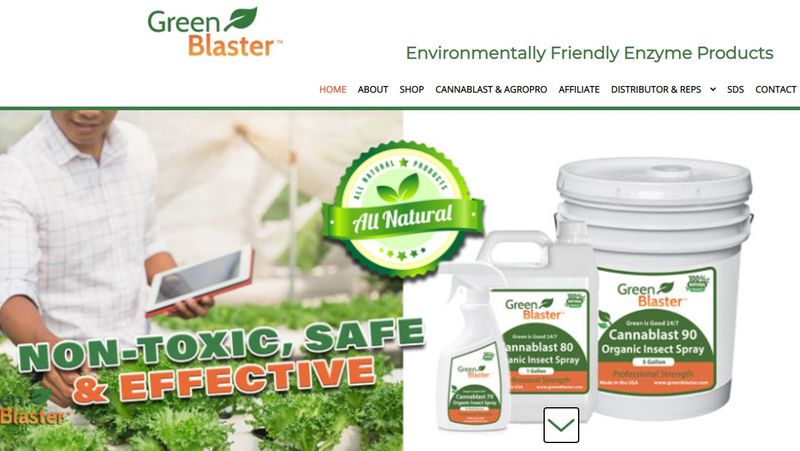 Green Blaster is a US-based company founded in 1989 and they sell green cleaning & pest control products.
If we take a look at just the cleaning products, they have cleaners for:
Bathroom
Kitchen
Glass
Mold & mildew
Floors & Drains
Carpets, and even yoga mat cleaners.
As you can probably guess from the brand name, the products are eco-friendly, safe to use, and contain no harsh chemicals.
You could promote these products to both businesses and retail buyers depending on what kind of audience you want to target on your website.
They offer a worthwhile 15% commissions on all sales and unlike most brands on this list, they also allow you to earn 10% commissions from recurring purchases made by your referrals for 180 days.
Their affiliate program is on ShareASale and you can join them for free. Just know that it takes a few days to review your application before you get in.
The minimum payout is $50 and they're paid out 15th of each month.
15% Commissions (10% recurring)
Cookie Length
Meliora Cleaning Products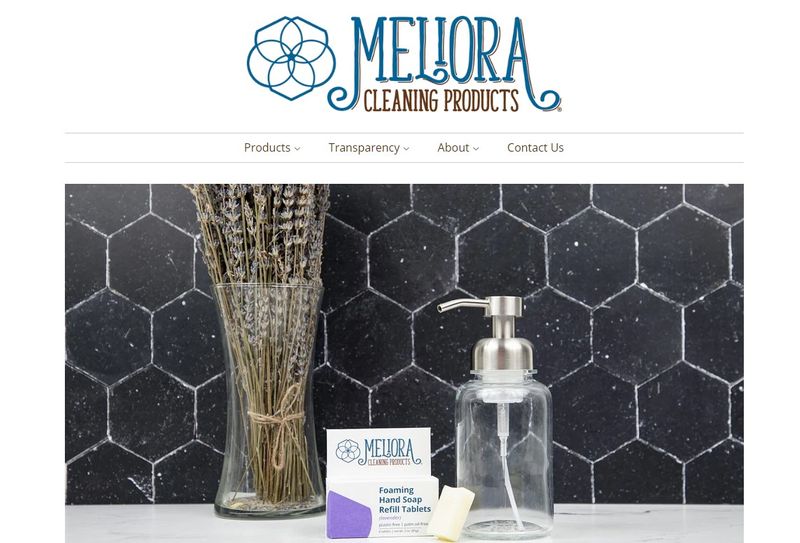 Meliora Cleaning Products is an online store selling home cleaning and laundry products that are people & planet-friendly.
The products are cruelty-free and 1% of the profits are donated to environmental nonprofit partners to help the planet.
Their product selection includes:
All-purpose home cleaners
Laundry powders
Dish soaps
Bath & body soaps
Scrub buckets, and many more.
If you share similar values and ideals of doing good for the environment and people, this could be a good option for you.
You can apply to become an affiliate by filling out a form on their website. They offer 10% commissions and you also get free samples and early access to new products.
10% Commissions
30-Day Cookie Length
Vacuum Cleaner Mart
The last two brands on this list are a bit different, but they are still related to cleaning so I wanted to include them.
Vacuum Cleaner Mart is an online store that sells vacuum & steam cleaners (as you can probably guess).
They are an authorized dealer and service center of the following brands:
What makes vacuum cleaners interesting to promote is that almost every household has one so there is a "mass-appeal" status to them. They can also cost quite a lot which means you can earn decent commissions by promoting them.
For example, the most expensive vacuum cleaner in this particular store is $1,699 and with 5% commission rates this would amount to $84.95 per sale. Promoting the cheaper ones wouldn't be bad either.
You can become an affiliate for them by filling out an application on the website.
5% Commissions
Cookie Length: –
iRobot
iRobot has been designing and building innovative robot vacuums and mops since 1990 and it has revolutionized the way people clean.
I believe these smart home appliances are only going to become more popular in the future and this presents a great opportunity for affiliates.
You could build a whole affiliate website around this niche and in fact, I already know a few people who have done it.
Although iRobot offers "only" 4% commissions it's still going to amount to decent earnings because the products can cost up to ~$1,700 and there may be potential for recurring commissions with the subscription service.
iRobot hosts its affiliate program on the CJ affiliate network which comes with dedicated affiliate managers, promotional material, and analytics.
4% Commissions
30-Day Cookie Length
How To Start An Affiliate Website In The Cleaning Niche
I see lots of potential in the cleaning niche.
You have so many angles and audiences to target along with great affiliate programs to choose from.
For example, you could build a website around the business side of cleaning. This could include tips for starting your own cleaning business and what products you'd need to get the job done. Then you'd add affiliate links for the stuff you recommend.
Another idea would be a basic cleaning tips website for your average household Joe. On your website, you could give advice on how to clean different things and you could review products you find useful.
Or perhaps a website about robot vacuums as I mentioned earlier.
The bottom line is that you can make great money no matter what direction you choose.
If this sounds like something you'd want to get started and do successfully, then I highly recommend checking out this resource;
Start building your cleaning website for free.
It's the same platform where I built my websites so don't miss out on it.