Are you looking for a way to make money promoting drum-related products?
If so, in this post I'll be sharing 11 different drum affiliate programs that you can join and start making money from. You could promote these products on your blog, YouTube, social media, or any other platform you prefer.
At the end of this post, you'll also find free resources on how you can start your own money-making (drum) affiliate website.
So, if you're ready, let's get started!
I have also other music-related affiliate program lists for you: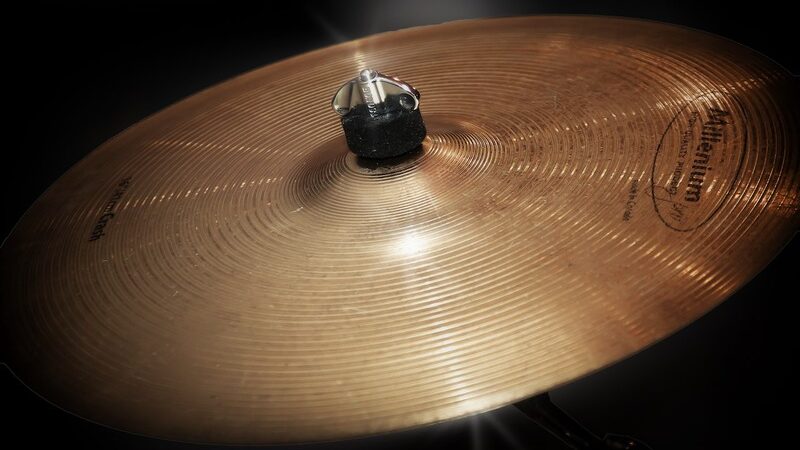 11 Drums Affiliate Programs To Promote
Donner
Guitar Center
Thomann
Drumeo
Sweetwater
Real Drum Samples
Sam Ash
AeroDrums
Musicroom
Interstate Music
Amazon
Donner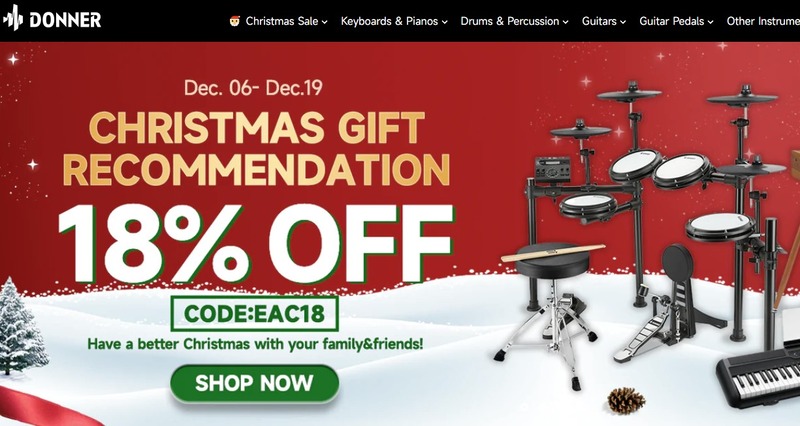 Donner was founded in 2012 and they focus on researching, manufacturing, and selling various musical instruments.
When it comes to drums, they have:
Electronic drums
Acoustic drums
Bongo drums
& Drum Accessories.
Most drums are priced between $200 – $1,200, and with their generous 11-15% commission rates, you can expect to earn worthwhile commissions as an affiliate.
Almost all products have a 2-year warranty and they provide free shipping as well.
During my research, I also saw a few affiliate websites promoting Donner so it seems like a solid choice that other music affiliates have decided to trust.
You can become an affiliate for Donner on the ShareASale network. Once you join, you'll also receive banners, coupons, and deals to use in your campaigns.
11-15% Commissions
30-Day Cookie Length
Guitar Center
Guitar Center was established by Wayne Mitchell in 1959 and today, they're one of the world's largest retailers of musical instruments with over 260 retail stores.
Despite the "Guitar" in the name, you can find a great selection of drums to promote in their online store.
Another aspect that makes this brand a good choice to promote is their international shipping. This means you can promote to worldwide audiences and still make sales as many other brands only ship within the US.
You can find Guitar Center's affiliate program on the Impact platform. To join, you simply need to fill out an application and wait to get accepted.
5% Commissions
30-Day Cookie Length
Thomann
I have a soft spot for Thomann because I bought my first guitar from there as a kid.
If you haven't heard of them, they're the biggest retailer of musical equipment in Europe. The company was founded in 1954 by Hans Thomann and is now managed by his son, who is also named Hans Thomann.
When it comes to drums and other instruments, the product selection is just massive. There are 320 acoustic drumkits alone, and the other drum categories have similar amounts to select from.
Thomann also ships internationally so you're not restricted to promoting to just one demographic which is great.
You can become an affiliate for Thomann on ClickFire as long as you have a minimum of 1,000 unique website visits per day and 5,000 followers on social media.
2-4.5% Commissions
14-Day Cookie Length
Drumeo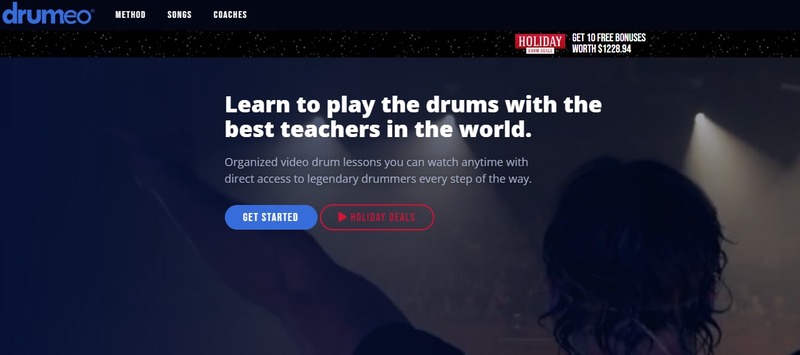 Drumeo provides online courses for improving your drumming skills. They also sell accessories and clothing.
In total, there are over 260 courses and 2500 lessons. You also get access to 5000+ Drumeo songs that come with note breakdowns and "play-along" tools so you can practice playing your favorite songs.
You can also get personal support from in-house professional drummers.
The course costs $240/year, and since this is a digital product, you may be eligible to earn recurring commissions. Although, I can't confirm if this is the case. I did see one website promoting this offer so it could be worthwhile for you too.
To start promoting this brand, you have to join through Musora which is the parent company for Drumeo and other similar instrument-learning platforms.
Commissions: –
Cookie Length: –
Sweetwater

Sweetwater is an online store for musical instruments and gear established in 1979 by Chuck Surack.
They have over 30,000 products available across the website, and their drum section comes with an impressive selection from top leading brands.
Sweetwater offers international shipping, but many of the products can't be shipped overseas due to contracts with the manufacturers which is a shame. They do offer free shipping within the US, however.
You can become an affiliate for Sweetwater by signing up at LinkConnector.
Instead of getting paid per sale, you get paid to drive traffic to specific pages on Sweetwater. This means you need a large volume of traffic to make decent money.
Commissions: $0.07 per click
Cookie Length: –
Real Drum Samples
Real Drum Samples is established by Jay Fisher who is a professional drummer, audio engineer, and beat maker/producer with over 10 years of experience.
On his website, you can get a free drum sample pack that you can use in music production. The free sample is part of his 2 premium drum packs that cost $49 each.
You can start promoting these drum packs as an affiliate and earn a worthwhile 50% commission on each sale.
I like this approach because you can offer people the free sample pack first so they can see what it contains. If they like it, they're more likely to buy the full premium pack at some point.
You can become an affiliate by sending an email to Jay on his website.
50% Commissions
More than 30-Day Cookie Length
Sam Ash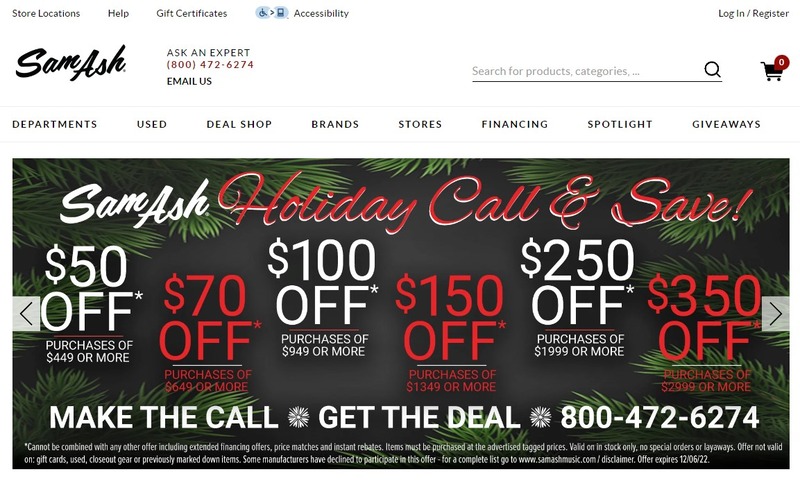 Sam Ash is an online store that was founded in 1924 by Sam & Rose Ash. They initially sold sheet music and violin repairs, but have since expanded to a wide variety of musical instruments.
Today, they have over 50,000 products, and over 4,500 of them are related to drums so you have a great selection to promote.
Something to note is that international customers have to fill out a form if they want to buy something, so it's best to stick to promoting this brand to US audiences only.
Their affiliate program is implemented on the Rakuten platform which you can join by filling out a simple application.
3-8% Commissions
30-Day Cookie Duration
AeroDrums
AeroDrums is something a bit different, yet intriguing.
Richard & Yann created "AeroDrums" that use motion capture technology to provide quiet and portable drumming solutions as an alternative to traditional electronic drums.
They call it "air drumming" as you drum away hitting nothing but air with a pair of sticks and a pedal that have motion sensors.
You can start promoting this innovative product through Awin. They have a $199 average order value, and with 15% commission rates, you can earn around $29.85 per sale.
15% Commissions
90-Day Cookie Length
Musicroom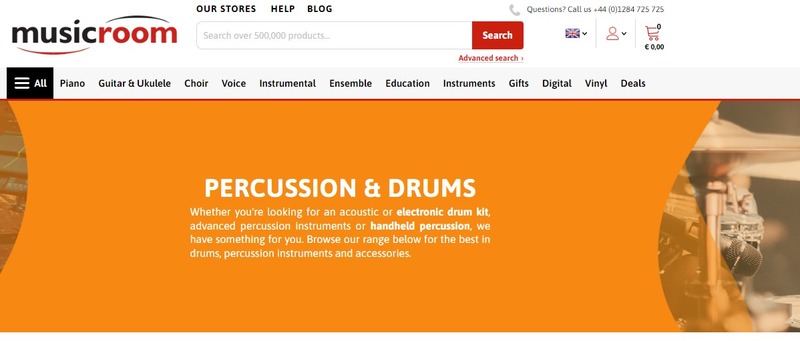 Musicroom was established in 1995 and their online store offers musical instruments, accessories, and helpful guides among many other things.
They are also part of the Hal Leonard group, which is the world's largest source of music publications.
Their drum section contains around 200 items and they offer worldwide shipping to customers. They're a UK-based store, so you'll likely have more success promoting this to EU audiences since the shipping costs will be cheaper.
You can join their affiliate program on TradeDoubler which provides you with the affiliate dashboard and affiliate links to use in your marketing campaigns.
4% Commissions
30-Day Cookie Length
Interstate Music
Interstate Music sells various musical instruments and has a great drum & percussion section.
You can find high-end drum kits in the selection and even though the commission rates are just "5%", you can make it worth it by promoting the high-ticket items here.
There's no international shipping so you're restricted to promoting to people in the states. Although, they do offer free shipping on items over $99 so that's nice.
The average order value is $275 and with 5% rates, it amounts to $13.75 per sale. Of course, you could make this higher if you only promote high-ticket items.
You can join the affiliate program on ShareASale which provides all the tracking, analytics, & reporting for affiliates.
5% Commissions
Cookie Length: –
Amazon

Amazon is not a dedicated drums online store, but it still has a massive product selection when it comes to drums.
This makes it a solid choice for affiliates to find drums to promote. It also comes with the benefit that people trust buying from Amazon and you get credited for all items in the customer's cart.
The commission rates at Amazon are not the highest, but the other benefits balance it out to some degree.
3% commissions
1-Day Cookie Length
How To Start An Affiliate Website Around Drums
If you already have an audience waiting for you somewhere, you probably know what to do next with these above-mentioned affiliate programs.
But if not, you may also be interested in learning how to make money with them.
Building a successful affiliate website is easy, as long as you have a clear action plan.
First, you will need to decide on a domain name for your website and purchase hosting. This will cost you ~$15 for the domain name and ~$10/month for hosting.
I recommend using NameCheap for domains and BlueHost for hosting.
Once you have those two items taken care of, you will need to create content.
This could be anything from creating reviews, comparing products, questions & answers, or just simple beginner's guides to drumming.
Your published content will then start attracting traffic from Google and this is when you can sign up for affiliate programs to start making money with affiliate links.
I'd also add display ads to the content for additional earnings.
With these steps in place, you will be well on your way to establishing a successful affiliate website around drums.
If you want a more detailed guide on how to do all this step-by-step, you should check out this free resource;
Start building your affiliate website around drums.
You'd do well to check it out.