Pianos are not only beautiful instruments, but they can also fetch a hefty price tag.
That's why they're ideal products to promote for any aspiring affiliates who have a burning passion for music.
In this post, I'll introduce you to 11 of the best piano affiliate programs out there, and provide you with a guide on how to start your own piano affiliate website to make money with these programs.
The piano niche also comes with surprisingly many digital products (such as piano online courses) that can earn you excellent commissions along with physical products.
So, let's get started!
Related affiliate program posts you may be interested in:
11 Piano Affiliate Programs To Promote
Piano For All
Skoove
Flowkey
Sam Ash
Piano In 21 Days
Piano Wizard Academy
Rocket Piano
The Piano Encyclopedia
Legacy Learning Systems
Sweetwater
Guitar Center
Piano For All
Piano For All is an online course that teaches the basics of playing piano. It's designed for beginners to intermediate-level piano players.
With over 450,000 students worldwide, it has become one of the most popular piano courses on the web since its launch in 2006. The course uses a chord-based approach to teach students popular rhythms, chords, ballads, blues, jazz, ragtime, improvisation, classical pieces, and more.
The course costs $49 and has one upsell "Classics By Ear" priced also at $49.
Piano For All offers an affiliate program that is easy to join and provides high commission rates. As an affiliate, you can earn a whopping 60% commission for every sale you refer. That's $27 per sale! With the popularity and high conversion rate of Piano For All, it's an excellent opportunity to earn passive income.
The affiliate program provides affiliates with a range of marketing materials, including banners, email swipes, and text links. These marketing materials are designed to help affiliates promote the course effectively and generate sales.
Joining Piano For All's affiliate program is a no-brainer for anyone looking to monetize their piano website or YouTube channel. The course has an excellent reputation and delivers high-quality content that students love. Affiliates can trust that they are promoting a product that provides real value to customers.
60% Commissions
Cookie Duration: –
Skoove
Skoove is an online platform and app that offers interactive piano lessons. With over 2 million users, it's a popular choice for beginners looking to learn piano.
They offer over 400 lessons and songs by famous composers like Beethoven and Mozart, as well as popular artists like John Legend and The Beatles. The app is easily accessible as it works on various devices including PC, Mac, iPad, iPhone, and Android.
Skoove's unique feature is real-time feedback and support from instructors, which ensures that learners receive guidance and assistance throughout the learning process. Moreover, the platform is designed to be easy to use and understand, making it an excellent choice for beginners.
Skoove comes with a free plan of 25 piano lessons, and a premium plan that starts at 29.99€/month.
Apart from offering quality piano lessons, Skoove also offers an affiliate program for affiliates looking to promote their platform.
Affiliates can earn 30% commissions by referring users to Skoove through their unique affiliate link, accompanied by a lengthy 60-day cookie duration. With the monthly plan, you can expect to earn 8.9€ per sale.
30% Commissions
60-Day Cookie Duration
Flowkey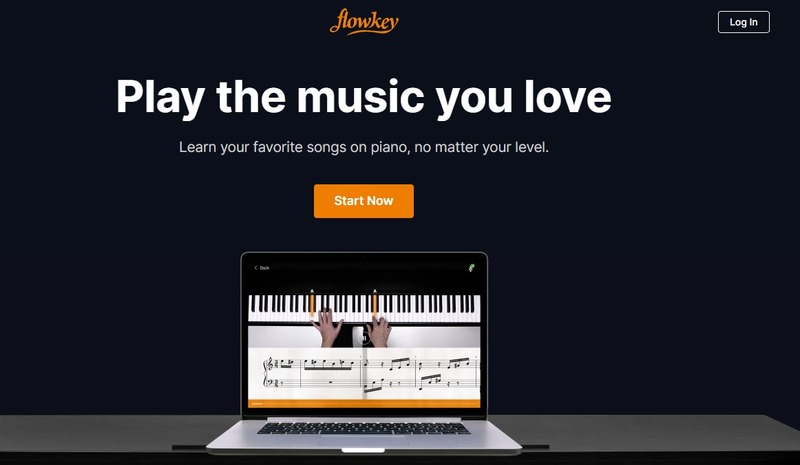 Flowkey is a comprehensive and user-friendly piano learning platform.
Launched in 2015, Flowkey has quickly become a global leader in its category, with over 10 million users in more than 100 countries.
Flowkey provides songs and courses for all skill levels, with over 1,500 songs to choose from. The app provides instant feedback and allows users to play along with expert pianists, adjust the speed, and learn proper techniques. With Flowkey, you can learn all there is to know about notes and chords.
Flowkey membership costs $19.99/month.
As a Flowkey affiliate, you can earn attractive recurring commissions by promoting their subscription model. Joining is free and easy, and you don't need any online marketing experience to get started. Unfortunately, they don't share details about commission rates so I can't comment on that.
Once you've joined the program, you'll have access to affiliate dashboards to track your earnings. You'll also receive expert support and resources to help you grow your income. Flowkey can even provide you with visual resources and feedback to give your promotions even greater impact.
Commissions: –
Cookie Duration: –
Sam Ash
Sam Ash is a family-owned chain of musical instrument stores in the United States that has been in business for nearly 100 years.
With 44 locations across 16 states and a robust online presence, Sam Ash offers a wide range of musical instruments, gear, and accessories for musicians of all ages and abilities.
As an affiliate, you can promote Sam Ash and earn 10% commissions on sales made through your affiliate links. With over 50,000 products on their website, Sam Ash is the go-to destination for musicians looking for high-quality instruments and accessories.
Sam Ash's affiliate program is available on Rakuten and offers a 30-day cookie duration. This means that even if a customer doesn't make a purchase right away after clicking on your affiliate link, you can still earn a commission if they make a purchase within 30 days.
If you're looking to partner with a reputable and well-established brand in the musical instrument industry, Sam Ash is an excellent choice.
Just keep in mind that customers outside of the US will need to contact the store directly to make a purchase, so it's best to stick to promoting this brand to a US audience only.
10% Commissions
30-Day Cookie Duration
Piano In 21 Days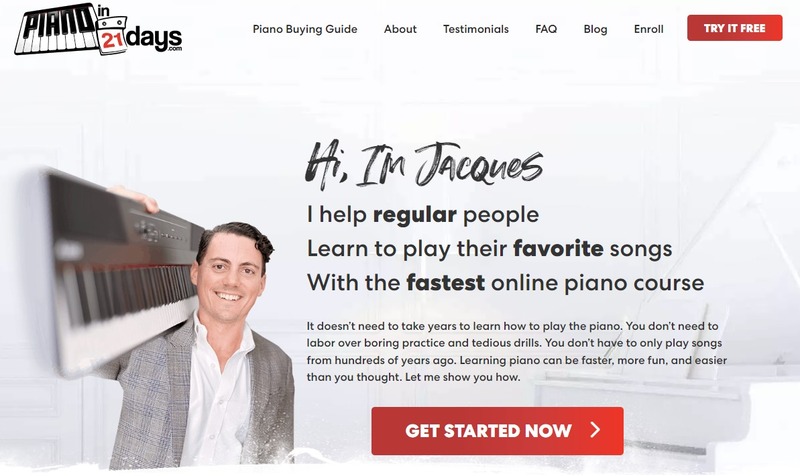 Piano In 21 Days is an online course created by Jacques Hopkins (a former engineer & pianist) aimed at teaching regular people to play piano in the shortest amount of time possible.
The course provides easy, structured lessons that eliminate the need for laborious practice. Instead, the focus is on learning how to play modern songs using an 80/20-based framework.
For affiliates, Piano In 21 Days offers a generous commission of 30% for every sale made through their unique affiliate link. The affiliate program also provides a 30-day cookie duration, which means that affiliates will receive commissions for sales made within 30 days of the referral.
Piano In 21 Days offers a free trial and two pricing plans: Essential and Ultimate.
The Essential plan costs $497 and provides access to video courses and a workbook.
The Ultimate plan, on the other hand, costs $997 and includes all of the features of the Essential plan, as well as one-on-one coaching sessions with Jacques Hopkins himself, and more.
Affiliates who promote the Essential plan can earn a commission of $149.1 for every sale made, while those who promote the Ultimate plan can earn a commission of $299.1 per sale.
I find this to be a great option to promote. It's a solid brand and the commissions are worthwhile.
You can become an affiliate here.
30% Commissions
30-Day Cookie Duration
Piano Wizard Academy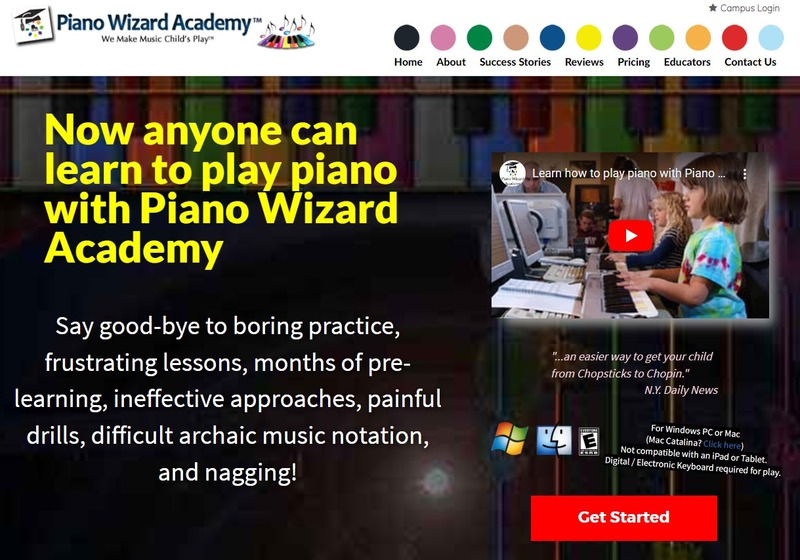 Piano Wizard Academy is a one-of-a-kind software program that makes learning to play piano and read music an enjoyable experience for students of all ages.
The 5-step system makes learning painless and eliminates the need for difficult music notation, which is ideal for beginners or those who struggle with traditional teaching methods. The program includes a video game software, sheet music, video lessons, rewards, and bonus songs.
The academy costs $19.95 per month or a one-time payment of $297 (no keyboard) or $347 (with a keyboard).
The academy's affiliate program offers affiliates an opportunity to earn a 5% commission for every sale they make. The 180-day cookie duration ensures that affiliates get credit for sales that occur well after a user clicks on their referral link.
Additionally, Piano Wizard Academy provides all the necessary resources and materials to help affiliates promote their program, including banner ads, text links, and email templates.
5% Commissions
180-Day Cookie Duration
Rocket Piano
Rocket Piano is an online piano tutorial program designed to help beginners learn to play the piano correctly. It offers a comprehensive multimedia course with ebooks and a free beginner course.
Rocket Piano's online course is designed to teach users from beginner to advanced level, with 218+ step-by-step lessons, 57 video lessons, sound files, tutorials, and jam tracks. It also includes music theory and information on the history of the piano. The course is taught by a team of experienced piano teachers and musicians with 30 years of combined experience.
Over 90,000 people have learned to play with Rocket Piano.
The course costs $39.95 and has a commission rate of 75%, so you can earn $29.9 per sale. It also comes with a decent 90-day cookie duration.
75% Commissions
90-Day Cookie Duration
The Piano Encyclopedia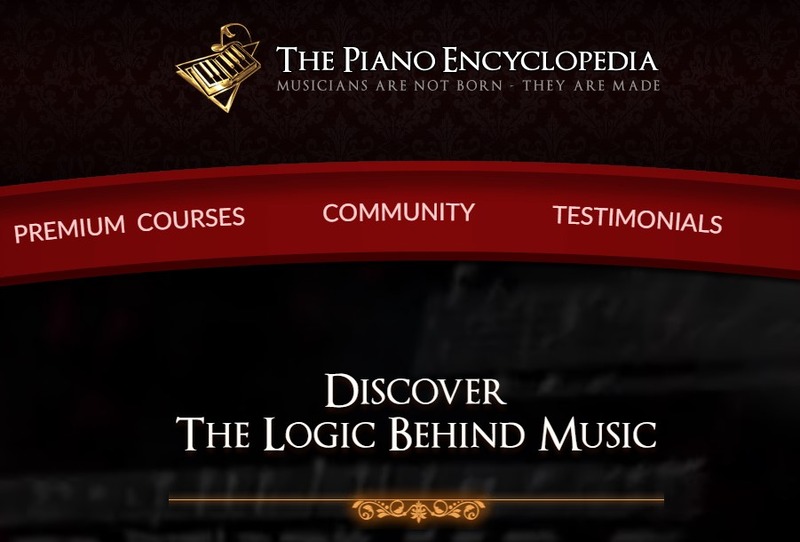 The Piano Encyclopedia is an online platform that offers step-by-step piano lessons on improvisation, composition, and playing by ear.
They offer a comprehensive 111-page eBook on music composition principles.
But what makes them stand out is not just the eBook, but also its vibrant community of like-minded musicians. With over 500 pages of interactive lessons, more than 3000 animations and recordings, and the opportunity to connect with other musicians, The Piano Encyclopedia is truly a place to be for those seeking to improve their piano skills.
For affiliates looking to partner with The Piano Encyclopedia, the rewards are plentiful.
Affiliates can earn $54.36 per sale of the platform's digital home-study course "The Logic Behind Music," which is priced at $197.00. With a 180-day cookie duration, affiliates have plenty of time to promote the course to their audience and earn commissions.
With the program being on ClickBank, affiliates can rest assured that their commissions will be tracked and paid out accurately and on time.
Commissions: $54 per sale
180-Day Cookie Duration
Legacy Learning Systems
Legacy Learning Systems is a multimedia training course provider that offers comprehensive programs for people looking to learn new skills from the comfort of their own homes.
They have courses for piano and guitar playing, as well as mobile applications that are compatible with iPads and iPhones.
Their flagship product, Learn & Master Piano, is an extensive video instruction course designed for adults, regardless of their previous experience. This course includes 20 DVDs, 5 play-along CDs, a lesson book, and online student support. With Learn & Master Piano, you can learn a wide range of styles and techniques, progressing from basics to more advanced skills.
The program offers a 20% base commission rate and an average commission of $43 per sale, making it a lucrative opportunity for those who can drive traffic and sales.
It also comes with a lifetime tracking cookie, allowing you to earn commissions on future purchases made by your referrals.
Additionally, the program has a dedicated affiliate management team, providing you with the support and resources needed to succeed. They also run frequent sales and promotions, making it easier for you to incentivize your audience and boost your commissions.
You can find the affiliate program on ShareASale.
20% Commissions
Lifetime Cookie Duration
Sweetwater
Sweetwater is an online music retailer that provides musical instruments and gear, including pianos, guitars, drums, keyboards, microphones, and more.
They have been serving music makers since 1979, and their mission is to deliver exceptional service, provide expert advice, and give back to their community.
They offer customers personalized advice, fast shipping, a free two-year warranty, and payment options for every budget. This means your audience can trust that they will receive high-quality products and great service when they make a purchase through your affiliate link.
If you're specifically interested in promoting pianos, Sweetwater is a fantastic place to start.
They have a showroom with a great selection of acoustic and digital pianos from various brands, as well as expert advice from in-house piano gurus. They also offer fast, free shipping on digital pianos purchased on their website. They also provide articles to help guide you to the best keyboard for learning piano.
Their affiliate program at LinkConnector is free to join.
Commissions: –
Cookie Duration: –
Guitar Center
Guitar Center is a global leader in the music retail industry, offering a vast selection of musical instruments, accessories, and equipment.
Founded in 1959 by Wayne Mitchell, Guitar Center has since expanded its reach throughout the United States and online, with over 40,000 products available for purchase.
As a musician, you can find everything you need at Guitar Center, from guitars and basses to drums, amplifiers, keyboards, and even DJ gear. In addition, they offer an extensive collection of digital pianos, with over 570 piano products available online.
The affiliate program for Guitar Center is available on the Impact network. Affiliates can earn a commission of 5% on every sale made through their referral link, and the cookie duration lasts for 14 days.
Guitar Center is a leading retailer of musical instruments, accessories, and equipment, offering a vast selection of products to musicians worldwide. By joining their affiliate program, affiliates can earn commissions, access exclusive deals, and help their audience find the musical products they need.
5% Commissions
14-Day Cookie Duration
How To Start A Piano Affiliate Website
Starting a piano affiliate website can be a great way to monetize your passion for music and help others find the right instruments and supplies.
With the potential for high commissions and a growing market for digital pianos, there's never been a better time to start your own website.
Why Start a Piano Affiliate Website?
For starters, you can help people make informed decisions by providing information and reviews about pianos and other related products.
Some other valid reasons are brand-building and networking.
Pianos and piano supplies can also be expensive, which means there's potential for high commissions when you promote them as an affiliate. There are also plenty of digital products such as online courses to promote because not everyone is willing to buy instruments online without seeing them first-hand.
Maybe the last reason could be that building affiliate websites is fun!
Market Statistics
Before we start, let's look at some statistics to get a sense of the market:
With these figures in mind, it's clear that there's a significant market for pianos and related products.
Here are some essential steps to follow when starting your piano affiliate website.
Choosing A Domain Name
Firstly, choose a domain name that is brandable, memorable, and related to pianos or music.
It's essential to get a ".com" domain as it's the most widely recognized domain extension.
You can find and purchase domain names from NameCheap or GoDaddy.
Setting Up A WordPress Website
Next, you should choose to build your website on WordPress.
It's very customizable and most web hosting companies allow a simple 1-click installation for WordPress.
You could get hosting for your WordPress website from Bluehost or Wealthy Affiliate (which I use).
For your theme, I highly recommend GeneratePress, it's an excellent choice due to how fast and customizable it is.
This website is built on GeneratePress too!
Creating Content To Drive Traffic
To drive traffic to your website, start by creating blog posts.
Blog posts get indexed on search engines, and you start getting free visitors from Google.
This is also called search engine optimization (SEO).
For blog content ideas, you can create how-to posts, buying guides, reviews, and listicles around pianos and everything related to them.
Later on, you can start YouTube and social media channels to reach a wider audience.
Monetizing Your Website
To monetize your website, you can join the above-mentioned affiliate programs to make money.
Choose a reputable program that pays good commissions and is a good fit for your audience. Maybe pick an affiliate program with physical products and another with digital products.
Later on, you can add display ads to your website. However, display ads require lots of traffic to be worthwhile.
And there you go!
This was a quick overview but that's all there is to it really.
If you'd like a more detailed guide with videos on how to do all this properly;
Start building your piano affiliate website for free today and share your love of music with the world.
It comes with everything you need to make this into a successful venture. Check it out before you go!