The aging population is a real problem in many countries.
But it also comes with a massive industry in the form of services & products.
This comes with the opportunity for you to become an affiliate and help this huge audience choose the best products and services for their situation.
During my research, I found many brands & high-ticket items paying generous commissions to affiliates (& this is something you can get a piece of).
Today, I've put on my thinking cap and gathered 10 elder care & assisted living affiliate programs you can start promoting on your website, email list, social media, or YouTube channel.
I also share resources at the end of this post if you want to start your own affiliate website in this niche.
10 Elder Care & Assisted Living Affiliate Programs
Senior
Caregiver Products
Mobility Aids
Elder Store
Elder Depot
MobileHelp
Silver Cuisine
Otofonix
1800 Wheelchair
Iamfine
Senior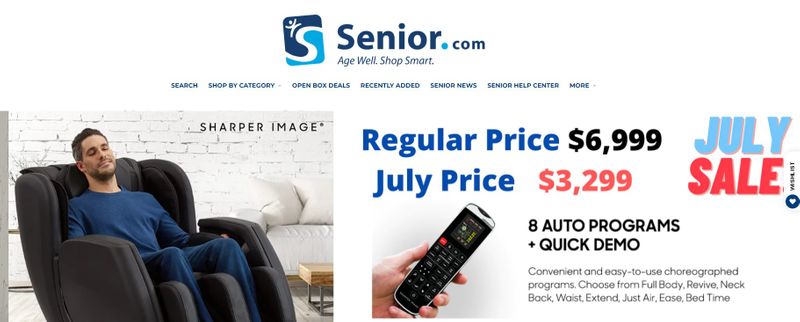 Senior is an online store for seniors & caregivers. They're selling products from over 500 top brands and have 2.7 million members using their website.
Some notable product categories include:
Fall prevention
Household safety
Supplements
Mobility aids
Vision & hearing aids.
They have pretty much everything covered when it comes to seniors and caregivers.
What makes this an interesting choice to promote (as an affiliate) is the sheer amount of products and the possibility to earn high-ticket commissions. I even saw $10k massage chairs that were sold out.
Money aside, you'd also be doing a helpful service to your audience by introducing a reputable brand known for showing everyone respect, care, and support.
You also get to target 2 audiences (seniors & caregivers) by joining just one affiliate program so it eliminates redundant hassle.
Their affiliate program is managed on the Refersion network and you can apply by filling out an application on the Senior website. They offer 10% commissions and you can expect to earn decent commissions by promoting this established brand.
10% Commissions
30-Day Cookie Length
Caregiver Products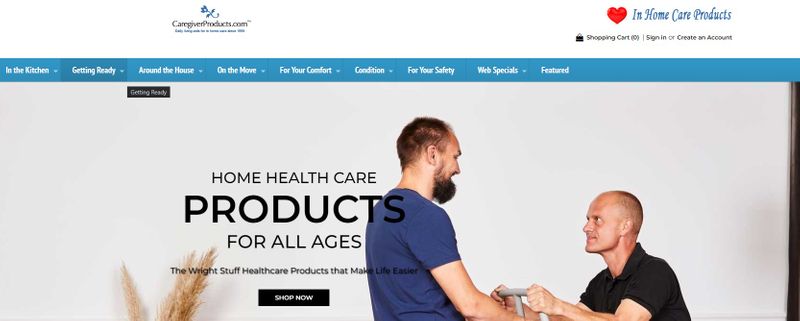 Caregiver Products is an online store by The Wright Stuff, Inc – their goal is to be the leading provider of home medical supplies for all ages.
They have multiple online stores in this industry, and Caregiver Products is the one for:
Nursing home supplies
Home medical supplies
Elderly care products
Assistive devices
Geriatric aid
For example, assistive devices include products that make a caregiver's life easier in bathing, feeding, dressing and transferring the person being cared for.
You can join their affiliate program on ShareASale which is free to join and provides the payments, tracking, & reporting for affiliates.
10% Commissions
45-Day Cookie Length
Mobility Aids

Mobility Aids is another store from The Wright Stuff company (similar to the earlier Caregiver Products).
This one is aimed specifically at mobility aids & accessories for the elderly, seniors, disabled, and physically impaired people.
They sell products like canes, crutches, walkers, leg lifters, wheelchair ramps, and many more.
The affiliate program is pretty much the same across all "Wright Stuff" brands. It's on ShareASale, offers 10% commissions, and a fairly long 45-day cookie duration where you'll get credited for the sales made through your links.
10% Commissions
45-Day Cookie Length
Elder Store

Elder Store sells elder care & home care supplies for seniors, elders, and people who have:
Arthritis
Parkinson's
Incontinence
Stroke
Essential tremors
+ Other common disabilities of aging.
They want their customers to retain independence, grace, and dignity by offering a wide range of products to help with everyday living.
Elder Store is a US-based online store, but they ship their products worldwide making it a decent option for affiliates who want to promote to different demographics.
If you want to start promoting Elder Store, you can create a free account on their website where they'll provide you with affiliate links to use in your campaigns.
10% Commissions
30-Day Cookie Length
Elder Depot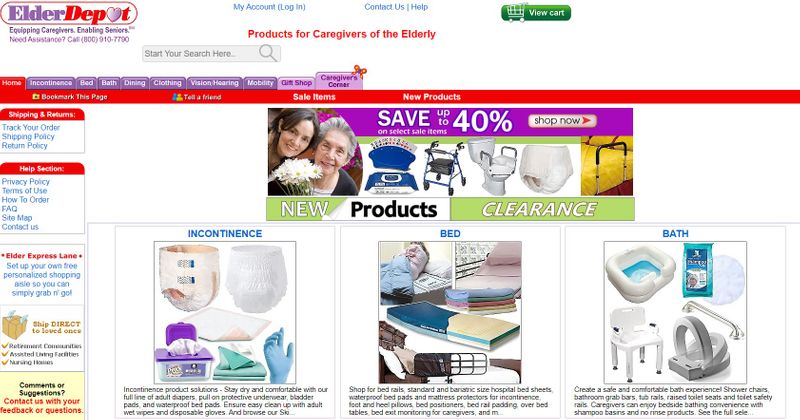 Elder Depot is an online store that sells caregiver products & supplies to help with elderly care and assisted living.
They have over 1,000 products in their catalog all meant to be useful in homes or nursing facilities.
The site was founded in 2002 by Kristen Pipher who cared for her grandparents with Alzheimer's disease. After her grandmother passed she decided to establish Elder Depot to help others care for their aging relatives.
She wants to provide people with quality products at reasonable prices while making daily life easier for caregivers and recipients.
It's worth noting that they do not ship products outside the US. If you're not from the states, you can still apply to become an affiliate if your website traffic is mostly from the US.
You can join their affiliate program on ShareASale for free and without any commitments. Your starting commission rate is 6% and can increase up to 8% depending on the sales volume you do each month.
The average sale is $115 for affiliates.
6-8% Commissions
Cookie Length: –
MobilityHelp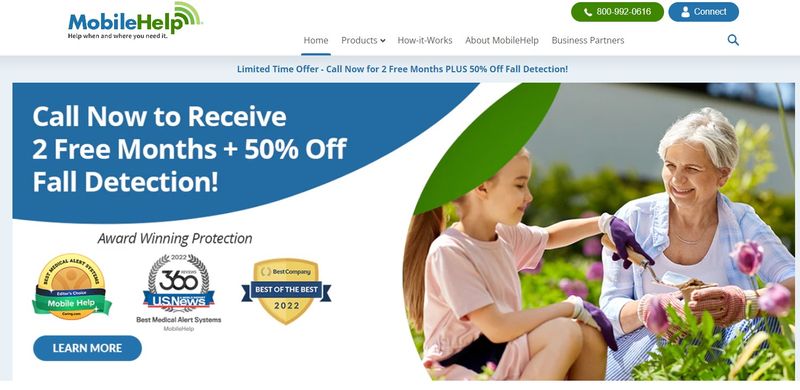 MobileHelp was founded in 2006 and is a subscription service that sells medical alert systems and monitoring devices to keep seniors safe at home and while away.
These devices are created by an FDA-registered manufacturer and their main function is the ability to summon help with the push of a button. When you press the button, your info & location are sent to the MobileHelp Response Center through GSM/GPS tracking.
The response center then assesses the situation and contacts a family member or sends emergency service to the location.
The affiliate program is actually quite lucrative as you can earn a flat commission of $80 for every order. For customers, the minimum cost is $19.95/month (depending on the product) so I can imagine it'd be easy to get people to try out the service.
The affiliate program is on ShareASale and you get a dedicated affiliate manager to help you if needed and promotional material to use in your campaigns.
Commissions: $80 flat-rate for every order
180-Day Cookie Length
Silver Cuisine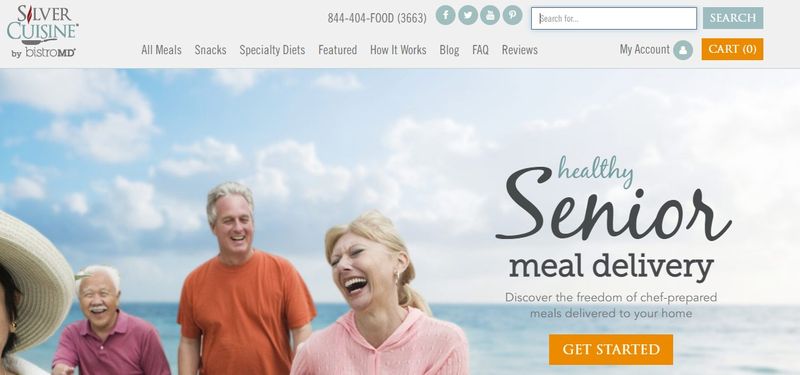 Silver Cuisine is a home meal delivery service for seniors.
In short, you choose what meals (breakfast, lunch, & dinner) you want to eat today and Silver Cuisine will handle the shopping, cooking, and delivery of the meals.
All the meals are designed by doctors and prepared by chefs. Their goal is to support longer and healthier living for adults 50+ and seniors.
They have 150 meal choices and also accommodate special dietary needs such as:
Heart healthy
Gluten-free
Low-sodium
Diabetic diets
You can become an affiliate for Silver Cuisine by signing up on the CJ affiliate network where they provide you with performance analytics, promotional material, and support.
7% Commissions
120-Day Cookie Length
Otofonix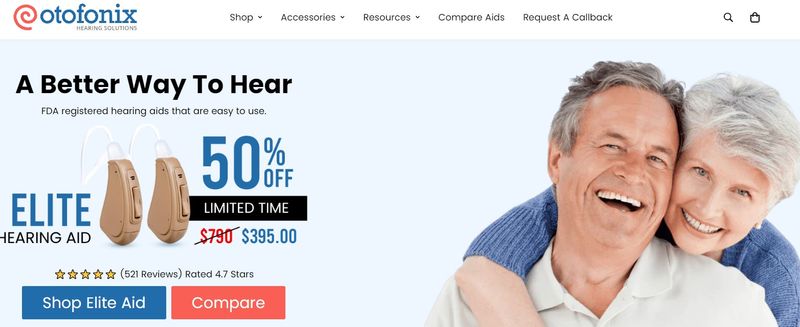 Otofonix is a Texas-based brand that manufactures and sells high-quality hearing aid instruments and accessories.
The hearing aid devices cost between $250-$800 and are in the perfect price range for affiliates to promote and earn worthwhile commissions. Otofonix products are FDA-registered and they have over 120,000 customers across the US.
Another interesting aspect is that Kevin Harrington from the Shark Tank TV show has done a testimonial for this specific company and it certainly adds a credibility boost when you're promoting this brand.
The affiliate program is on ShareASale and they offer you 15% starting commission rates (you have the chance to negotiate better rates if you perform well). When you join you also get access to tracking & reporting systems and promotional material.
15%Commissions
30-Day Cookie Length
1800 Wheelchair
1800 Wheelchair was founded in 1997 and is one of the largest mobility aid & medical supply stores online.
They have an amazing product selection for everyone ranging from handicapped individuals to seniors:
Wheelchairs
Mobility scooters
Walkers
Rollators
Patient lifts, and many more.
They also have helpful customer service that can give advice on the best products for unique situations.
For affiliates like you, this is a great brand to promote and there are opportunities to earn some generous high-ticket commissions. The products are a "must-have" for people with mobility impairing conditions and they can also cost multiple thousands.
Now, you shouldn't just go ahead and promote the most expensive stuff here. The key to success with these products is to be ethical and genuinely help people with their situation.
You can sign up to become an affiliate by filling out an application on the website. They offer 6% commissions for every sale and the minimum payout is $50 (which shouldn't be a problem with these price structures).
6% Commissions
Cookie Length: –
Iamfine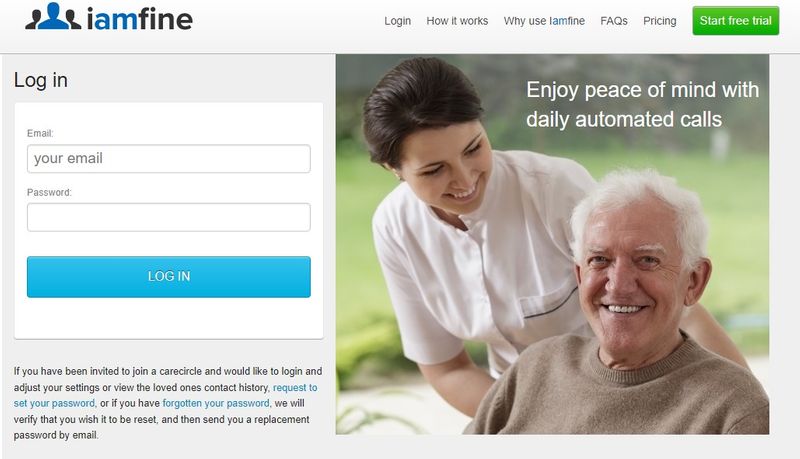 Iamfine is a daily automated check-in phone call service established in 2012 by Colin & Paul Hammond.
The goal is to support the elderly living alone for as long as possible while keeping your relatives notified that everything is okay.
The service works by calling the recipient every day at a chosen time, and then they have to answer the phone and press "1" to check in for the day.
If the check-in call is missed, they'll try calling again 4 times over the next hour and if they still can't reach anyone, they'll notify friends & family.
The service costs $14.99/month or $120 annually, but they also have a 14-day free trial (no credit card required). This will make it easier for you to get people to sign up for the service (as an affiliate).
Their affiliate program pays a flat commission of $50 for every person you refer.
Commissions: $50 flat rate
Cookie Length: –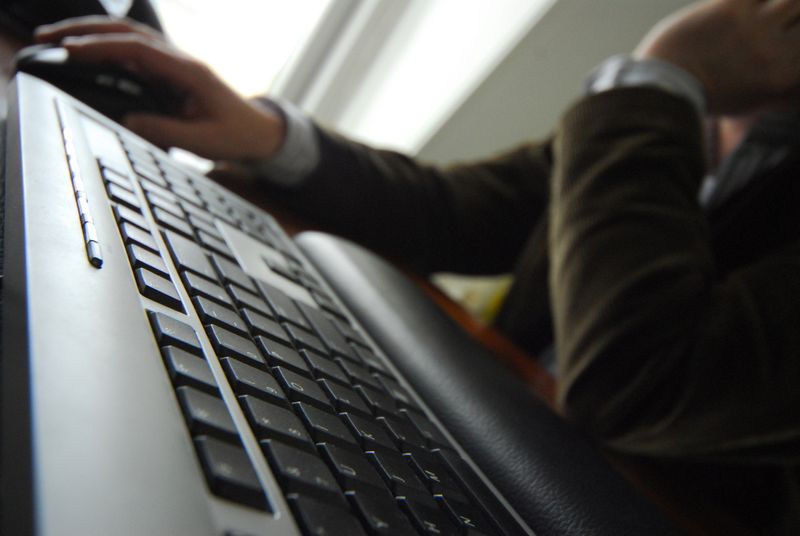 Other Blog Posts You Might Be Interested In:
How To Get Started With Affiliate Marketing In The "Elder Care" Niche
According to ResearchAndMarkets.com, the global elderly care products and services market size was $832.8 Billion in 2019, and it's only going to get higher with the increasingly aging population.
As you can probably tell, this is one massive industry and it comes with plenty of opportunities for affiliates to do lots of good and earn high-ticket commissions in the process.
For example, you could create an affiliate website where you review these meal delivery services, home alert systems, and other products for seniors.
Or you could focus more on the caregiver side (if you're one) and give tips you've learned over the years and do recommendations on the products you've found useful.
Now, I also want to give a small "warning" about this niche.
Since elder care is related to a person's health, this niche falls in the YMYL section of Google guidelines. This means you may have a hard time ranking for specific health-related keywords in search engines (if you don't have any credentials).
This could be a hard niche to break into if you're creating your first affiliate website.
While it's possible to make this work, it's going to be tough for beginners to identify the topics you can give advice on while also having the ability to rank the content on Google.
But if you're up for the task and would like a detailed guide on how to get started for free;
You can start building your affiliate website here.
It's the same place I built my sites so I highly recommend you check it out.