Thanks for dropping by to read my GetPaidTo Review!
Since you a here, you are probably wondering if this GetPaidTo.com site can really earn you money every time you go online.
That's what they are promising and it sounds appealing for sure!
But is it really as good as it sounds? How much can you earn and will they really pay?
In this review, I am going to show all you need to know about this rewards site, including if it's legit and worth joining.
Today you'll learn the following about this site:
What it is (& how does it work)
Is GetPaidTo Legit?
How to get started with GetPaidTo
What's available & how much can you earn
How will you get paid
Some pros & cons (& customer complaints)
If you are interested in knowing how to earn some GPT points and turn them into real cash, keep reading.
I am also going to show you how I personally make money online that pays better than rewards sites, alright?
Let's see what GetPaidTo is all about.
GetPaidTo.com Review Summary
Free To Join
Earning Potential

Payment Systems

User Experience

Amount Of Tasks
GetPaidTo TLDR:
Earn GPT points by completing a wide variety of tasks
Legit site with 20 years of experience
Easy to get started & Available worldwide
Very comprehensive list of tasks available
Can be time-consuming with low earning potential
What Is GetPaidTo?
GetPaidTo is a rewards site where you can complete simple tasks to earn GPT points.
After you have collected enough GPT points, you can then turn them into real cash, cryptocurrencies, or gift cards.
These so-called rewards sites are often an easy way to start earning some side-cash when you have free time at hand.
Some of these simple tasks include:
Completing surveys
Playing games
Watching videos
Trying out mobile apps etc.
Each task pays a different amount of GPT points, and I will go through these in more detail later.
Is GetPaidTo Legit?
It is only natural to skeptical since there are so many rewards site scams out there like WiredBucks and Earn2Flex.
But do not worry.
GetPaidTo is one of the oldest rewards sites with over 20 years of history. It has been around since 2000, so it is fair to say that they are experienced in this industry and definitely legit.
At the time of writing this, GetPaidTo has also been reviewed 667 times on TrustPilot and is rated "Excellent" by 79% of its users. Their overall rating is 4.2 out of 5, so the majority of reviews are positive.

Despite that, we don't really know who the real faces are behind the platform, which is unfortunate.
What I could gather is that they were based in the US during 2000-2014, then the site got a huge overhaul, and the headquarters moved to the UK. Maybe the site got sold over to a new owner.
The bottom line is that GetPaidTo is legit as it gets.
How Can You Get Started With GetPaidTo?
Getting started with GetPaidTo is easy and only takes a few minutes. It is available worldwide, and you will receive 200 GPT points upon registering which is great.
Also, registering an account is free just as it should be with any legit rewards site.
Just fill in your information, and once you are done, you will receive an activation link that you need to click inside your email.
Something worth noting is that you should register with the main device that you'll be using GetPaidTo with. So decide carefully whether you want to use GetPaidTo with your mobile phone or a computer.
More about this in the customer complaint section.
What's Available & How Much Can You Earn?
GetPaidTo has many ways to earn GPT points, and now I am going to do a bit of introducing to each method and their earning potential.
Currently, 5000 points = $1
Now, let's see what they have to offer:
01: Surveys
In surveys, you first fill out some personal details about yourself, such as birthdate, postcode, and family/financial situation.
The market research companies then decide whether you are a qualifying candidate to partake in any of their surveys. If you are, then you usually need to answer some questions or provide opinions on products, etc.
After the survey is done, you will receive your points.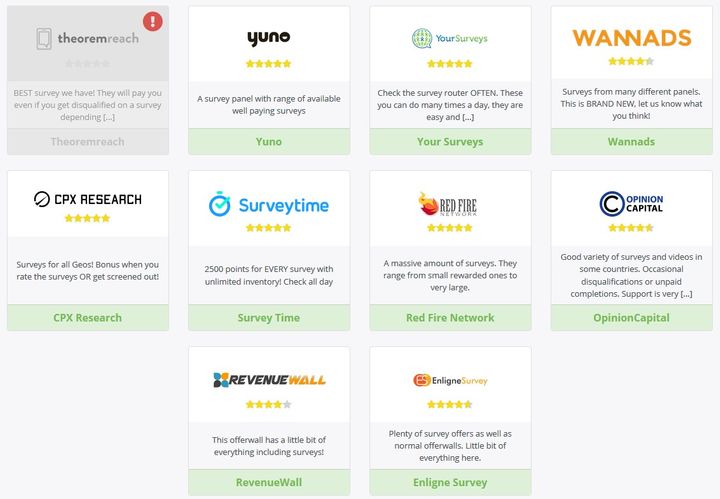 The great thing about GetPaidTo is that there are 10 different survey providers available.
And each survey provider has dozens of surveys to choose from, as you can see below:
A large selection of surveys is essential to any good rewards site, and they have done it right here.
I would say the average amount of points you can earn per survey here is around 1000-4000 points — the average of that translates roughly to $0.50 per survey.
There are many variables though, so keep that in mind.
Something worth noting is that the amount of available surveys is very dependent on where you live and whether you qualify as a survey taker.
The people living in the US typically have the most surveys available to them.
I live in Finland, I definitely had many survey options, but my personal details didn't match what the market research companies want so I got declined on most surveys I tried to take.
02: Online Games And Puzzles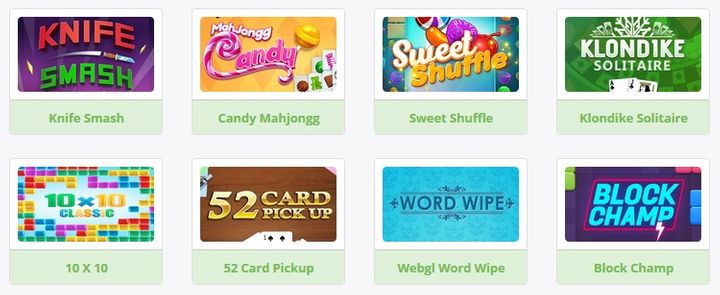 There is a surprisingly big collection of games you can play to earn points.
You earn 1 point for starting and finishing a game and a set rate per minute as you are playing. And you need to play the game for at least 30 seconds to earn points.
Unfortunately, I didn't test these games myself because I had problems getting them to work, and I wasn't very inclined to accept the terms where you agree to share your personal and browsing data with a 3rd-party company.
Others have said it is a decent way to get points.
GPT Raffle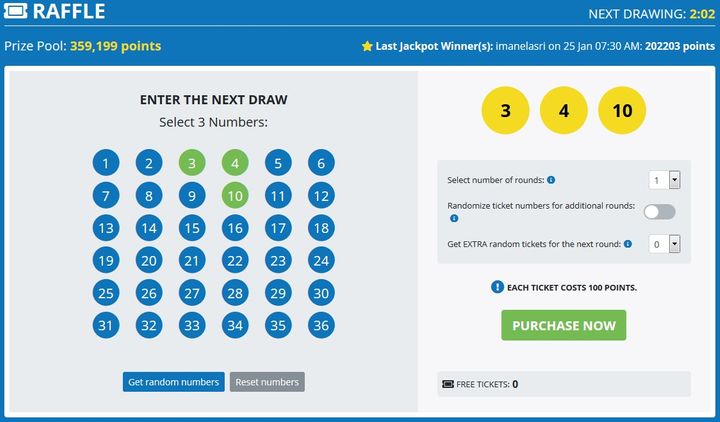 GPT Raffle is a game for those seeking excitement.
You can win points by doing a bit of gambling.
One ticket costs only 100 points, so it's a fairly cheap gamble, but the prizes aren't that mind-blowing either.
If you hit the jackpot you will only win 50% of the pot.
As I'm writing this, the prize pool is 357,679 points, which is around $71, so you can only win $35 with a jackpot.
It's a cool system anyways but probably won't earn you much unless you're lucky.
Online Poker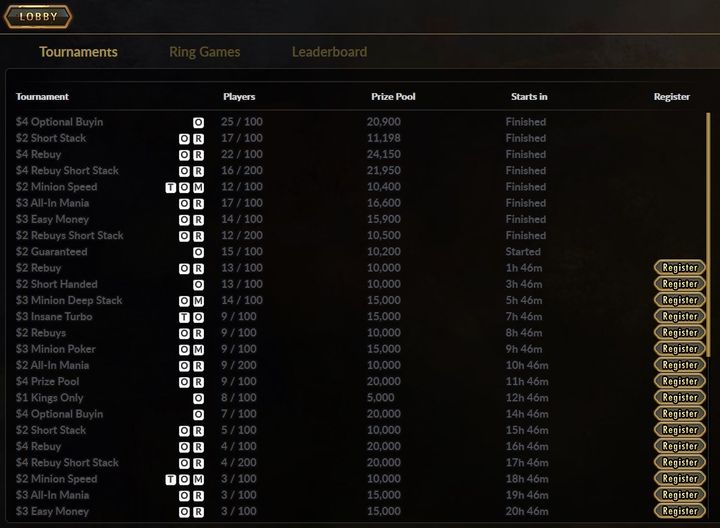 You can also play online poker tournaments with other players to win some points.
Every hour starts a new tournament, and typically there seem to be 10-20 real players participating in each tournament.
The rest of the seats get filled with bots to keep the tables rolling smoothly.
To me it looks like this is still a work in progress since you can only earn 10% of what you win unless you buy something called coins — which you apparently can't buy yet?
The online poker interface is a bit buggy to me, so I can't say for sure.
It doesn't seem to be a very good way to earn points, at least yet.
03: Offer Walls
This is the place where you can find a wide variety of tasks very similar to the survey section.
However, here you can opt for installing apps, watching videos, trying out free trials, and much more.
You will also find the highest paying opportunities here.
And from my experience, it almost always means more steps to complete, more time consuming, and some even require you to spend money before you receive points.
Just like the survey section, the offer wall has 10 task providers, and that is some awesome variety. Each provider has its large list of tasks for you to complete.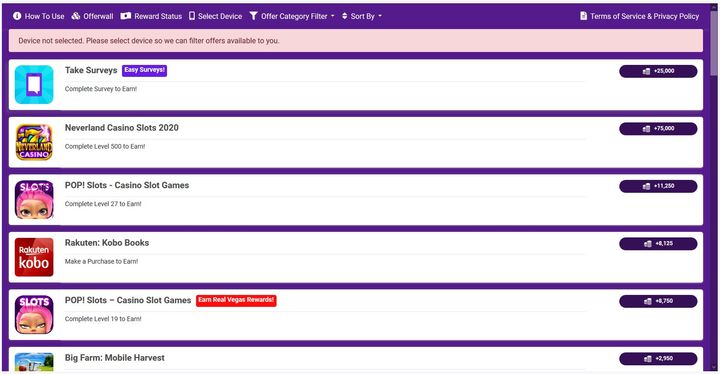 I recommend you read the requirements carefully on different tasks to ensure that you will get paid. It's not a fun experience to spend a lot of time on a task and then get declined for not reading the instructions.
Also, a bit of a warning if you decide to try any free trials; remember to cancel the possible subscriptions so you won't get billed when the trial ends.
In a sense, you could lose all your earnings and time spent if you accidentally get billed for something you didn't want.
The payouts for the tasks inside offer wall can vary from anywhere between 500 to 75,000 GPT points. The higher ones usually requiring you to spend money.
04: Quick Points
These are supposed to be a quick way to earn points by:
Watching videos
Renting your unused bandwidth
Clicking on shortened URLs.
However, these don't provide too many points, that's why it's called quick.
Watching videos is pretty easy since you can just turn the volume off and keep the video in the background while you do something else. There are plenty of videos to choose from.
Now, I wouldn't rent my unused bandwidth, especially when it comes to smartphones.
They say it doesn't come with any performance loss because it only uploads when the device is idle. While that is probably true to some extent, it doesn't stop the device from heating up and degrading your lithium battery life over time.
How about clicking on the shortened URL's then?
I found this way of earning pretty funny when I first tested it.
Basically, you have to press shortened links and see what is on the other side. That's it.
The gist is that you never know what is behind the link you press, it could be an adult site with 20 popups.
It was like playing Russian roulette with the safety of your PC. It's probably even worse with a smartphone since they don't have similar malware protection. It was definitely more intense than playing the GPT Raffle
And you only earn 1-22 points for each link click.
I don't recommend this method for earning points.
05: Weekly Top Earners Contest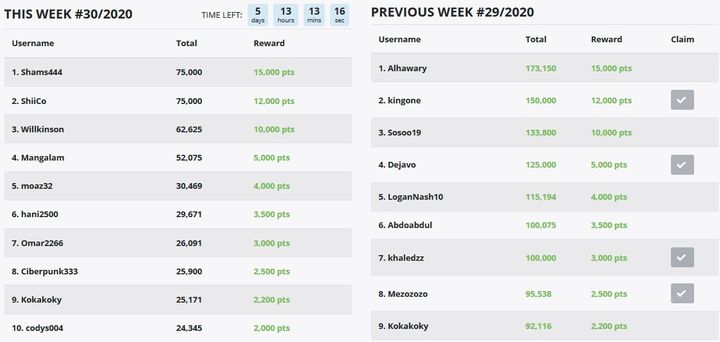 Here you can compete for the top leaderboard spots among users.
The top 20 will get rewarded each week with the number one getting 15,000 GPT and the last one getting 600 GPT.
15,000 GPT is equal to $3 which isn't much, but at least it is a healthy competition for glory.
The Referral Program
GetPaidTo also has an opportunity where you can make money somewhat passively by referring others to the platform.
You can refer others to the platform by sharing your unique referral link which you can find on your dashboard.
For each person you refer, you will get 15% of their earnings for life. For example, if your referral completes an offer for 1000 points you will get 150 points.
There is no limit on how many people you can have signed up under you so it can stack up in the long run.
This is also similar to the way that I do money online, you can read more about it here.
How Do You Get Paid In GetPaidTo?

There are three "main" ways you can cash out your earnings, and they are cash transfer, cryptocurrencies, and gift cards.
All the cashouts are processed manually by their support staff and during business hours on Monday-Friday 9 AM-5 PM EST.
People have said you typically get paid within 12 hours except for that bank transfer and PayPal can take a few days to get processed.
Below are all the cashout options:
Minimum withdrawals in GetPaidTo are:
5000 Points = $1 – Skrill – Amazon – Cryptocurrencies
25,000 Points = $5 – PayPal – Bank Transfer
Bank transfer and PayPal both have a small transaction fee.
Cryptocurrencies
If you want to get paid in cryptocurrencies, you will need a crypto wallet.
CoinBase offers one for free if you don't have one.
You can get paid in the following cryptocurrencies: BTC, DOGE, LTC, ZEC, ETH, DASH, XMR, BCH
Gift Cards
The gift cards in this case are for Amazon US and UK.
You can choose which one you prefer.
Are There Any Customer Complaints?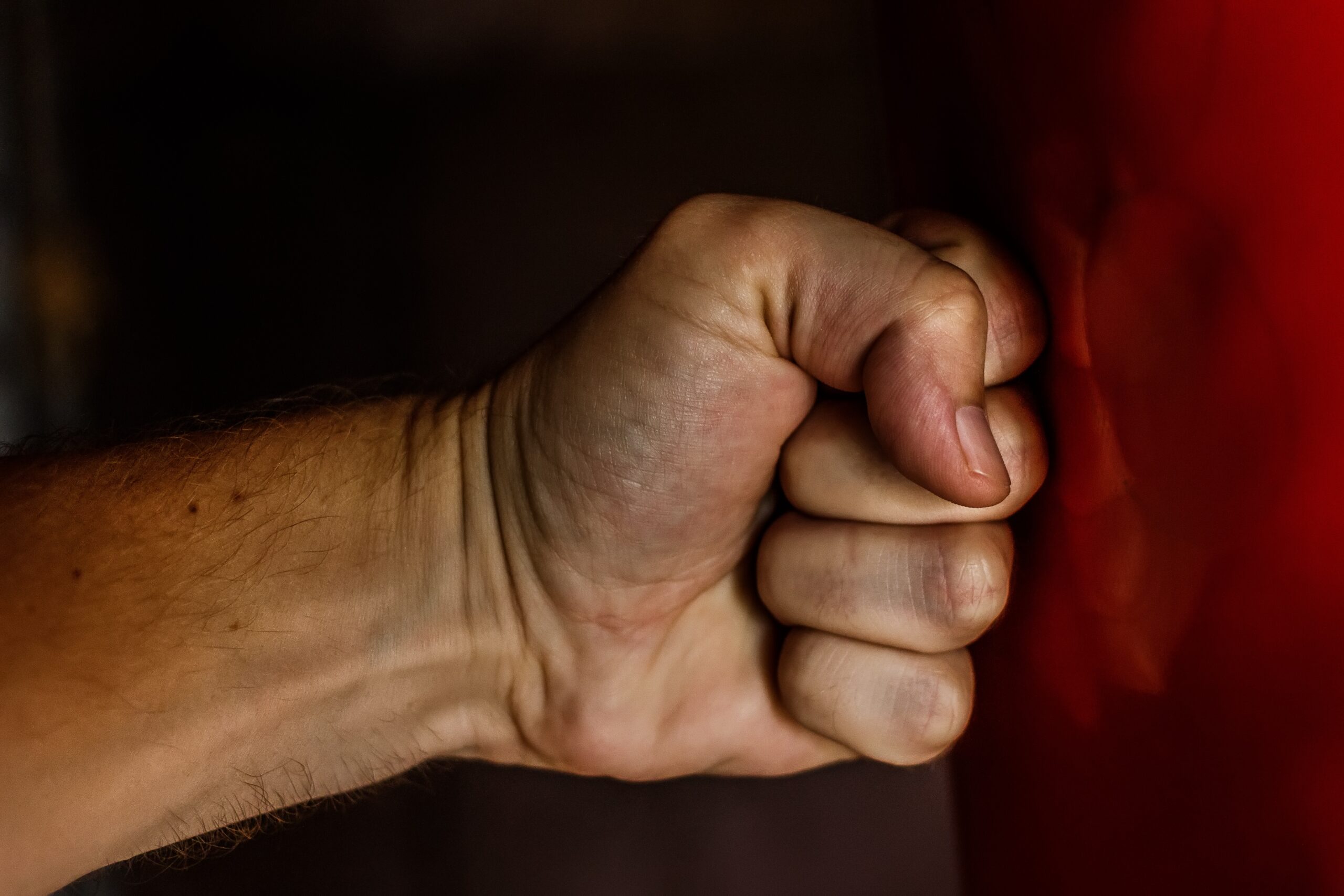 Not many, but there are some.
Most things that I'm going to list can be avoided just by paying attention to what you are doing.
These were some of the complaints that I could gather online:
01: Getting Banned For Using Different IP-Address
Many reward sites have a policy where you can only use one IP-address per account. This is usually to prevent fraudulent activity.
This brings a whole lot of problems when people want to use multiple devices (or VPNs and proxies) to access their account.
Some people have been banned when they normally use a PC to log in, and they've logged in using a mobile phone as their IP-address changes when they do that.
It is not a fun experience to get banned if you have used a lot of time to gather your points.
I don't know how they deal with these cases, but I can imagine they would unban you if you contact the support with enough evidence.
02: Getting Accidentally Billed On A 3rd-Party App
The offer wall has tasks available where you can test out different mobile phone apps with free trials.
When the free trial ends, you will typically get billed automatically for the cost of the app.
Now, this is completely the user's responsibility to cancel the free trials before you get billed, but somehow people are pointing their fingers at GetPaidTo for this.
03: Not Enough Surveys For 3rd-World Countries
This is not limited to just GetPaidTo but almost every survey site out there.
Some 3rd-world countries might experience that there are very few surveys available to them.
It's true, and the main reason for it is that market research companies are more interested in the opinion of people who buy and consume the most products.
That is the reason why the US has the most surveys available for them — they spend the most money on products.
This will likely change in the future since more people are getting access to the Internet and are buying more stuff online.
Don't worry too much about this, there are still plenty of ways to earn points in GetPaidTo.
04: Some Tasks Didn't Rewards Points
Sometimes it happens and you don't get rewarded points for the task you just completed.
It's important especially when completing tasks that you read carefully what is required, so you get compensated for your time.
In surveys, this can happen if you don't truthfully answer the questions, or you just are not what the market research companies are looking for.
You can try to prevent this by answering truthfully to the surveys.
Pros & Cons Of GetPaidTo:
PRO: Legit Site With A Long History
GetPaidTo is definitely legit.
They are one of the oldest reward sites out there with over 20 years of experience. The site has been around since 2000 and is still going forward with frequent improvements.
I would say even the name speaks for itself. It's like having "coffee" as your brand name instead of "Starbucks".
PRO: Easy To Get Started & Available Worldwide
The great thing about rewards sites is how easy it is to get started with them. It only takes a few minutes, and you can start earning cash with a wide variety of options.
And anyone can do it around the globe.
The perfect example where this of site comes handy is when you are using public transport, you can simply get out your phone and get paid to burn some time by earning some money on GetPaidTo.
PRO: Many Ways To Earn Points
Ï would say GetPaidTo has one of the most comprehensive lists of earning methods that I have seen so far.
There's definitely something for everyone; surveys, watching videos, puzzle games, gambling, online poker, tasks, and much more.
Some smaller reward sites always struggle with a limited list of things to do, forcing you to sign up for multiple rewards sites to make up for it.
That won't be necessary with GetPaidTo.
PRO: Multiple Payment Options
Getting paid is important when it comes to rewards sites, and GetPaidTo definitely lives up to its name.
You have many ways to withdraw your earned money such as bank transfer, Skrill, PayPal, 8 different cryptocurrencies, and gift cards to Amazon.
It doesn't get much better than that.
CON: The Owners Are Somewhat Unknown
I review a lot of money-making opportunities just like GetPaidTo on this site.
Knowing who is the creator behind the site plays a major role in credibility and trust. And more often than not, products with unknown owners are typically scammers.
GetPaidTo is not a scam, but despite that, we have no idea who is running the site and that is not a good thing.
We only know the company name that is Chelmo Limited, and someone called Danielle who writes blog posts on GetPaidTo. Other than that we have no idea of the owners.
I think it would be time to do some introductions to get the credibility and trust to the next level.
CON: Can Be Time Consuming
Making money with sites like GetPaidTo is easy, but you will quickly realize that it can be very time consuming and grindy at times.
Getting constantly declined on surveys and grinding a puzzle game to level 25 to earn a few points is not the most rewarding feeling when you need to spend a lot of time doing something you don't necessarily enjoy or care about.
Which leads me to…
CON: Low Earning Potential
The problem with every rewards site.
Unless you are completing the offers that reward thousands of points or using the site for multiple hours per day then you may find it difficult to make enough money.
Almost all the tasks require you to spend a set amount of time or play it through to a certain point before you get rewarded. Some tasks don't reward you very many points, so it's important to constantly look at the tasks that offer the best point to time ratio.
With rewards sites, you are always trading lots of time for little money.
It's not the best opportunity for those looking to make a full-time or even a part-time income.
Is It Worth Joining GetPaidTo?
You can most definitely earn some side-cash (at best) with GetPaidTo, and it is a trusted platform known for paying out in time.
The minimum withdrawal amounts are also fairly low, so you can get there easily.
Overall, if you are fine with low earning potential that is typical to rewards sites, then it is worth joining for sure. It is worth it especially if you have free time to spend, for example when you are using public transport.
I have used rewards sites just like this one a lot in the past, but I don't find them to be worth my time these days. You may feel otherwise and have different motives though.
I found that I was working way too hard to complete tasks and playing games that not only did stop being fun, but I was also getting paid cents per hour while doing so.
That's what most of these reward sites are designed for; to earn a few extra bucks each month.
I felt like my time was better spent on better paying opportunities.
If you feel that way as well, I have a worthwhile solution you should check out.
A Better Way To Make Money Online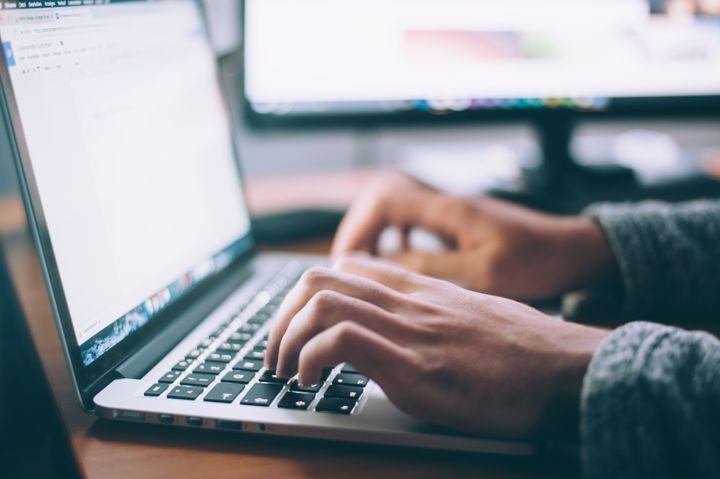 Now before you head out and sign up for GetPaidTo, let me tell you how I make money online — It is not with rewards sites though.
I create simple websites that generate me money each and every month without much attention from me once the work is done.
It may sound intimidating and hard to do, but it's actually not.
Anyone can do it without coding experience.
The best part is that you can make a full-time income with this method as long as you stick to it.
I have made a quick guide about this for you here if you'd like to take a look, and I also have a beginner-friendly 10-day video training course that you can try for free.
It's called Wealthy Affiliate, and it has been my number one recommendation since 2018.
Thanks again for reading my GetPaidTo.com review, and I hope it was helpful.
If you have any questions you can ask them below, and I'll gladly answer them.
I'll leave you to it.