Wanna make money online promoting everything related to skateboarding?
I used to skateboard in my younger days (still have my board with me) and I can say this niche comes with some hard-boiled & devoted audience.
There's definitely money to be made promoting skateboard gear and especially in the electric skateboard section where prices of these items can go up to thousands.
Below I've gathered a list of affiliate programs for skateboards, longboards, cruisers, and even electric skateboards that you can start promoting on your website, YouTube, or social media to earn affiliate commissions.
I also left resources for you at the end of this post in case you want to learn how to promote these programs.
Related blog posts: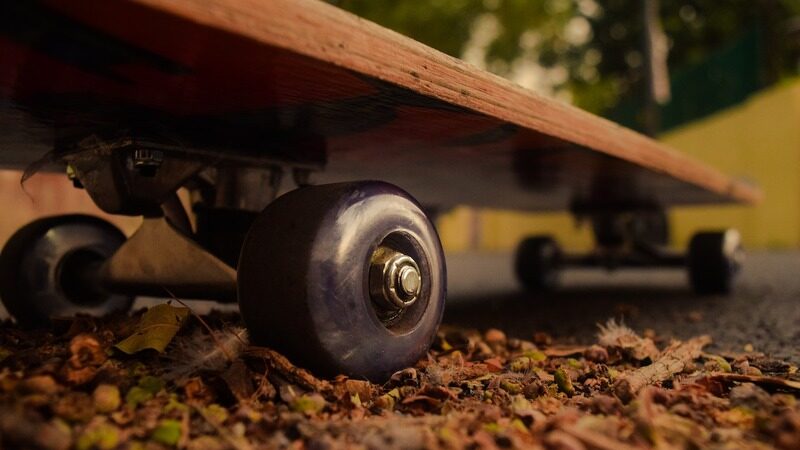 10 Skateboarding Affiliate Programs
Tactics
Evo
Bamboo Skateboards
Caprock Skateboards
Sector 9
Skatebolt
Teamgee
OnlyOneBoard
enSkate
Grassracks
Tactics
Tactics was started in a garage in 1999 and the brand is all about skateboarding and snowboarding culture.
In their online store, you can find skateboard decks from top brands (Almost, Santa Cruz, Real), accessories, apparel, and footwear.
They also have a custom board builder where you can pick every part for your skateboard (grip tape, decks, trucks, wheels, etc) and they can even assemble it for your if needed.
Tactics offers worldwide shipping, but some brands can't be shipped outside the US due to agreements with the dealers. People in the states can enjoy free shipping.
If you want to become an affiliate for Tactics, you can join their affiliate program at Pepperjam. You can earn 6% commissions for all new customer orders, and 4% for returning customers.
6% Commissions
Cookie Length: –
Evo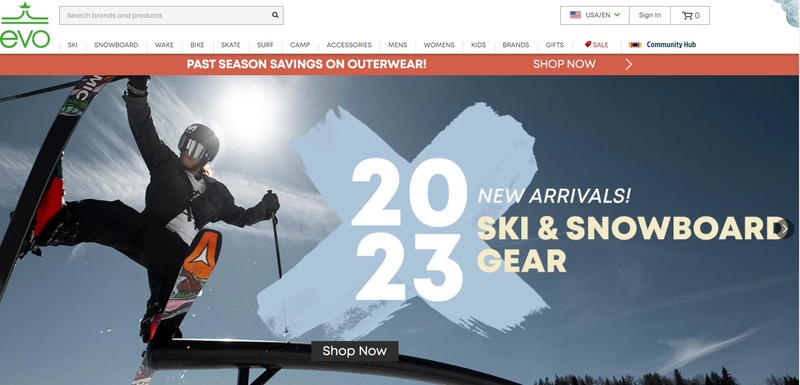 Evo has been selling sports equipment since 2001 ranging from skateboarding to snowboarding to surfing and everything in between.
They're not a skateboarding specialty store, but despite that; they have an impressive product catalog for skateboards (over 687 products from all the popular brands). Along with skateboards, they're also selling longboards and cruisers.
You can become an affiliate for Evo on AvantLink. They provide all the tracking, promotional material, and support for affiliates who are running content websites.
5% Commissions
30-day Cookie Length
Bamboo Skateboards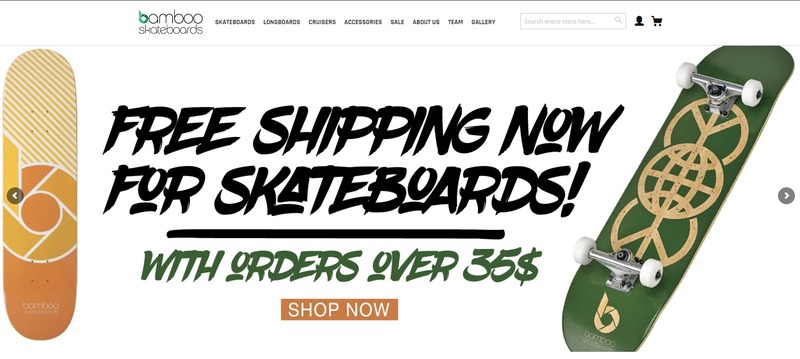 Bamboo Skateboards as the name says, manufactures and sells skateboards, longboards, and cruisers made out of bamboo.
They were established in 2008 in California and are striving to be an eco-friendly brand. They also plant a new tree for every skateboard you buy from them.
Affiliates can promote this brand in every corner of the world since they provide worldwide shipping on their products.
You can become an affiliate for this brand by creating an affiliate account on their website. They offer a bit higher base commission rates (10%) compared to many other skateboard brands.
10% Commissions
Cookie Length: –
Caprock Skateboards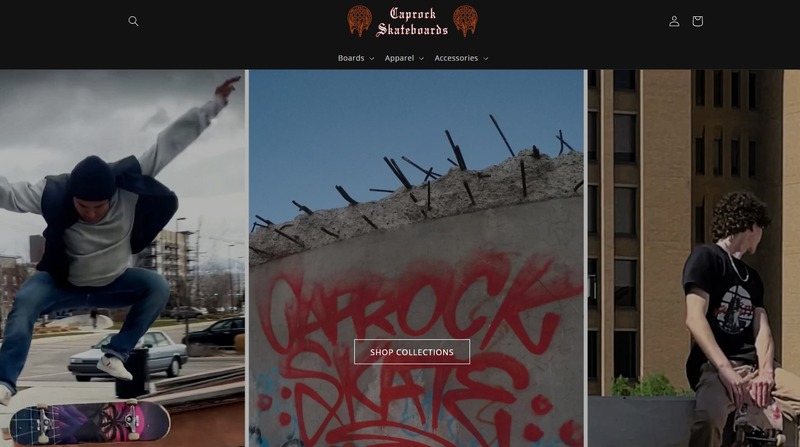 Caprock Skateboards is a small Texas-based specialty store that sells skateboard decks, clothing & accessories.
They deliver products around the globe so you can promote this brand in many countries. Affiliates also get 15% or 50% off their own purchases since you can use your own affiliate links to buy products.
They have two "tiers" for affiliates. As a level 1 affiliate, you can earn 10% commissions on all sales. Level 2 affiliates get 1 free deck every month and can earn whopping 50% commissions on all sales.
10-50% Commissions
Cookie Length: –
Sector 9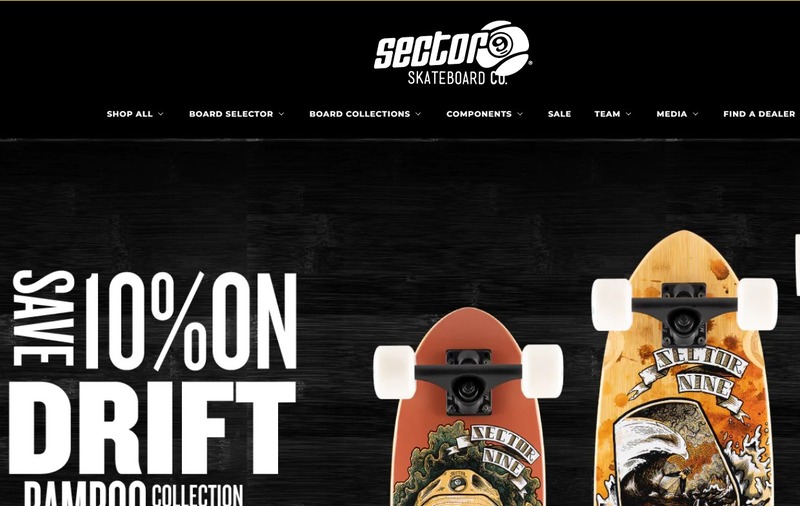 Sector 9 is an online store that sells skateboards, longboards, decks, trucks, wheels, and many more.
They have a convenient board selector where you can search for products based on activity:
Park
Downhill
Freeride
Cruiser
Commuter
Carving (+)
A small drawback in promoting Sector 9 is that they're not offering international shipping (at the time of writing this) so it limits your possible audience to the US only.
When you become an affiliate, you'll receive promotional material, a dedicated affiliate manager, and occasional coupons & deals to boost your sales.
5-8% Commissions
30-Day Cookie Length
Skatebolt
Skatebolt manufactures and sells electric skateboards and accessories.
At the moment, they have 4 different skateboards available and they're priced between $269-$599, and with the 8% commission rates, you can earn between $21.52 – $47.92 per sale for boards.
The downside is that Skatebolt only ships products within the US & Canada so your potential audiences are a bit limited.
You can find their affiliate program on the ShareASale network. It's free to join and they provide you with all the payments, tracking, & reporting.
8% Commissions
Cookie Length: –
Teamgee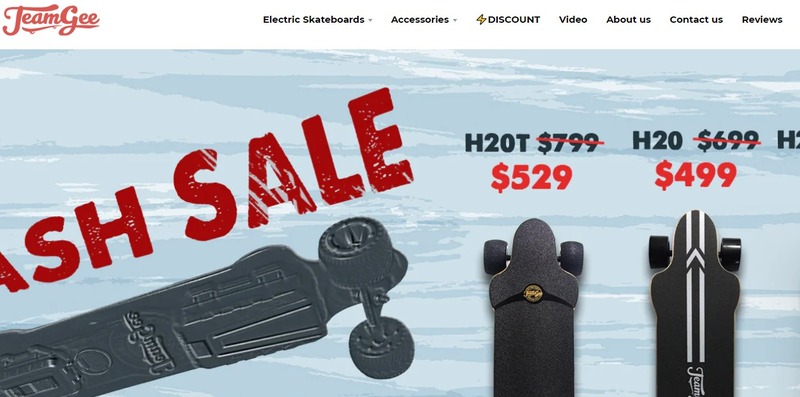 Teamgee got into the skateboard business in 2016 when they started selling lightweight & sleek electric skateboards and longboards for commuting.
In their catalog, they have 7 skateboards available with the least expensive one being $349 and the most expensive at $1,499. With 3% base commission rates, you can make between $10.47 and $44.97 per sale depending on the board.
They offer worldwide shipping and in some places, you can even get free shipping.
You can become an affiliate by joining their affiliate program through the Affiliatly platform.
3% Commissions
Cookie Length: –
OnlyOneBoard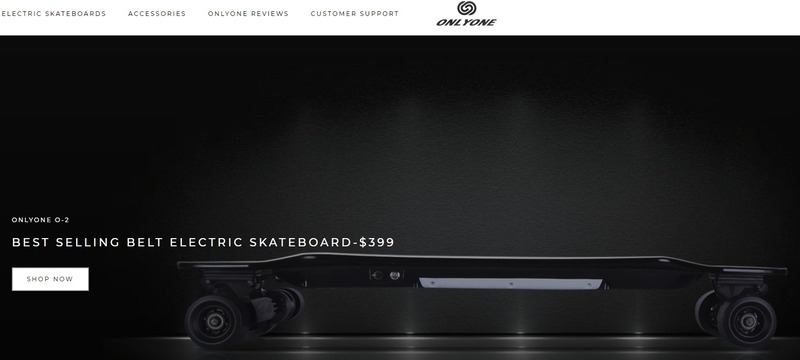 OnlyOneBoard is an online store selling electric longboards, miniboards, and off-road skateboards.
They ship products across the globe and their average sales of boards is $350-600, and with 6% starting commission rates, you can earn between $21-$48 per sale.
If you want to become an affiliate for OnlyOneBoard, you can find their affiliate program on the ShareASale affiliate network.
6-10% Commissions
Cookie Length: –
enSkate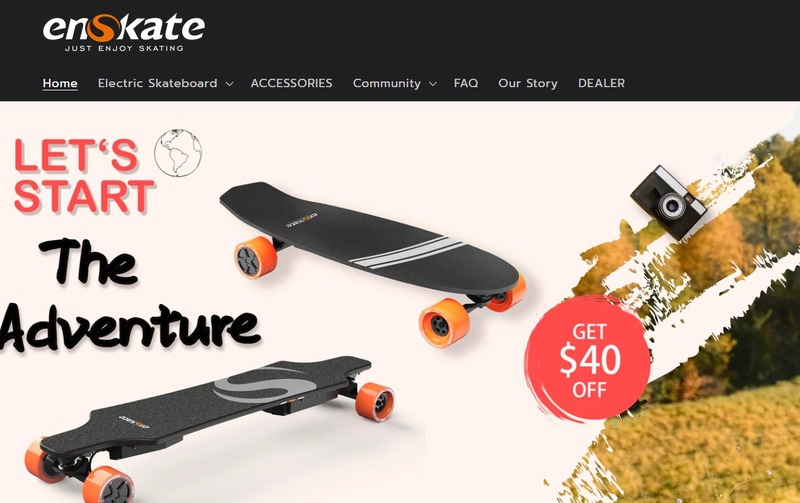 enSkate was founded in 2017 and they have studios located in the US and China. They sell high-performance electric skateboards.
At the moment, they have 3 electric boards available:
EnSkate R3 – $519 (commissions: $36.33)
EnSkate R3 Mini – $489 (commissions: $34.23)
EnSkate R2 – $379 (commissions: $26.53)
They offer 7% commission rates for the boards and a decent 180-day warranty policy. Customers residing in the US and Japan also get free shipping. They do ship worldwide as well.
You can find their affiliate program on the GoAffPro platform.
3-7% Commissions
Cookie Length: –
Grassracks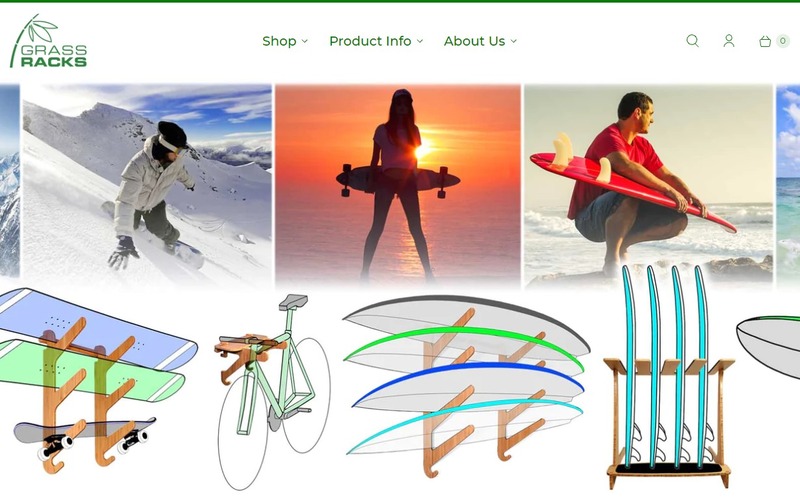 Grassracks manufactures and sells wall-mounted and freestanding racks for skateboards, skis, bikes, and many other sports equipment. All the products are made from bamboo which is eco-friendly and a highly sustainable resource.
The average order value for the store is $210, and they mention an average commission for affiliates is around $10-$27 per sale.
Your starting commission rates are 8%, but if you perform well you can negotiate better rates for bigger commissions. You can join their affiliate program for free on the SecomApp platform.
8% Commissions
90-Day Cookie Length
How Get Started With Skateboard Affiliate Marketing (& Make Money)
If you'd like to get started with skateboard affiliate marketing and promote these above-mentioned affiliate programs to make money, then I have a more detailed guide for you here;
Start building your money-making skateboard affiliate website.
You can get started for free and it comes with everything you need to make this work (step-by-step lessons, 24/7 tech support, and a helpful community)
Make sure to check it out before you go.