Are you interested in snowboarding and earning affiliate commissions?
The winter is coming again and I wanted to prepare you with popular snowboarding affiliate programs in case you want to start making money recommending snowboard gear to people.
You can do this on your website, YouTube, social media, or any platform you prefer (& I made sure to leave you resources below if you want to learn how to do this).
I can say there's quite a bit of money to be made in this niche since snowboarding is not the cheapest hobby around. Nonetheless, people love snowboarding and are willing to spend money on their beloved hobby.
Let's get started with the list.
Related blog posts: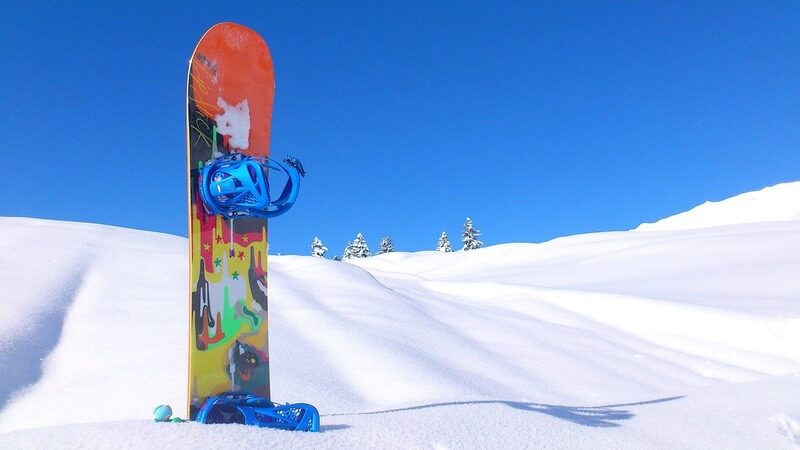 The 5 Best Snowboarding Affiliate Programs For Affiliate Marketers
Burton
Evo
Rei
The House
Snowboard Addiction
Burton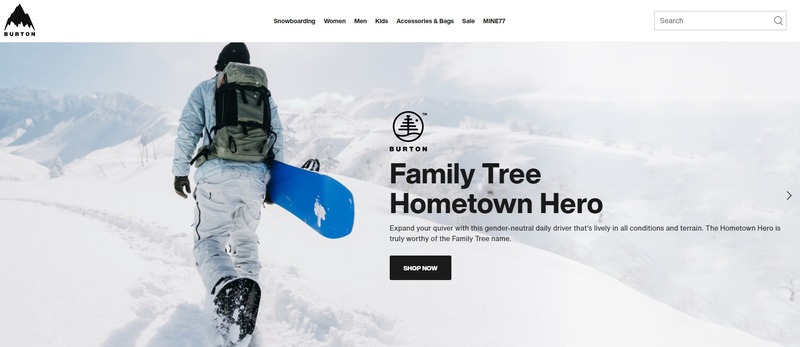 Burton was established in 1977 by Jake Burton and they design and manufacture high-end snowboards and other outdoor products such as jackets, snow pants, boots, bindings, accessories, & bags.
Burton has played an important role in growing snowboarding from a backyard hobby to a world-class sport and this makes it a great brand to partner with.
One downside is that they only ship products within the US and this limits your potential customers quite a bit as you can only earn commissions from US-based traffic.
Burton has implemented its affiliate program through the Awin network which you can join for free. Once you get accepted, you also get promotional material and a dedicated affiliate manager to give you support if needed.
3-6% Commissions
30-Day Cookie Length
Evo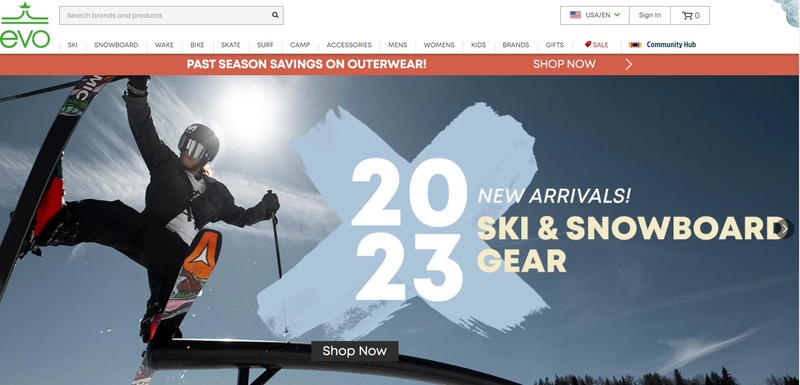 Evo has been selling action sports equipment, apparel, and accessories since 2001 and they have built an impressive snowboarding section.
They sell snowboard and ski equipment from top brands (Burton, Salomon, K2, Arbor, etc) and you can often see the latest models on Evo's catalogs first.
Evo offers free shipping on orders over $50 and also has a generous 366-day return policy. They ship products to many places worldwide, but some brands are restricted and can only be delivered within the US (due to contracts with vendors).
They run frequent promotions and deals that'll give a nice boost to your conversions every now and then.
You can find their affiliate program on the AvantLink platform. They supply you with reporting tools, banner ads, and data feeds to help with your campaigns.
5% Commissions
30-Day Cookie Length
Rei
Rei is a popular online store that sells outdoor gear and apparel (including a snowboarding section).
They're not necessarily the "go-to" source for snowboards due to extra shipping costs for snowboards, but you can still find all the necessary gear there to promote.
They ship products across the globe, but here too some of the brands are restricted and can't be shipped outside the US (which limits your campaigns a bit). Rei offers free shipping on orders over $50, and if you belong to the "premium club" it's always free no matter your order amount.
Overall, it's a known brand and not many people would have "trust" issues buying from this store. This is beneficial if you want to promote Rei.
You can become an affiliate for Rei on AvantLink which handles all the analytics, tracking, & reporting for affiliates.
5% Commissions
30-Day Cookie Length
The House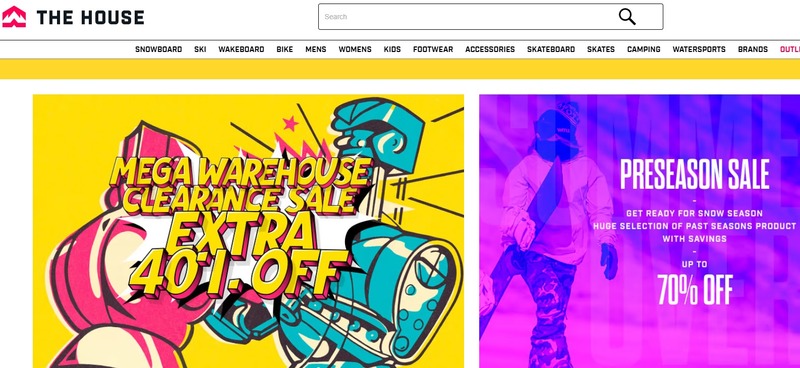 The House is one of the largest outdoor gear retailers with over 65,000 products in stock and this comes with a big selection of snowboarding gear.
They have catalogs for men, women, and kids and you can find everything from snowboards to apparel to accessories here.
The House is also known for having great flash deals and seasonal sales that you can take advantage of as an affiliate. They do international shipping as well, but some brands are restricted and only available within the US.
If you want to become an affiliate for The House, you can find their affiliate program on both AvantLink and Impact networks (I'd prefer Impact). They offer 4-6% commissions, but you can negotiate better rates if you perform well.
4-6% Commissions
90-Day Cookie Length
Snowboard Addiction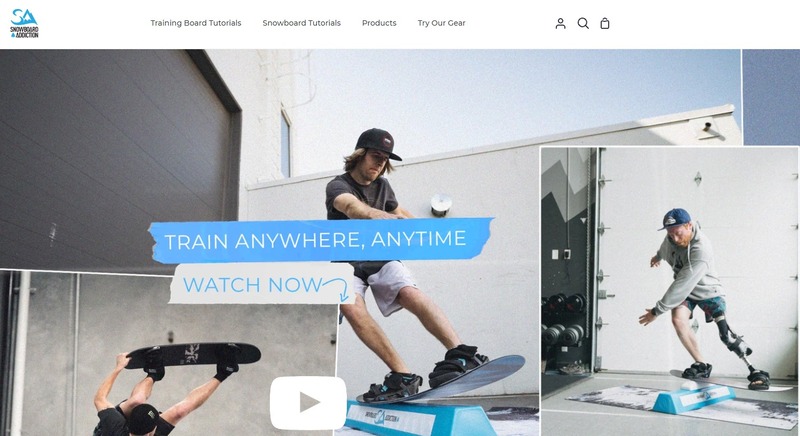 Snowboard Addiction is a learning platform and also an online store for snowboard tutorials and training gear.
The site is run by a small team of dedicated snowboarders from Canada since 2007 and they offer lots of free tutorial content on snowboarding for beginners and experts alike.
When it comes to paid products, they're selling jib & tramp boards, bindings, and balance bars so you can practice your snowboarding itch all year round even when the snow is gone.
Alongside that, they're selling a subscription service for snowboard tutorials and it costs $39.99/year and comes with a 30-day free trial. The benefit of this is that you can view these lessons on your phone while you're on the slopes practicing tricks (or in your living room).
They ship products across the globe and have warehouses in the US, Canada, NL, and the UK. People in the US & Canada can also enjoy free shipping.
What makes this a particularly interesting choice to promote are the great commission rates (20%) combined with products that are in a good price range for affiliates to earn decent commissions.
A full "Jib Package" costs $589 and with 20% commission rates, your cut would be $117.8 per sale.
And if the membership model pays you recurring commissions (can't confirm this), this is going to be an even better choice to promote and could earn you a stable income.
Regardless, I highly recommend promoting this brand as it definitely has one of the better commission structures on this list.
You can join their ranks at the Refersion network which provides all the payments, tracking, & reporting for affiliates.
20% Commissions
30-Day Cookie Length
How To Start A Snowboarding Affiliate Website
The snowboarding niche comes with interesting opportunities.
It's a seasonal niche where you earn the bulk of your income during the winter months, and in other seasons you're carried by display ad revenue and commissions from jib & tramp practice sets.
If you're into snowboarding, you could make this into a profitable venture by building out a simple affiliate website where you promote these above-mentioned affiliate programs.
In short, you create content answering questions people have typed into Google and once you start getting traffic (visitors), you convert them into customers with affiliate marketing.
I have a more detailed guide for you here if this sounds interesting and something you'd want to get started with.
Make sure to check it out before you go.