Are you interested in playing video games and earning various rewards?
Some of these rewards include full games, game currency, skins, gift cards, and even cash.
That's what Gamekit is promising to deliver, and it may sound interesting to any avid gamer out there.
But is Gamekit legit? And do they really pay for your efforts?
Today I'm bringing you my Gamekit review showing all the details you need to know about this gaming reward platform.
Some things to look forward in this post:
What is Gamekit? (Is it a scam?)
How to earn points
Ways to get paid
Some pros & cons (& customer complaints)
Is it worth joining?
I'm also going to show you some similar alternative rewards sites, and the way I personally make money online.
Let's see how legit Gamekit is shall we.
Gamekit Review Summary
$0
Earning Potential

Payment Systems

User Experience

Tasks Available
Gamekit Review TLDR;
Play games and fill surveys to earn points which can be exchanged for rewards
Good prize selection
Gaming is a fun way to earn points
Possible problems with some rewards (delays & CD-keys not working, duplicate keys)
Has mixed reviews on Trustpilot (overall rating is 3.9/5)
Low earning potential (there are better alternatives available)
What Is Gamekit?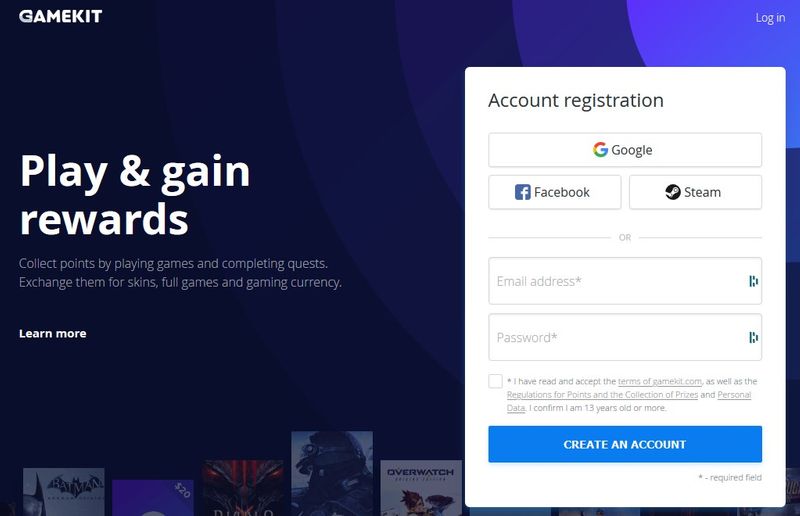 Gamekit is a GPT-site (get-paid-to) where you can collect points by completing different quests.
These quests are mainly done by playing video games on your browser, mobile phone, or downloading them on your PC (depending on the game).
Once you have collected enough points you can then exchange them for many rewards that include:
Gift cards
Games
Game currencies
In-game skins
Prepaid cards & PayPal cash
And many more.
Apart from game quests, you can also earn points more "traditionally" by filling surveys, inviting your friends to the platform, or swiping your credit card.
Each method provides a different amount of points, and I'm going to show you the earning potential for each method soon.
Some similar sites to Gamekit are Bananatic and Prizes Drop, which are also GPT-sites offering exactly the same sort of gaming service if you are interested to check those out.
How To Get Started With Gamekit
Gamekit is available in most countries worldwide and you need to be at least 13 years old to join.
Getting started is quick and takes a few minutes at most.
You can start by simply entering your email address and creating a password on the front page.
After doing so you will receive a confirmation link to your email which you can activate straight away or later.
Once you log in for the first time, you will go through a small tutorial that rewards 45 points for completing it. You can also earn 10 additional points for subscribing to their newsletter.
That's about it, now let's see how you can start earning points.
How Can You Earn Points In Gamekit?
There are a few different ways you can earn points and next I'm going to show you the earning potential of each method.
The value of points varies depending on the prize but to give you an example; 5 EUR PayPal cash costs 9999 points.
Single Quests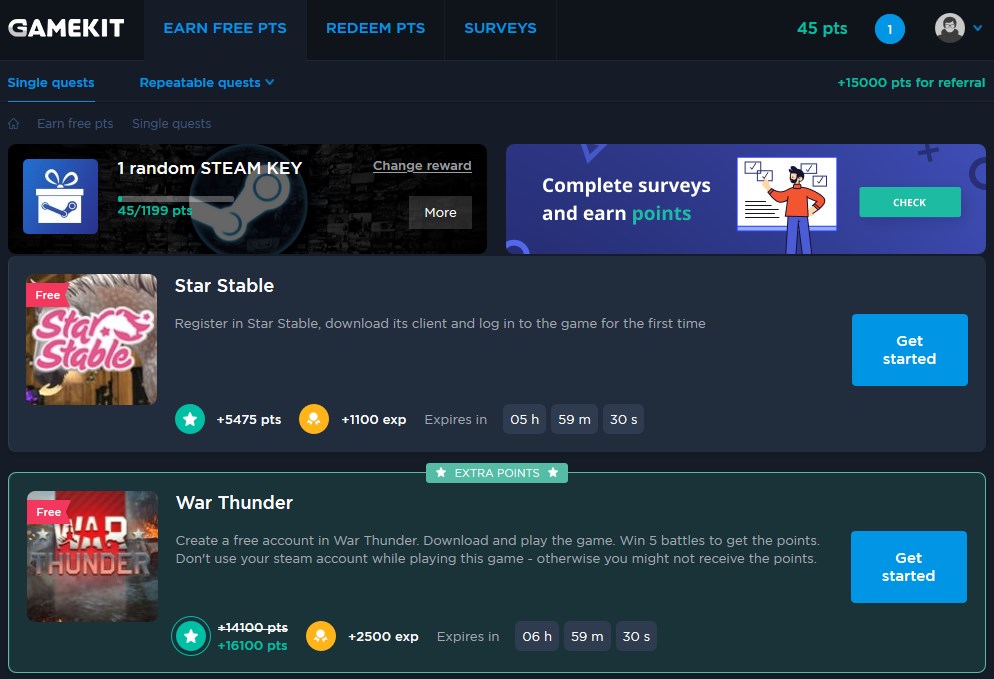 In the single quests area, you will find tasks that can be completed only once. It could also be called the "main hub" inside Gamekit.
All the game quests, phone app downloads, and other simple tasks can be found here.
There are currently 16 games that can be played to earn points. These games change from time to time depending on the current running promotion. Some of those games are popular game titles you might have already heard about such as:
War Thunder
World of Warships
RAID: Shadow Legends (surprise surprise)
And many more.
It seems that the games with the best point earning potential are also the largest game titles. What I mean is that you need to download them on your PC to play them.
Here you can see how the "quest screen" looks for one of the games called War Thunder: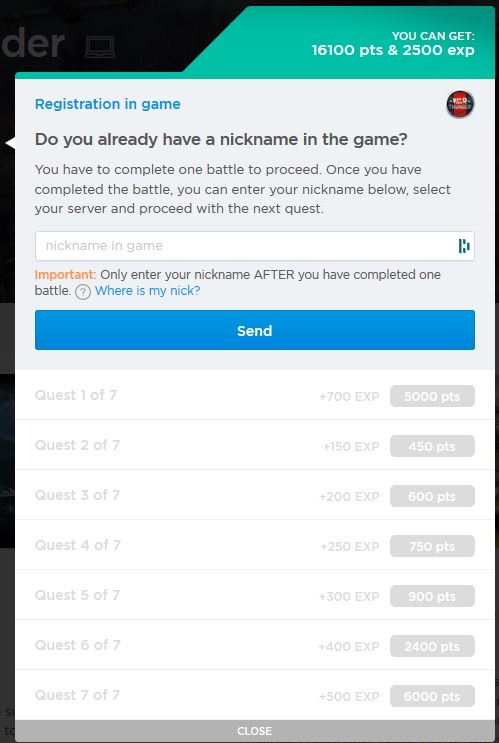 Playing games to earn points is fun for sure but some titles on the list come with a small hassle.
You need to take a screenshot to prove that you have completed the quest.
And Gamekit needs to manually review your screenshot before they reward you with points. This comes with annoying waiting times and it can take up to 72 hours to get approved.
The good thing is that some games do not require you to send screenshots as the tracking process is automatic.
Apart from games, you can also earn points by doing simple tasks such as following Gamekit's social media channels and joining their Discord & Steam community, etc.
If you were to complete all single quests on the current running list, you can earn up to 108,740 points.
That would be close to 55 EUR if you choose to get paid in PayPal cash.
Surveys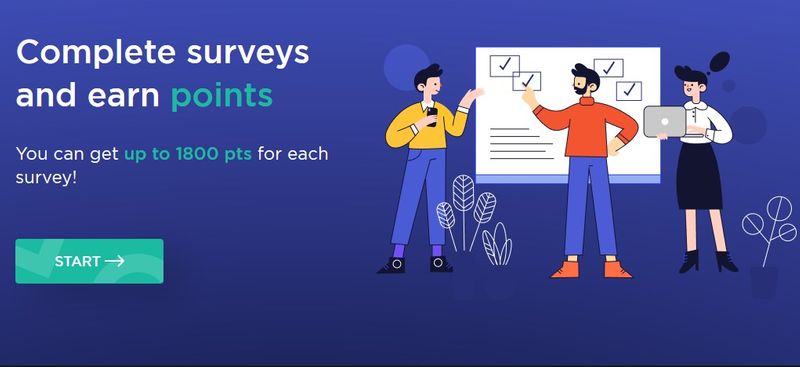 Almost every GPT-site has surveys available and Gamekit is not an exception.
Surveys are provided by market research companies who want to hear customers' opinions about specific products or services. They will basically reward you for taking the time to answer their questions.
How it works is that you start by answering some personal questions and the machine matches you with suitable surveys. The questions inside surveys are often answered with simple tick boxes or sometimes you have to write your opinion. Once you are done, you will be rewarded with points.
In Gamekit you can earn up to 1,800 points per survey but this can be pretty random depending on where you live.
The people in the US will have the most surveys available to them.
Downloading The Mobile Phone App
You can earn 900 points just by downloading Gamekit's mobile phone app.
If you use the app to complete any task, you will receive 300 bonus points for each completed task.
I would say it's worth downloading if you want to play the mobile games that are available through Gamekit. With the app you will earn some extra for doing that.
Inviting Your Friends
Gamekit also has its own referral program which is a passive way to earn points.
It's done by sharing your unique referral link and when people join through that link, you will get rewarded 15,000 points when your referral receives their first prize.
The downside is that you can only get rewarded once per referral.
I prefer percentage-based referral programs as that would allow repeated commissions from your referrals. It's better than no referral program at all, though.
If you would want to take an advantage of promoting something like this, you should have an audience whom to promote your referral link. A good referral program can actually earn you a pretty significant amount of money when done correctly.
It's something I do with my online business and if that sounds interesting, you can read this quick guide I've written.
Buying Points
There is also an option to swipe your credit card for points if that is something you would like to do.
You can see the prices below:
How Can You Get Paid In Gamekit?
When you have collected enough points you can exchange them for rewards on the fairly comprehensive prize section.
And since it is a gaming related platform, many of the rewards are also related to games.
You can get paid in gift cards, games, in-game currencies, skins, and even PayPal cash.
Here you can see the prize selection:
The rewards will be sent to your email once they have processed your payout request.
Something worth mentioning is that you need to have a valid phone number before you can redeem prizes.
Is Gamekit Legit?
Now, you might be wondering if something like this is legit as there have been (& still are) many rewards site scams.
We can start by looking at Gamekit's background and some reviews to get a better idea of what we are dealing with.
The Company Background
The company was founded in 2013 by Damian Sikora and their headquarters reside in Warsaw. As the company is Polish, they are also running an identical version of Gamekit called Dogry that is in the Polish language.
Gamekit has 15 million registered users over 33 countries, which is already a semi-good indicator that at least it is not a complete scam. It would be hard to reach those numbers without being exposed.
Trustpilot Reviews
Let's take a look at user reviews next.
Gamekit has been reviewed 4,283 times on Trustpilot and is rated "Excellent" by 63% of its users. On contrary, 16% has rated it as "Bad", so there have been some disappointing user experiences. Their overall rating is 3.9 out of 5, which is fairly good.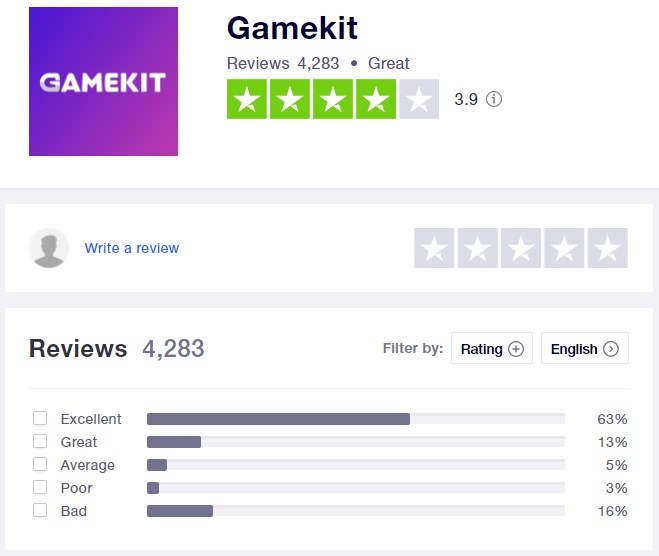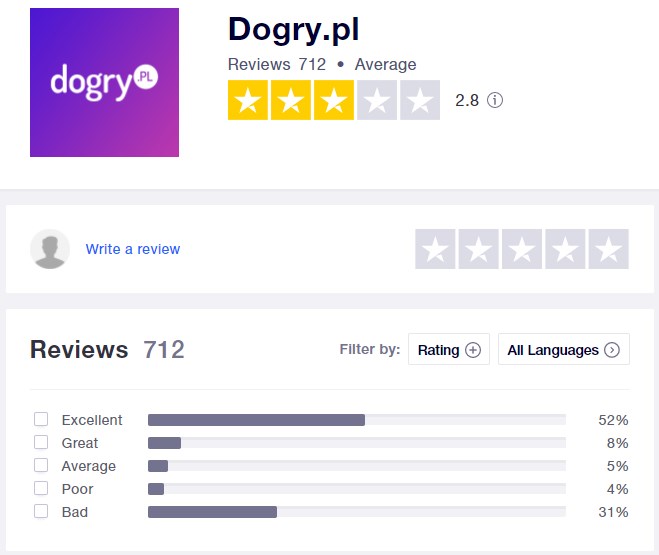 The graphs above are a bit concerning and weird. Judging by the graphs, people's experiences have been either amazingly good or utterly bad.
After researching people's experiences and trying out the site myself, I do think Gamekit is a legit platform to earn rewards despite there being questionable user experiences.
However, I want to show you why people have been upset with Gamekit, so you can get an idea of what I'm talking about.
What Kind Of Customer Complaints Are There?
After reading a bunch of customer complaints to figure out why there are so many bad ratings, it seems to be a mixed bag.
Some of Gamekit's business practices were obviously at fault, but many bad experiences were also caused by the customer's own mistakes.
At least one good sign is that Gamekit has been improving their service on some parts that people have been complaining about.
I'm now going to list some of these complaints.
Getting Banned For Using VPN
There were quite many people complaining about being banned for using a VPN.
This is one of those things where the customer is more at fault than the service provider. I don't think I have ever seen a rewards site that would allow the use of VPNs as in using multiple IP-addresses to log in.
This is simply to prevent fraudulent activity since rewards sites get many people who try to game the system.
Duplicate Steam Keys & Codes Not Working
Some users exchanged their points for random Steam keys and got duplicate games or the codes didn't work at all.

Gamekit said this was due to a bad supplier which they have changed since for a better one, so the issues with Steam keys would be less common.
Now, I'm not an expert and I might be wrong, but it seems they are buying these Steam keys from some shady middle-men, and not directly from the game publishers.
Delays In Delivering Rewards
This again was related to "bad" suppliers according to Gamekit and should now be fixed.
The problem was that people were able to claim rewards even though Gamekit didn't have the reward in store. In some cases users said they had to wait up to 2 months to receive their reward.
Surveys Kicking You Out
Filling surveys is one way of earning points inside Gamekit and sometimes it happens that you get declined in the middle of a survey and can't continue that particular survey.
It's actually pretty common and Gamekit can't do too much about it since the surveys are provided by 3rd-parties.
The available surveys are very dependent on where you live and if your profile matches what the survey providers are looking for. If you don't match, there's a good chance to get cut out in the middle of the survey. That's just the nature of surveys.
People in the US will have the most surveys available to them and someone living in a less developed country might have none.
The Cost Of Prizes Increasing Without Warning
This was a pretty nasty move on Gamekit's part.
They increased the cost of prizes without warning their users first. People with lots of existing points started flipping their tables because their points had lost value.
Gamekit apologized and said they would communicate better in the future.
Pros & Cons Of Gamekit
Pros
Good Prize Selection
Gaming is a fun way to earn points
Available in 33 countries
Cons
Limited games available
Possible problems with rewards (delays & CD-keys not working, duplicate keys)
Low earning potential
Is Gamekit Worth Joining?
Is Gamekit a scam?
I don't think Gamekit is a scam even though some people have had bad experiences in the past. Just because some people don't read the rules doesn't make it a scam.
With that said, I'm not saying they are perfect either. The delivery problems of rewards and increasing the cost of prizes without telling anyone does affect their credibility and makes them seem somewhat unreliable.
They said to have fixed these issues but only time will tell if it's true.
Is Gamekit worth joining then?
If you are interested in playing video games and want to get some benefit out of it, then it could be worth joining. Especially if there is some specific reward in the prize selection and you don't have any money to spend on it. Then you can simply get it by playing games.
And if you are considering joining purely for the money aspect, then I can't recommend it.
While it's possible to exchange your points for prepaid cards and PayPal cash, they seem to be out of stock very often.
Another reason is that the grind for points will suck your soul dry. It gets incredibly boring and repetitive in the long run and you are earning like $1 per hour. There are definitely better options out there if you want to make money online.
If you feel like you want to earn dollars instead of cents, then I have a worthwhile alternative for you.
A Better Money Making Opportunity
Now that you know what to expect from Gamekit, I want to show you the method that I use to make money online.
I do something called affiliate marketing.
This business model is by far the best way to make money online (in my humble opinion), and while it may sound intimidating and complicated, trust me; it's not.
I have a free video training course that you can get started with. This course is the same one that I got started with over 5 years ago, and it truly was a game-changer for me.
I hope this Gamekit review was helpful and you got something out of it.
In case I got something wrong or you want to ask a question, feel free to drop a comment and I will answer you.
I'll leave you to it.