Are you interested in earning some side-cash with Rewardia?
If so, you're probably wondering if it's a legit site.
I've reviewed quite many of these "GPT-sites" and it feels like there is no end to them. They multiply like rabbits, and not all of them are legit.
A common scam I see among them is to not pay their users.
So let's see what Rewardia is all about.
In this Rewardia review, you'll find out:
What is Rewardia (& is it legit?)
How can you make money with them?
How can you get paid
Is it worth joining?
The earning potential for rewards sites like this is not great, so I would like to show you a better-paying alternative at the end of this post.
Alright?
Let's find out if Rewardia is legit or not.
Rewardia Review Summary
$0
Earning Potential

Payment Systems

User Experience

Opportunities Available
Rewardia TLDR;
A basic GPT-site where you can earn for doing tasks
Only available in the US, Australia, and NZ
$50 minimum payout (too high)
Some users have not gotten paid
Low earning potential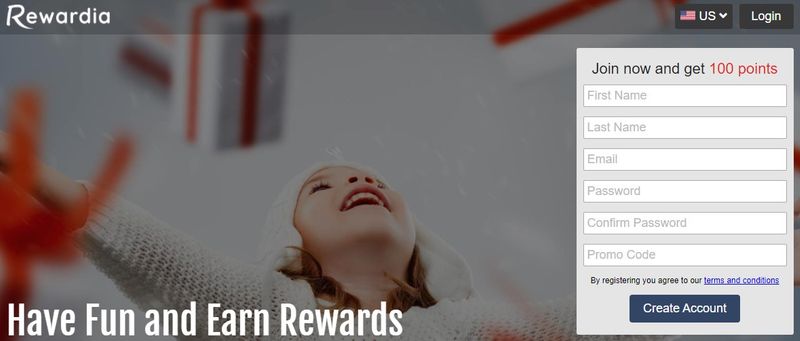 What Is Rewardia?
Rewardia is a GPT-site (get-paid-to) like PointsPrizes and LootPrizes where you can do various activities to earn points.
These activities include:
Answering surveys
Playing games
Solving puzzles
Watching videos
Voting on polls & answering trivia, etc.
And like many similar sites, you can then exchange the points for gift cards or cash.
How much money are we talking about?
It depends on how much time you spend grinding, but generally; don't expect to earn too much. You can earn supplement cash at best.
I'd say around $25-100 a month if you grind every day for multiple hours.
Their minimum cash payout is also $50 which is going to take you some time to reach.
If you wanted to earn serious money online, you'd have to start an online business.
Also, something to be aware of is that Rewardia is only available to people living in the US, Australia, and New Zealand.
Is Rewardia Legit?
To figure out whether Rewardia is legit or a scam, we can take a look at the company background and user experiences.
Let's check out the company background first.
Company Background
Some quick facts about Rewardia:
Launched in 2018 by MyShopping Australia PTY LTD
Founder: Andrey Tyshchenko (& Alexander Tyshchenko?)
HQ in Greater Sydney, Australia
MyShopping Australia is basically a "comparison shopping service" and they're directly linking to Rewardia from their more established site.
They've been around since 2013 and do not run other GPT-sites.
Trustpilot Reviews
Their Trustpilot ratings are mainly positive.
Rewardia has been reviewed 396 times on Trustpilot and is rated "Excellent" by 63% of its users. Their overall rating is 4.3 out of 5 so the majority of reviews are positive.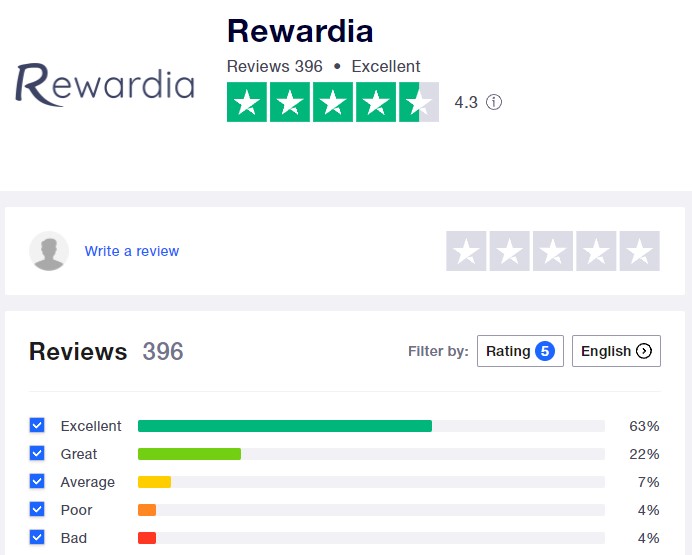 Most complaints are related to being disqualified in the middle of a survey and that is definitely one of the downsides of survey sites.
It's something you have to learn to live with if you intend to keep using rewards sites.
There's also another a bit more concerning case where Mikael (another reviewer) lost $174 when trying to cash out his earnings from Rewardia.
You can watch his experience below:
So is Rewardia legit?
People have mostly had positive experiences with Rewardia, but the case where Mikael lost $174 makes me a bit vary towards them. The same could happen to you.
If you want to be on the safe side, there are plenty of other legitimate GPT-sites to use such as:
Who Can Join Rewardia?
You can benefit from Rewardia only if you live in:
The US
Australia – or
New Zealand.
You also have to be 18 years to use their services.
How To Get Started?
You can easily get started by signing up on their front page.
Once you insert your email address and password, you have to choose what country you are from.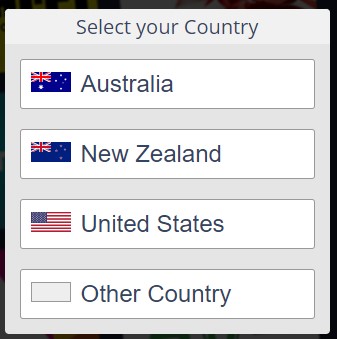 After that, you have to insert a verification number seen on the screen.
That's pretty much it. You're ready to earn now.
As a bonus, you already get 100 points for activating your account through your email.
How Can You Start Earning With Rewardia?
There are a few different ways to earn points in Rewardia and that's what we're going to look at next.
The current conversion rate is $1 = 2000 points.
Let's see how you can earn these points and what's the earning potential like.
Surveys
Surveys are provided by market research companies who want to collect a particular group's personal/economic habits or opinions about specific products or services. They will basically reward you for taking the time to answer questions.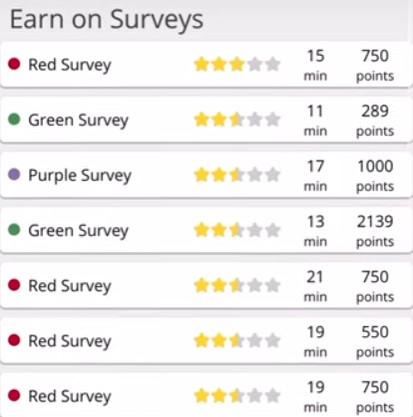 You can find surveys on almost every GPT-site and Rewardia is no exception.
Before you are offered surveys, you have to go through a "pre-screening" phase and answer 16 questions — this already earns you 160 points.
The pre-screening phase will determine what kind of surveys you are offered going forward.
Be aware that if your pre-screening answers contradict what you answer in the actual surveys, you'll run a higher chance of being disqualified.
Also, the "time to complete" number on the surveys are not very accurate.
Generally, the more points it rewards, the more time it will take to complete.
The earning potential of these surveys is what you can expect for surveys; you're basically earning 10-50 cents per survey.
Games
You can also play simple puzzle games to earn points.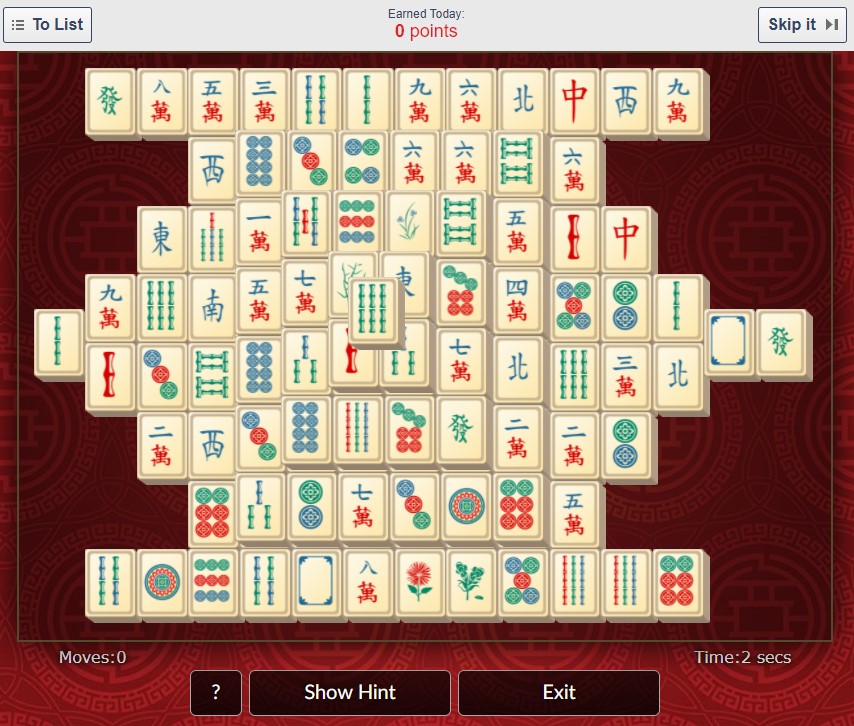 From what I could gather from the short time I played them, the earning potential didn't seem great.
A few minutes of playing rewarded me with just 4 points.
To put this into context, you need 100 000 points to cash out.
Nonetheless, if you are commuting it could be a fun way to pass time.
Other Stuff
It's kind of weird, but you can also earn some (but not many) points by taking part in daily discussions and answering polls.
This is what the discussion of the day is:
And as you can probably guess, people are losing their sh*t at the comment section calling today's discussion offensive.
You can earn like 1 point for commenting so it's not anything great.
Although it doesn't require much effort.
The Referral Program
You can also earn points by inviting your friends to join Rewardia with their referral program.
This is basically where the "big" money is made, contrary to filling out the surveys.
How many points can you earn?
Rewardia offers 10% commissions on your friend's earnings for life.
For example, if your friend earns 1000 points, you'll earn 100 points for doing nothing.
Of course, your friend(s) need to be active at the platform for you to get any benefit out of this.
That's why there is a 3,000 point bonus for your friend when they reach 3,000 points for the first time.
It's a carrot on the stick so they'd keep using the platform.
If you'd like to know how to make serious money with this method, I have a guide for you here.
Ways To Get Paid In Rewardia
Let's talk about getting paid since that's what you're probably interested in.
There are two ways to get paid in Rewardia:
Redeeming your points for gift cards
Redeeming your points for cash
For both methods, you will need to have collected at least 100 000 points.
In monetary value that equals $50 so it's quite a high requirement compared to many other GPT-sites.
For gift cards, you are basically exchanging your Rewardia points for something called Flexi eGift card.
You can then exchange this Flexi eGift card for many rewards.
Here's what the suggested gift card reward section looks like (there are more rewards than these):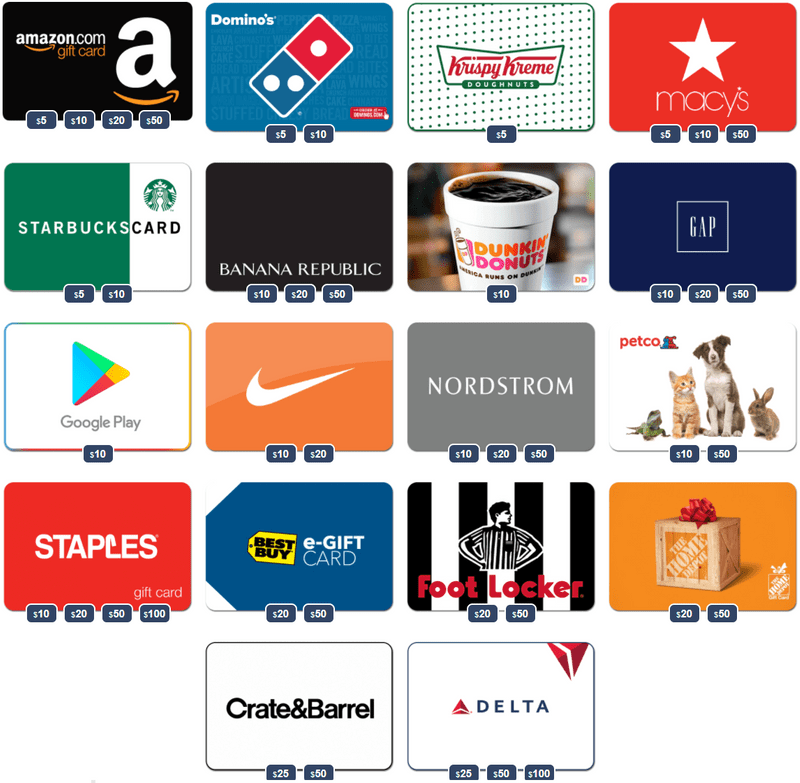 The rewards will be sent to your email address where you can claim them.
From what I could gather, it has taken people around 15 days to receive their gift cards — of course, this could vary.
If you choose to get paid in cash, there seem to be only direct transfers available. No PayPal at all.
Is It Worth Joining?
Now, would I recommend Rewardia?
While it seems mostly legit, I can't recommend it.
Here's a small rundown of why not:
It's only available in the US, Australia, and NZ
Their surveys & games have low rewards
$50 minimum payout is absurd for a rewards site
Some people have not gotten paid.
And my nose is sensing some trickery.
Their point conversion rate used to be 1000 points = $1
But now it is 2000 points = $1
They're basically making you work twice as hard for the same price.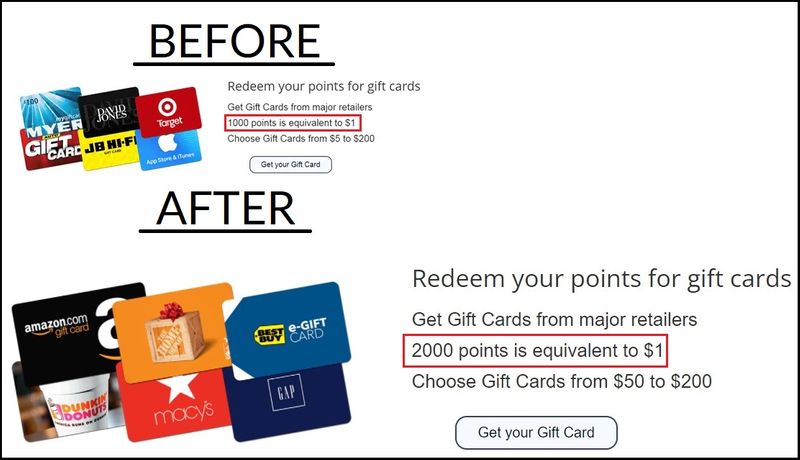 They have also increased the minimum gift card payout from $5 to $50 — the same level as cash payouts.
If I have learned anything from reviewing GPT-sites, these types of changes usually mean they don't actively update the site anymore or they are in financial problems and can't pay their users.
How they avoid paying is they increase the minimum payouts to a point where the average user quits halfway through — they'll still benefit from your work though.
Maybe the potential financial problems are why they haven't paid some users?
I would advise staying away from Rewardia.
See How I Make Money Online
There are plenty of other legit rewards sites like Swagbucks, but before you go and sign up for them — I'd like to show you how I make money online.
My method takes a bit more effort, but it also has the potential to earn you much more (a full-time or part-time income).
You wouldn't have to dabble with rewards sites anymore after this.
Here's what I do;
Basically, I promote other people's products online with simple websites using something called affiliate marketing.
It may sound intimidating and hard to do, but trust me; it's not.
I started as a complete beginner in 2018, and I'm confident you could do it as well.
If that is something you'd like to try and learn more about;
I have a free video course on getting started with affiliate marketing.
Thanks for reading my Rewardia review, and feel free to leave comments below.
Talk soon.