I never really thought air purifiers could cost $1,500 to be honest.
It's a lot of money.
Vollara has a business opportunity where you can sell these "high-ticket" products for profit.
But how realistic is this and is it worth your time?
Today, I'm taking a deep dive into their business opportunity to find out if it's as good as it sounds. You're probably interested in that as well.
As a disclaimer, I'm not a distributor for Vollara so I won't lure you in.
In this Vollara review, you'll learn the following:
What is Vollara (is it legit?)
How can you earn with Vollara?

How much does it cost to join

the opportunity

Some pros and cons you should know about

& I'll show you an alternative if you think Vollara is not for you
If you're thinking about starting a "home-based business" with Vollara, be sure to read this review to find out whether it's possible to make any money with this company.
Let's get started.
What Is Vollara?
Vollara is a health & wellness multi-level marketing company (MLM) and they're selling a mix of air purifiers, water filters, laundry supplies, and even supplements.
They are based in Virginia, US, and were founded in 2010 through their parent company called Aerus (which is former Electrolux, USA). The current CEO of both Vollara and Aerus is Joe Urso.
Their estimated annual revenue is $118M per year and here's their vision:
Reach Beyond Yourself™
Vollara is an MLM and here's a short explanation:
To help expand their reach, Vollara allows its customers to become independent distributors for the company.
As a distributor, you can buy Vollara products at wholesale prices and then sell them to potential customers for retail prices. The price difference is the cut you get to keep.
Moreover, you can recruit people to become distributors under your team and you'd then earn commissions and bonuses from the sales they make.
Some competitors in the health & wellness space for Vollara are 4Life, Vida Divina, Omnitrition, and Optavia.
What Are Vollara Products Like?
A good understanding of the products along with positive experiences is something you need if you intend to become a (successful) distributor.
This is especially true in Vollara's case since the flagship products are fairly expensive and your customers will want to know everything about them before they buy from you.
But let's take a look at the products now.
They have a mix of consumable and non-consumable products and here are most of them listed:
Air Purifiers
Air & Surface Pro – $1,499
Air & Surface Pro+ – $1,499
FreshAir Mobile – $199
FreshAir Focus – $99
FreshAir Personal – $129
Pet ReFresh – $99
Water Filters
LivingWater – $2,499
H2Fuel – $299
Laundry
There were also shower head replacement filters, vacuum bags, and other small stuff.
And here's the nutrition product line:
Essentials for Life – $73.99
HealthySlips – $35.99
I Feel Great – $93.99
KetoneZone – $98.99
Perfect Start – $74.99
Re:Absorb Family Size – $81.99
Re:Balance Family Size – $83.99
Re:Coupe – $35.99
Re:Flex – $53.99
Re:Mind – $36.99
Re:Plenish 2-pack – $74.99
Re:Sist – $51.99
Re:Vive – $46.99
Royal Essentials – $59.99
Their flagship products are air purifiers and water filters – more specifically the Air & Surface pro and LivingWater.
My first impression is that the price tags are "up there" for sure and that goes for the supplements as well.
The benefit is that you can earn better commissions, but such high-priced products are also much harder to sell and will require great selling skills on your part.
For that reason, I also think this is not the best opportunity for beginners.
I also have a hunch the $1500+ products are easier to sell to businesses rather than individuals which means the "old-school" home parties are probably not the way to go this time.
Selling to businesses would also mean having a hard time recruiting anyone because… well, they already have a business.
Here's a video about the air purifier if you want to see more:
How Can You Make Money With Vollara?
Let's talk about the money-making aspect of Vollara since you're probably interested in that.
There are two main ways of making money (just like in most MLMs):
Earning income from selling the products
Earning commissions and bonuses from the sales of your team members
Unfortunately, I couldn't find any publicly available compensation plan on their website (which is weird and a bit questionable).
Nonetheless, I managed to dig up one from 2013 and a price list sheet where we can see retail & wholesale prices.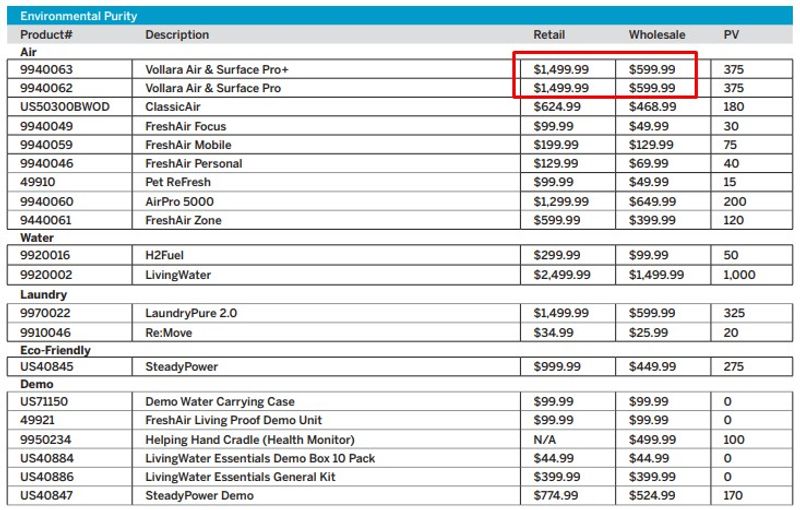 Here we can see that you can buy their Air & surface Pro for $600 and then sell for $1500, so your cut would be $900 per air purifier.
Now that sounds great on paper, but I see a few problems here.
First, you need to invest thousands of dollars into buying these products before you can start selling them. Based on my research, you're suggested to buy 3 or 5 packs and that would cost you $1,699 – $2,699.
It's a high investment, and nothing guarantees you will be able to sell them (especially if you're a beginner). If anything, the company is the clear winner here since they'll make money either way.
Another thing that bugs me is also related to pricing.
An average price for a high-end air purifier is around $300-600 and your wholesale price happens to fit that price range ($599). I can't help but wonder why the customers have to pay almost triple the price for the air purifiers.
At $1,499 you need to come up with damn good explanations for your customers because they will ask "why is the price so high?".
You also need to consider your own ethical standpoint whether you find this okay or not. You need to be able to stand behind the products you want to sell.
Where do you sell these products?
As a distributor, you can do a mix of online & offline selling.
You could sell in your local area to new people you meet and/or to your friends and family.
The problem with this approach is that even 10-20 distributors in your local area can saturate the market (source). Also, selling to your relatives is awkward and not something I'd recommend.
In short, you need to figure out if there are other distributors in your local area that could affect your ability to sell.
With the help of your "replica website", you can also sell online and recruit downline.
Many distributors find customers with the help of social media (Facebook, YouTube) and then arrange Zoom or Skype meetings where the sales pitch happens.
One such example would be here:
To summarize the video, this person is selling the business opportunity rather than the products.
And if I may have an educated guess – you're expected to do the same.
At least if there is believing this "Vollara Five Step Success System" document.
The language in the document is making my red flag sensors vibrate not gonna lie: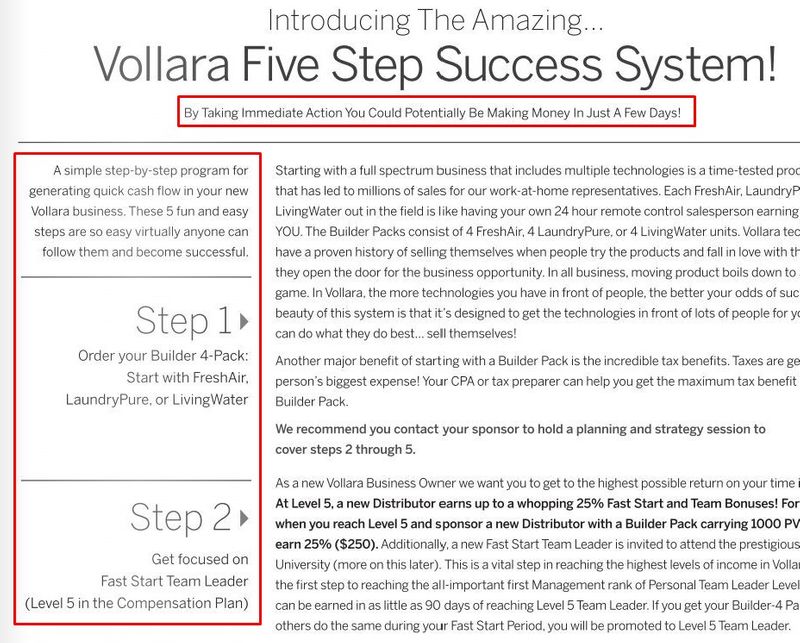 I don't want to make any conclusive statements here, but when the emphasis is on selling the business opportunity, we get dangerously close to pyramid schemes.
I'm not saying Vollara is one, but I do find this practice questionable.
How much can you earn with Vollara?
You could earn a lot if you can find a target audience that's willing to buy from you and if you build a team of high-performing distributors.
But it's not the easiest thing to do.
The products may be hard to sell due to high prices and building a team is often like filling a bathtub without a plug.
Finding high-performing distributors is hard and you'll constantly have to recruit new people because the failure rates are high and people are constantly leaving.
All this is reflected in Vollara's income disclosure.
The average annualized income for those Vollara business
associates that did receive a commission payment during 2017 ("Active Business Associates") was $4,226.78
The numbers are not really on your side on this one.
Although this is normal for all MLMs since (source):
47% MLM reps lose money
27% Break even
25% Report making profit
How Much Does It Cost To Join Vollara?
Apparently, there is no fee for joining Vollara.
But if you want to start selling and climbing up ranks, you have the option to buy "builder packs" costing thousands of dollars:

Also, something worth noting is that you need to hit a monthly sales quota of 100 PQV to remain "active" and be eligible for retail profits.
Every product is assigned a PV value (which you can see above) and you need to either sell or buy 100 worth of PV every month.
This PQV quota also increases along with your rank.
Monthly sales quotas are probably the biggest reason why people fail with MLMs. If you can't sell enough, you will likely end up buying the products to remain active.
Otherwise, you would risk losing part of your income.
I've never been a fan of deals like these.
Some other costs (if you sell offline) may include travel, snack, advertising, promotional, and product showcase expenses.
Pros & Cons Of Vollara
PRO – Fairly Established Company
Despite all the name changes and confusing company record, they have a long history tracing back to 1924 as the Electrolux USA.
Vollara has been around since 2010 so it's safe to say they're fairly established at this point and (probably) not going to disappear overnight.
In fact, most MLMs don't even survive past the 5-10 years range.
PRO – Potential For High Commissions
Selling just one air purifier can earn you $900 and I think that's what appeals to many people taking part in this opportunity.
The potential to earn big is there, but you need to find the correct target audience first (& have the skills to sell).
I think these products would be easier to sell to businesses if you ever get into it.
CONS – Expensive Products
The high price tags are also the downside of this opportunity.
There are just not many individual people who would be interested to pay $1500 for an air purifier when they can buy one for cheaper elsewhere.
It also makes recruiting much harder because not too many people are willing to invest thousands of dollars into a business opportunity.
CONS – Lacking Vital Information
Vollara's website is not transparent in many ways.
It lacks proper company background as there is no mention of who runs the company. A simple about page would help a lot.
There are also no publicly displayed compensation plans, income disclosures, or any mention of how much you may have to pay to take part in the business opportunity.
Is Vollara Legit?
Is Vollara a pyramid scheme?
It's not a pyramid scheme from a legal standpoint (at least yet), but I do see why many people would call it one.
The compensation plan of Vollara is very "top-heavy" and favors team building which is not an easy thing to do especially when you are expected to spend thousands on "builder packs".
If I'm completely honest, I didn't like much of what I saw during researching this company.
I find it distasteful to sell air purifiers to customers for triple the price of what you would normally find in stores.
The company is not transparent either since it lacks vital information on its site;
No company background info, no compensation plans, no income disclosures, no mention of potential business opportunity costs.
I guess the main thing bugging me is the lack of ethicality.
Should You Join Vollara?
It is entirely up to you whether you want to join Vollara.
But based on the information in this article (& trust me I didn't even include everything), you should consider whether you want to get involved in something where you may have more to lose than gain.
Just my two cents.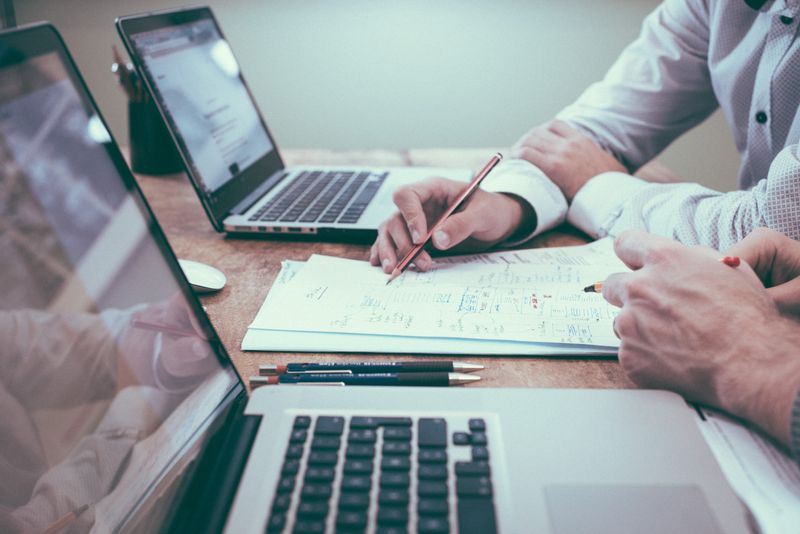 Vollara Review: Final Words
In my humble opinion, you should look into affiliate marketing rather than MLMs or network marketing.
It's a good alternative if you enjoy sales.
Affiliate marketing is a performance-based business where you earn commissions on sales, and it doesn't have many of the "negative" sides of MLMs:
No recruiting
No confusing compensation plans
No need to be brand loyal
No recurring heavy investments

Cheap to get started with great income potential
There are many resources around the web you could use, but if you don't have the time, you can check out this free resource.
I'll leave you to it.