In 2020, the supplement market size was estimated to be worth $136 billion.
If you've been thinking of tapping into this industry with the help of 4Life; a supplement MLM – then;
I recommend reading this review first as I'm about to take a deep dive into their business opportunity to see if making money with them is something you can do (& if it's worth it).
As a disclaimer, I'm not affiliated with them so I'm not going to lure you in.
In this 4Life review, I'm going to share with you:
What is 4Life all about (& is it legit?)
How to make money with them
How much can you earn
Some pros and cons I think you should know about
My thoughts if it's worth joining.
I also want to share an alternative way to make money online (& something you could also use to promote 4Life).
Are you interested in starting your own (online) supplement business? I'm sure you'll have a clearer path after reading this review.
Ready?
Let's get started.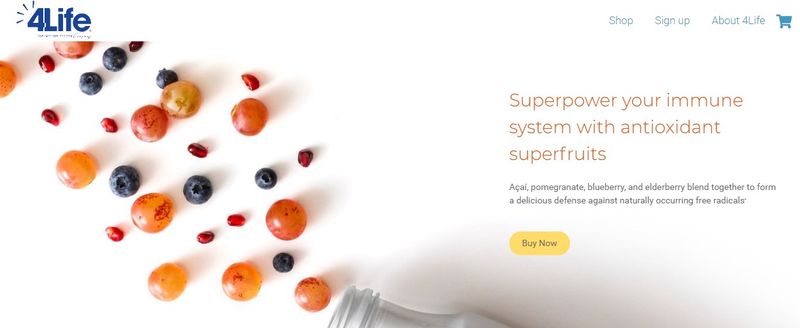 What Is 4Life?
4Life is a health & wellness multi-level marketing (MLM) company and they sell a wide range of nutritional supplements.
This "immune system company" as they call it was founded in 1998 by David & Bianca Lisonbee, and their headquarters are located in Utah, US.
So we are talking about a fairly established company here.
At 4Life, we don't just sell products. We sell science.
4Life is an MLM company and here's a short explanation of it;
Any customer of 4Life can become an independent distributor for the company and sell their products to make extra income.
It means you can buy their products at wholesale prices and then sell them to customers at retail prices. You also have the option to recruit more distributors under you and earn bonuses from their sales.
When you join as a distributor, you also get access to a replica website.
The replica website looks like the original 4Life store, but any sales made through it are compensated to you in commissions.
This means you can share your replica website link on many online platforms to drive traffic to your website and make sales.
I'll talk more about this further below.
Below you can learn more about the history of 4Life:
Other similar health & wellness MLMs would be Optavia, Vestige, Vida Divina, and Omnitrition.
Are 4Life Products Any Good?
If you want to become a (successful) distributor, you need to know the products well and preferably have used them with positive experiences.
This is important because supplements are fairly expensive and your potential customers will want to know everything about them.
Let's take a look at what kind of products they have.
Immune system support (pills, liquid supplements, sprays)
Meal replacements
Skincare (creams, masks, oils)
Bath products (shampoo, deodorant, toothpaste)
Essential oils
Supplements (energy powders, drinks)
Digestive system (detox, biotics, teas)
& Much more.
As you'd expect, it's a 20+ years old company and they've had the time to implement a little bit of everything.
There are certainly many product lines you could choose to "specialize" in if you intend to become a distributor.
Their flagship product is the "4Life Transfer Factor Plus" which is an immune system supporter in a capsule form.
You are supposed to take 2 capsules per day and one bottle comes with 1-month of servings. It costs $76 per bottle.
I do have to say; that sounds damn expensive (including the other products).
Of course, the benefit is that you'll earn better commissions, but the products will also become harder to sell.
This also means your selling skills need to be "up there" if you want to have any success in selling these products.
What do people think about these products?
I was a bit surprised but most people seem to like their flagship product.
Here are the Amazon reviews for the immune system booster:

Despite the good ratings, I'm a bit skeptical towards Amazon reviews these days since it wouldn't be the first time someone buys positive reviews.
Not saying that's the case here, but I find it weird how there is more than one review saying they're feeding the pills to their cats (lol) or how it treated someone's heart disease and cancer.
Maybe they do work, who knows.
If anything, positive experiences will help you sell more.
Here's a video about their flagship product:
How Can You Make Money With 4Life?
Let's talk about how you can make money with 4Life since that's why you're probably here.
There are two "main" ways to earn with 4Life:
Selling products to customers

Earning bonuses from the sales your downline
4Life offers ~33.3% commissions on your retail sales and any sales made through your replica website will earn you 25% commissions.
This means if someone purchases a $76 bottle through your website, your cut would be $19, but only if your monthly volume is over 100 LP.
What is LP?
They are using a confusing (& IMO unnecessary) conversion system where products are assigned their LP (life points) value.
Don't ask me why.
It reminds me of casinos where they give you chips because it disconnects you from the real monetary value of the chips so you'd play more.
But anyways, you can also earn 2-25% bonuses from your downline sales (depending on your rank).
Moreover, there are a bunch of other bonuses included in the compensation plan.
In short, the more you sell (& recruit), the more money you can make.
Are the commission rates good?
Yes, they are decent for physical products when you compare them to Amazon Associates rates where you'd only get 1-4% commissions for these types of products.
Where would you sell the products?
Well, the "old-school" way of selling would be in home parties if that is your thing — basically;
You invite people from your local area to your party, have snacks ready, and then showcase your wonder pills to everyone and (hopefully) make big green stacks.
The other more modern (& better) way is to use your replica website to make sales. You'll earn a bit lower commissions but you can leverage the power of the Internet to access a huge amount of potential customers.
Your "only" job is to send traffic (visitors) to your website and any sales you'd generate from this traffic would make you eligible for commissions (if you have a monthly volume of over 100 LP).
Now, the "getting traffic" part is the hardest aspect of this method and it's also where many distributors fail.
But I'd say the traditional home party route is even harder.
Without a doubt, having your own website is the best route to succeed with this type of venture.
And I'm not talking about the replica website here.
I mean having your very own website and promoting your 4Life replica website links in the blog posts on your website.
It's what I'd do if I had to make this work (& I'll talk about this method further below).
How much can you earn?
Let's say you use the replica website to make sales.
If you sell one $76 bottle for $19 commissions every day, your monthly earnings would be $570 (minus expenses/taxes).
If you manage to sell 5 bottles each day, then your monthly commissions would be $2850.
You can probably see how this could compound over time if you manage to get enough buyer traffic to your replica website.
But is it as easy in practice?
Actually no, partly because of the MLM business model.
For this type of compounding effect, you'd have much better success with affiliate marketing because it doesn't have the same expenses as MLMs (more about that later).
We can actually take a look at 4Life's 2020 income disclosure to see how much distributors are earning on average.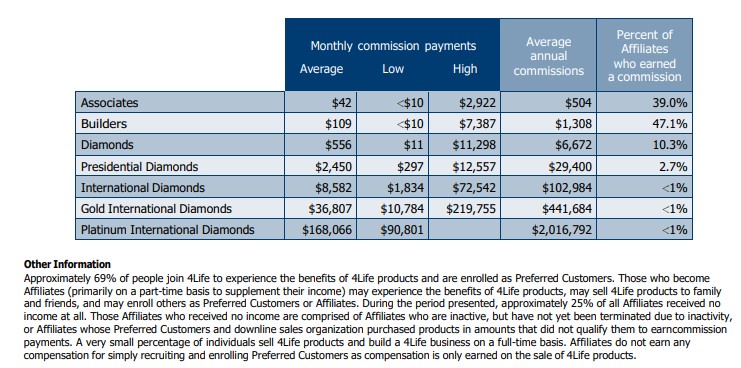 When you take a look at the "Average annual commissions" section you can see the numbers are not really on your side.
These numbers are not even profit – they don't include any expenses.
You can see in the "Presidential Diamond" level you could maybe earn some decent side cash — but;
To get into that "diamond" level, you'd have to recruit downline which is not everyone's forte.
As someone once said;
Building a team in an MLM is like filling a bathtub without a plug.
What the person meant is that you need to continuously recruit new people to your downline because the failure rate is high and people are constantly leaving.
Why do people fail then?
The simple reason is that it's not profitable for most people.
Many people lose money because there are monthly sales quotas you need to achieve to remain "active". And you can achieve this status either by selling or buying the products.
Being inactive means you may lose your downline (part of your income) and this leads many people to buy the products (to remain active) even when they can't sell them.
Another reason for failure is that not everyone is made to lead and build a thriving team. It's hard to make sufficient income from selling alone.
How Much Does It Cost To Join 4Life?
To get discounts and other bonuses you have to buy a $25 enrollment kit.
Then you are offered to purchase an enrollment pack:
Immune IQ Starter Pack $146
Preferred Customer Basic Enrollment Pack $250
Preferred Customer Premium Enrollment Pack $525
These will basically get you started on becoming a distributor.
However, there are more expenses to be aware of.
You need to sell (or buy) 100 PV (~$120) worth of products each month to remain "active".
Otherwise, you're not eligible for commissions.
Some other possible expenses include the products if you want to showcase them, running ad campaigns, travel expenses, snacks, etc.
Your potential first-year expenses are at least:
1 x $25
1 x $146 – $525
12 x $120
= $1611 – $1990
Pros & Cons Of 4Life
PRO – Established Company
Most MLMs don't survive past the 5-10 year range.
But this company has had a long history (since 1998) so you can have peace of mind that it's not going to disappear overnight.
As a side note, in 2019 it was also ranked 43rd for top revenue in direct sales.
PRO – Positive Products Reviews
People have had positive experiences with the products which is good to hear.
Although I'm not sure if I personally believe some of the cat and patient stories…
Anyways, positive user experiences will help you sell the products.
PRO – Replica Website
The traditional ways of hosting local home parties are getting old and ineffective in today's world.
It's not 2005 anymore, and I don't have to convince you that every business should have a website. This is why the replica website is crucial to your success (even though you don't own it).
If you know how to leverage the Internet, you can make loads of money with websites.
CONS – Market Saturation
Being a distributor for established MLMs (like 4Life) have disadvantages especially when it comes to the traditional ways of selling in your local areas.
The fact that it has been around for 20+ years means you'll have many competitors.
Even 10-20 distributors in your local area could saturate the market fast (source).
Although this is not a big deal if you again – know how to leverage the Internet to sell. This is just another great example of why you should be online if you want to have any chance of succeeding.
CONS – Promoting Supplements Online
Promoting products online is great & wildly profitable – but;
Some categories are in the gray area and supplements are one of them (especially ones that come from MLM companies).
While there are ways around this, you'll likely encounter problems along the way meaning; many platforms don't want you to promote supplements and will ban you.
CONS – Low Earning Potential
I'm basing this entirely on the income disclosure, but your chances of making money don't seem great if you're a beginner in direct sales.
The average annual commissions for "Associates" is just $504 without counting the expenses.
Of course, you can make this work but the numbers are not on your side.
Maybe the supplement market in general and the high price point are something that make it hard for distributors to succeed.
The company is certainly making big bucks, but the distributors… not so much.
Is 4Life Legit?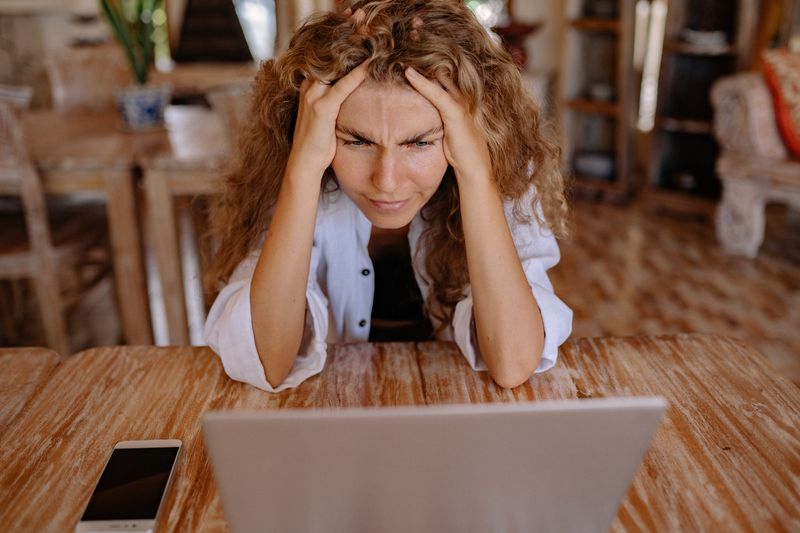 Is 4Life a pyramid scheme?
It's not a pyramid scheme (at least yet), but I understand how people may call it a scam due to the low amount of people who have succeeded as a distributor.
There has been at least one lawsuit in 2016, and also warning letters and investigations into 4Life due to deceptive marketing campaigns.
You probably want to hear what came of it (especially the last bit):
The company responded the following week outlining the steps it had taken thus far with respect to the deceptive claims at issue, including the immediate suspension of numerous 4Life distributors.
This is why I'm not personally a huge fan of getting into opportunities regarding supplements and other questionable industries (or MLMs in general).
You could get involved in something where you have more to lose than gain.
Should You Join 4Life? (My Thoughts)
Now this one is up to you.
If you feel like supplements are your calling, then you could make this work.
Network marketing is not the easiest thing to do, and you'll have to work hard to build skills and an audience to succeed.
You also need to take into account the running expenses and sales quotas you need to achieve each month.
And if you decide to sell in your local area, you need to investigate if there are other distributors already saturating the area.
How I would promote 4Life products if I partnered up with them:
This may come as a surprise – but I'd completely ditch home parties and not even build my business around the replica website (simply because it can be taken away from you).
Instead, I'd use the replica website to monetize my own website.
Yes – I'd rather take a completely different route where I build my own supplement website (anyone can do this these days).
I would then attract free visitors from search engines like Google & Bing by creating content around 4Life and supplements (kind of like how you ended on this page).
I could then promote my 4Life replica website in the content and generate sales passively and pretty much on autopilot.
Moreover, I could monetize the website with other methods (display ads & affiliate offers) and not just rely on 4Life sales.
Using my own website would also protect my income if 4Life would get into legal trouble again. If something happened to 4Life, I could just switch over to other monetization methods and keep my business up and running.
The benefit of your own website is that no one can take it away from you (unlike your replica website) and it also increases in value over time.
This is how I would build a sustainable long-term business (& make money with 4Life on the side) but your goals and motives may be entirely different from mine and that's okay.
Just sharing my two cents.
4Life Review: Final Words
Thank you for stopping by and I hope you learned something new.
4Life is an old established company and there is certainly lucrative money to be made in supplements with their business opportunity (as long as you know what you're doing).
If you want to know more about building money-making websites (that you could also use to promote 4Life) then look no further;
You can get started with this free 7-day course or you can read more about profitable websites here.
Feel free to leave comments if I got something wrong or if you want to ask me something.
I'll leave you to it.