Are you interested in earning affiliate commissions with pickleball?
This sport has had quite a popularity boom in recent years, and there's plenty of money to be made promoting pickleball gear, apparel, & online courses with affiliate marketing.
Today, I've done the legwork and collected some of the best pickleball affiliate programs for you to start promoting on your website, YouTube channel, or social media.
At the end of this post, you'll also find resources if you want to start your own money-making (pickleball) affiliate website so you can start taking advantage of these affiliate programs.
Let's jump straight to the list.
You may also be interested in these blog posts: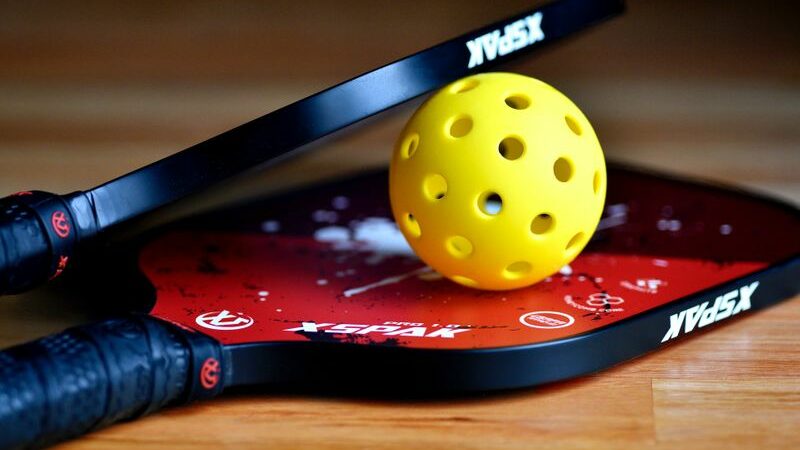 10 Pickleball Affiliate Programs To Promote
Pickleball Central
JustPaddles
OnCourt OffCourt
Tyrol Pickleball
Pickler
High-Performance Pickleball Academy
Golden Pickleball
Global Pickleball
Racquet Science
Recess Pickleball
Pickleball Central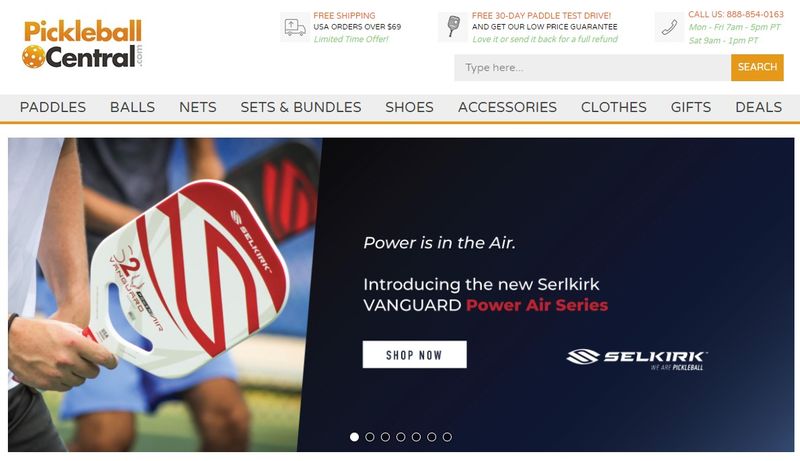 Pickleball Central is one of the largest pickleball retailers in the US and was established in 2006 by Anna Copley & David Johnson.
They sell everything related to pickleball including paddles (80+ models in stock), balls, nets, equipment, and even clothing from top brands. They cater to all types of players from beginners to pros.
What's also great is that they ship worldwide so you can promote their products to different geographics and demographics.
Their affiliate program is on the AvantLink network which you can join for free. They offer decent 8% commission rates with a 30-day cookie length during which you'll be credited for any sales made through your affiliate links.
8% Commissions
30-Day Cookie Length
JustPaddles
JustPaddles is just what the name sounds like – they sell pickleball paddles (& accessories).
You can search their paddles based on brand, weight, shape, player type, and material to make your life easier. You can also build your own paddle packs, saving you some money. The accessories I mentioned include bags and pickleball.
A small drawback is that they only ship within the US so it limits the audiences you can promote to (you can still become an affiliate if you live outside the US). Although, they do have free shipping and you'll get same-day shipping if you order before 8 PM EST.
You can become an affiliate for them on the Refersion network and they'll also provide you with some promotional material to use in your marketing efforts.
4-10% Tiered Commissions
30-Day Cookie Length
OnCourt OffCourt
OnCourt OffCourt is an online store and an information source for tennis and pickleball (& some other sports). It was founded by Joe Dinoffer more than 25 years ago.
They're not only selling all the basic gear you need for pickleball, but they also provide free & paid online courses on various topics.
On top of being an online store, they're a source for creative training, fitness aids, and educational material for sports.
What makes this rather interesting choice to promote is the ball machines costing between $1,000-$2,000. This means you have an opportunity to earn high-ticket commissions.
Another great aspect is that they accept international orders and have warehouses around the world for faster shipping.
Their average order size is $230 and with a 10% commission rate that'd amount to roughly $23 per sale for affiliates. And if you sold one $2,000 ball machine, your cut would be $200 per sale.
However, they don't disclose the starting commission rates so you probably need enough sales volume to reach the 10% rates.
They also don't mention if they're using an affiliate network to implement their affiliate program. You have to email them to become an affiliate.
Up to 10% Commissions
Cookie Length: –
Tyrol Pickleball
Tyrol Pickleball is a US-based online store that designs and sells shoes specifically for pickleball.
They have 6 shoe designs for men and 5 for women. They're also selling 2 types of bags called the "tournament bag" and "club bag".
All the products are in the price range of $90 and $150, and with the 8% commission rate, your potential compensation for one product sale is between $7.2 and $12.
They only ship within the US, but you can become an affiliate even if you don't live in the states. As long as your audience resides in the US, then you're good.
8% Commissions
30-Day Cookie Length
Pickler
Pickler offers free and paid material for learning to play better pickleball. The site was founded by Stacie Townsend.
The free material includes ebooks, blog posts & podcasts, and the main paid product is a premium online pickleball video lesson course. The course is what you can promote as an affiliate to earn commissions.
The course has 140 video lessons (7 hours of material) and normally costs $134.95, but they're running a summer sale with 50% off so now you can get it for $67.47 for the time being.
The commissions for affiliates start at $20 per sale, but you can get higher rates if you perform well.
Your audience can also pay for the course in 4 installments which should make it easier to get sales.
Commissions: $20 per sale
Cookie Length: –
High-Performance Pickleball Academy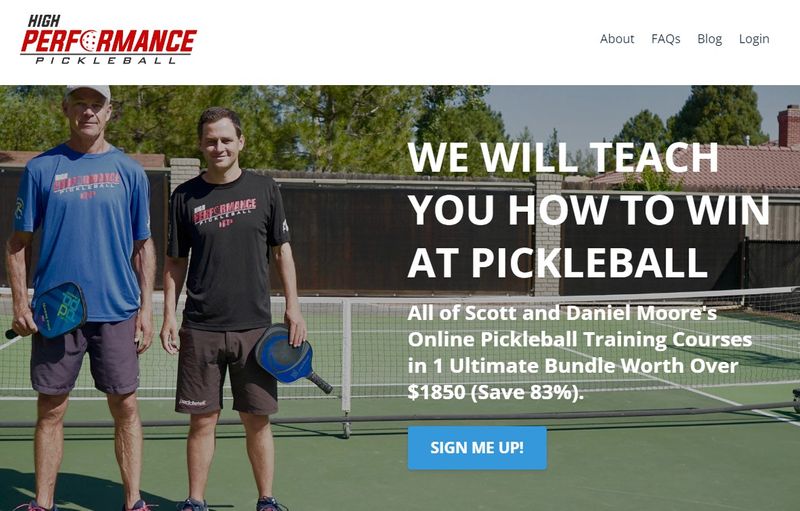 High-Performance Pickleball Academy is an online course created by Scott & Daniel Moore.
Scott has been ranked the #1 senior male player in the world and Daniel is a 9-time national champion of pickleball. They certainly have good credentials which should help you promote this course.
They're selling two pickleball online training courses bundled in one product:
The Pickleball Masterclass course focuses on teaching you skills and techniques.
The Pickleball Strategy course teaches you more advanced strategies and the mental side of the game.
The course is made for those who want to win more in pickleball and increase their rating. In total, there are 66 training videos.
The course costs $297 and they offer you a fantastic 15% commission rate. This means you can earn $44,55 per sale.
I can highly recommend this one.
15% Commissions
30-Day Cookie Length
Golden Pickleball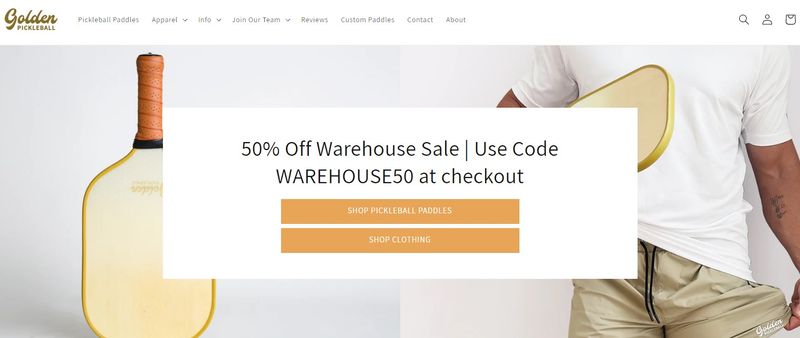 Golden Pickleball is a US-based online store that sells its own branded pickleball paddles and also apparel for men, women, and kids.
The paddles cost between $100 and $170 and you could earn decent commissions with the 15% commission rates they offer.
You can also order custom paddles with your own design from them and the minimum order is 50 for those. These could also fetch decent commissions.
Now, I'd also do some proper research before you start promoting this brand. I have a small hunch not everything is as it seems with the store (but I could be wrong).
They lack critical pages like FAQs and shipping information and some parts of the website are unfinished and have placeholders. I'm also suspicious about the reviews.
15% Commissions
Cookie Length: –
Global Pickleball Network
Global Pickleball Network is a membership site where you can create pickleball ladders, leagues, & tournaments. You can also find partners to play with and search for courts near you.
Surprisingly, most of the above you can do completely free on the site. However, they offer a premium membership which has many benefits:
Send PMs to others
Create your own networks
Broadcast comments to members in your city
View player's match history & statistic
No ads on the site, and many more.
The membership costs just a bit over $1 a month depending on your plan:
12 months ($14.99)
6 months ($9.99)
Recurring every 3 months ($4.99)
As an affiliate, you can earn commissions by bringing people to join the premium membership. Your compensation for doing that is a flat $10 commission.
Commissions: $10 per sale
30-Day Cookie Length
Racquet Science

Racquet Science is a Canada-based gear supplier for badminton, squash, tennis, & pickleball.
The store was founded by Larry Howes who has been involved in the racquet business for over 29 years all across Canada. These days he's an avid pickleball player.
When it comes to pickleball, Racquet Science has everything from paddles to shoes to accessories from all the popular brands like Head, Wilson, & Babolat.
A small drawback is that they only ship within the US & Canada. Despite that, you can still become an affiliate for them if you live elsewhere. Just make sure to promote to audiences who are from US or Canada.
Their affiliate program is on the GoAffPro network which provides tracking & reporting to affiliates along with the affiliate links.
5% Commissions
Cookie Length: –
Recess Pickleball
Recess Pickleball is an online store selling artist-made and custom pickleball paddles along with apparel & accessories.
They have paddles for adults & kids, and they also seem to be a bit more affordable compared to popular brands.
You can also order custom pickleball paddles with your own design and the minimum order for these is 50 paddles. Promoting this could amount to decent earnings with their 15% commission rates.
Recess Pickleball ships products within the US only.
You can join their affiliate program through the Refersion network which also provides payments, analytics, & reporting for affiliates.
15% Commissions
30-Day Cookie Length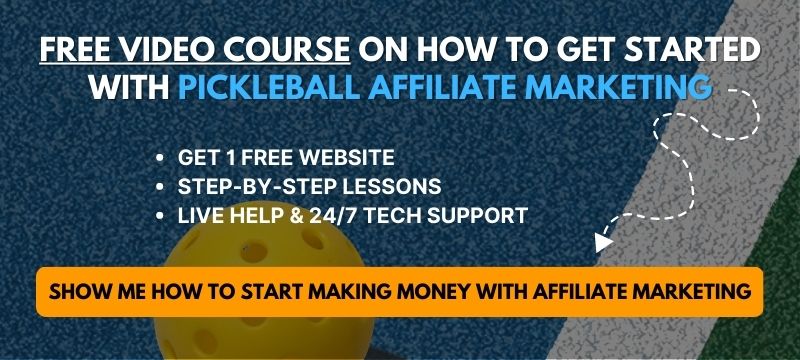 How To Start A Pickleball Affiliate Website (& Make Money)
If you don't have a website yet, I'd like to show you how to start your own pickleball affiliate website so you can start promoting these affiliate programs I listed above.
I think pickleball is a really interesting niche choice for a few reasons.
According to Statista, 4.82 million people in the US participated in pickleball in 2021 and the number has been increasing every year. And this was just in the US, not counting worldwide.
The pickleball gear also happens to be in a price range where you can expect to earn worthwhile commissions. There are also many digital products and high-ticket items to promote.
I also didn't find too many competing affiliate websites while researching this blog post so it should be fairly easy to establish a "go-to" source for all things pickleball.
You could cover topics like:
Beginner guides
Product reviews
Rules of pickleball
Tips & strategies to use in games
Nutrition & exercises
You could also create a YouTube channel alongside your website to show people how the game works.
I think there's plenty of money to be made in this niche with affiliate commissions, display ads, and perhaps even with your own info products.
If this whole affiliate marketing stuff sounds interesting to you, and you'd like to see a more detailed guide on how to do all this properly, then I suggest you click the button below.
I highly recommend you check it out before you go.