Are you interested in earning commissions with all things related to tennis?
I think tennis is an awesome niche where you have plenty of opportunities to earn affiliate income by helping your audience choose the best equipment for their situation.
After all, it's a popular sport and those racquets aren't always so cheap.
So if you have a blog, YouTube channel, or social media, make sure to check out this list of 10 tennis affiliate programs to find new brands & products to promote.
And if you're not sure how this all works, I've made sure to include resources at the end of this post where you can start building your own tennis affiliate website.
A funny thing is that I used to play tennis a few times and was surprised by how hard it is to get the ball where you want it to go. I always hit the ball too hard!
But anyways, let's get started.
You may also be interested in these blog posts: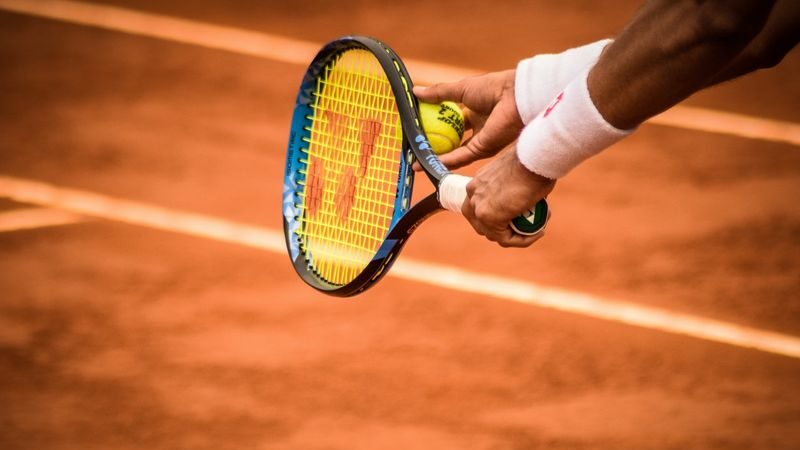 10 Tennis Affiliate Programs
Tennis Topia
Wilson
EleVen By Venus Williams
Holabird Sports
Tennis-Point
Swing Vision
Do It Tennis
Pro Direct Tennis
Smashinn
Paragon Sports
Tennis Topia
Tennis Topia is an online store & brick-and-mortar brand selling tennis equipment such as:
Racquets
Accessories
Shoes
Bags
Gifts
You can find all the popular tennis-related brands (Wilson, Babolat, Head, Yonex) in their product selection. They also have many Nike and Adidas products in the apparel section.
What's also interesting is that they have a list of famous tennis players and the gear they use. You can then pick your favorite and buy the same gear so you can "play like a pro". This is for sure an interesting aspect you can use in your marketing campaigns.
You can become an affiliate for Tennis Topia by filling out an application on their website. They pay tiered commissions up to 8% based on the sales volume you drive through your affiliate links.
8% Commissions
Cookie Length: –
Wilson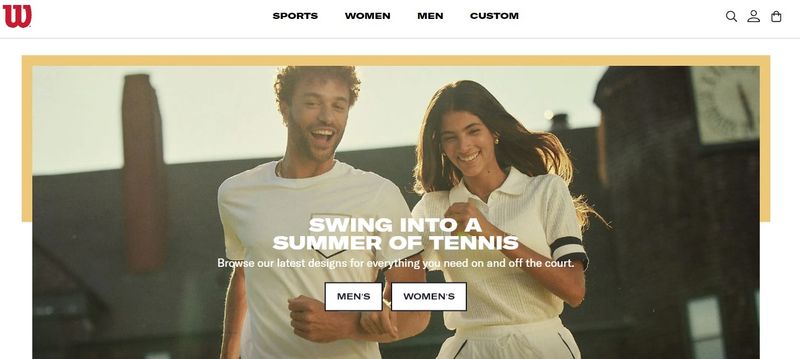 Wilson is the industry leader in providing premium tennis equipment (& many other sporting goods).
When it comes to tennis they have everything a professional or beginner may need such as:
Rackets
Strings
Bags
Balls, and much more.
They even have customizable products where you can tweak almost every imaginable aspect of the product like sizes, colors, logos, and carvings.
Their affiliate program is hosted on the Impact network and they accept almost all types of websites as long as your audience is relevant to the Wilson brand and products.
They provide tiered commissions of 8% and if you drive high traffic volumes you can negotiate even higher commission rates.
8% Commissions
30-Day Cookie Length
EleVen By Venus Williams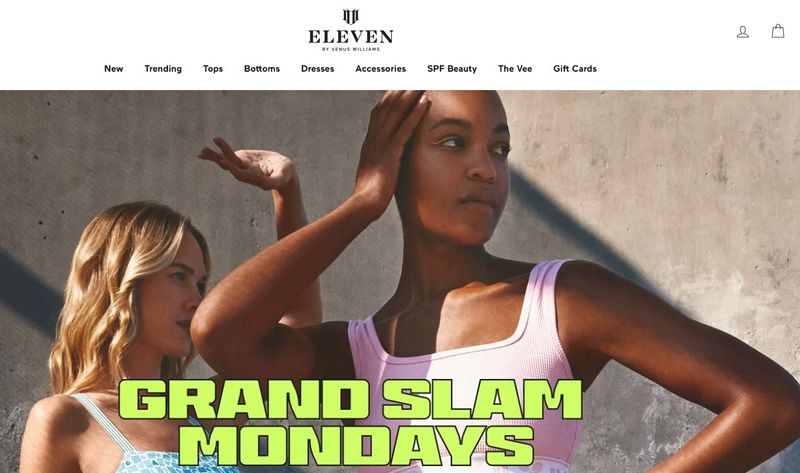 EleVen By Venus Williams is a lifestyle brand founded by the former number one tennis player; Venus Williams.
They sell fashionable tennis and everyday activewear for women that you can wear whether you're on the tennis court or not.
You could promote this brand if you're at some point creating content on your website about Venus Williams. If they're fans of Venus I can imagine they'd also be interested in buying her products.
EleVen offers starting commission rates of 12% and here too you have the ability to negotiate better rates if you perform well.
You also get a monthly newsletter with special promotions and codes you can use in your marketing campaigns.
12% Commissions
30-Day Cookie Length
Holabird Sports

Holabird Sports is a family-owned running shoe and racquet sports shop established in 1981.
Today they have a catalog of over 6,000 products from 126 brands and this will give you many options to promote as an affiliate.
Their affiliate program is on the CJ network and new affiliates have a grace period because they try to only keep active publishers in their program. This means you should have some traffic to your website first before you apply (so you have the chance to make sales).
The average order size is $95-$100 and they offer 5% commissions in their program. Both are a bit on the lower side, but you can still earn decent commissions when you choose the right products to promote.
5% Commissions
30-Day Cookie Length
Tennis-Point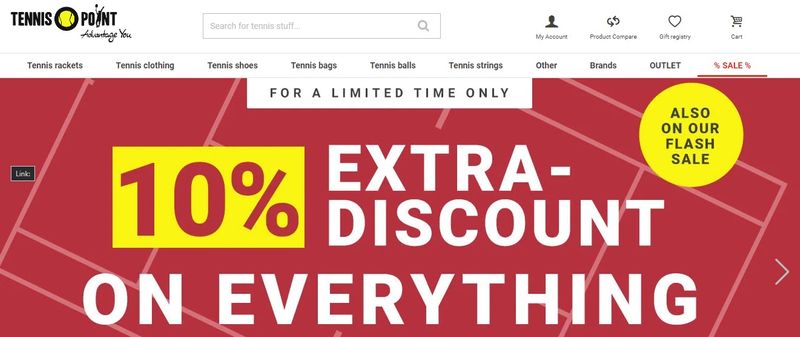 Tennis-Point is a UK-based online store that sells tennis rackets, shoes, clothing, & accessories.
They have products from all the major brands (Nike, Adidas, Wilson, Asics, etc) with a catalog of over 40,000 products.
All the employees in the customer service are highly motivated tennis experts and can offer great support to potential customers in your audience.
Their affiliate program is on the AWIN network and you can earn 9% commissions on all sales. You also get advertising material and support from affiliate managers if needed.
This is a great option if the majority of your audience resides in Europe.
9% Commissions
Cookie Length
Swing Vision
Swing Vision is software that uses artificial intelligence to provide scoring, stats, & line calling for tennis. All you need for this is your smartphone.
You can do a real-time analysis of a game by video recording with your smartphone or you can do a post-recording analysis by uploading game footage to the app.
Then artificial intelligence does the job of analyzing the game and provides you with stats.
The app has a 14-day free trial and then it costs $149.99/year to maintain a subscription.
You can earn a flat $30 per referral by becoming an affiliate and referring people to subscribe to this app.
Although, there is a big downside to this program that I dislike and it makes me question the motives of this brand.
It costs $500 to become an affiliate (but you do get pro access to the app).
I'd do some extensive research before you apply to this program and make sure to have enough traffic to cover the expenses in sales.
Commissions: $30 per referral
Cookie Length: –
Do It Tennis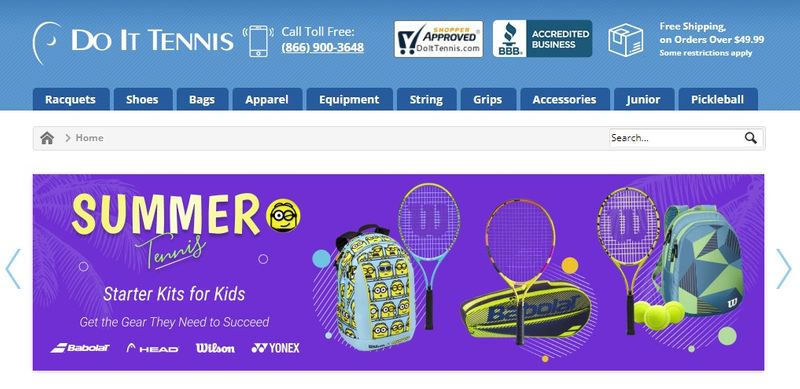 Do It Tennis is a provider of premium tennis gear such as racquets, accessories, bags, shoes & apparel.
They have been running online operations since March 2005 alongside with a brick-and-mortar shop.
Do It Tennis offers free shipping on all products so this is something you can use to your advantage when promoting these products.
You can find the affiliate program on the ShareASale network and it's free to join. Although, your site will be reviewed first before you get access to promotional material and your affiliate links.
They also have a fairly long 90-day cookie duration where you'll be credited for any sales made during that timeframe.
10% Commissions
90-Day Cookie Length
Pro Direct Tennis

Pro Direct Tennis sells tennis rackets, shoes, clothing & equipment for men, women, and kids. They offer worldwide shipping and next-day delivery for all products.
They also have catalogs for famous tennis players and what clothing and equipment they use in their game.
You can join their affiliate program on the AWIN network for free. But I have to say they offer quite low 3% commissions and just a 1-day cookie duration.
And if you intend to promote this brand to an email list, you should know that all email marketing must be approved by Pro Direct Tennis first (which is a bit weird).
3% Commissions
1-Day Cookie Length
SmashINN
SmashINN is a seller of tennis and paddle equipment and other racket sports.
They are part of the European TradeINN group that owns multiple online platforms for fashion, lifestyle, and sports. They deliver products to 20+ million customers in 190 countries and they ship 20,000 orders a day.
The product selection is just massive here and you are sure to find all kinds of tennis products for different target audiences.
You can become an affiliate for them by filling out a simple application on their website.
Unfortunately, they do not disclose commission rates or cookie lengths publicly.
Commissions: –
Cookie Length: –
Paragon Sports

Paragon Sports specializes in selling footwear and sports gear (including tennis) for men and women.
They were established in 1908 in New York City and today they have over 30,000 items, 300 different brands, and over 100 product categories.
If you want to become an affiliate for Paragon Sports, you can fill out an application on the Ascend platform. It's a good idea to have some traffic already coming to your website before you apply to make sure you get accepted.
The average order value here is $170 and they pay 8% commissions. This amounts roughly to ~$13.6 per sale for you.
Once you get accepted to Ascend, you get access to creative banners, affiliate managers, and tracking & reporting systems.
8% Commissions
7-Day Cookie Length
How To Start A Tennis Affiliate Website
I think tennis is a great niche to get into.
You can earn some worthwhile commissions by promoting tennis equipment and I don't there is overly tough competition either.
There are also many routes you could take here.
For example, you could do all kinds of product reviews and cover tips & tactics to use in games. Then there's the whole section on nutrition and workouts that you could talk about on your website.
Another idea would be to cover information about famous tennis players and what kind of equipment they use.
I also think YouTube could pair really well with a niche like this.
Now you already have some tennis affiliate program ideas so your next step would be to start your website or YouTube channel (if you haven't already) and start getting traffic & make money.
If you're new to affiliate marketing and need some guidance on how to do all this, I suggest you head over here;
Start building your tennis affiliate website for free.
It's the same platform where I learned to build my websites so I can highly recommend it.