Are you interested in earning money with table tennis affiliate programs?
While it may not seem like it, there's actually plenty of money to be made in the table tennis niche (as an affiliate), and the competition isn't too bad either.
Those tables and ball robots can in most cases cost multiple thousands, and it's something you can get a piece of in the form of affiliate commissions.
I've covered plenty of racquet sports this past week, and today I'd like to show you 7 table tennis affiliate programs you can start promoting on your blog, YouTube, or social media.
You can also check out the guide at the end of this post if you want to get started on building your own money-making table tennis website.
Let's get started.
Other racquet sport affiliate programs:
7 Table Tennis Affiliate Programs
Killerspin
Global Table Tennis
Table Tennis University
CounterStrike Table Tennis
Eastfield Co
Table Tennis Express
Power Pong
Killerspin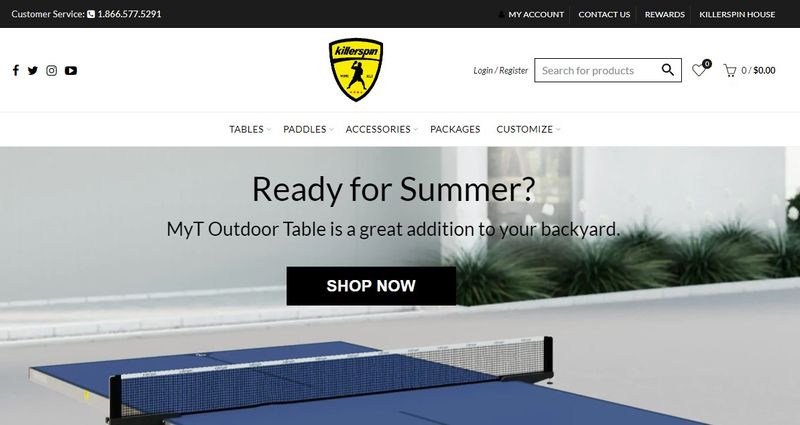 Killerspin is an online store that sells premium table tennis equipment such as indoor/outdoor tables, paddles, accessories, and even robots.
The store was established in 2001 by Robert Blackwell so they are a rather established brand already.
Their flagship products are definitely the tables as they have a lot of selection when it comes to them. What's also interesting is that you can customize your table to have a custom logo or graphics.
You even get free table tennis online lessons when you purchase a table.
The prices for these tables range between $599 and $4,449 so you can earn some outstanding high-ticket commissions by promoting them.
With the 5% starting commission rates, you could earn anything between $29.95 and $222.45 for making just one sale.
A small drawback is that Killerspin only ships products within the US & Canada, but you can still become an affiliate for them even if you don't live there. You're good as long as your target audience resides in either country.
You can become an affiliate for Killerspin by filling out an application over at the CJ Affiliate Network. It's free to join, and they'll provide you with the payments, tracking, & reporting.
5% Commissions
45-Day Cookie Length
Global Table Tennis
Global Table Tennis sells everything related to table tennis such as paddles, apparel, accessories, tables, & robots.
The store is UK-based, and it was born after a dad who played table tennis wanted to teach his son to play, but couldn't find the right equipment at reasonable prices.
They do ship products to many places worldwide, hence the name Global Table Tennis, but it's advised to contact them first especially if you order something large.
When it comes to promoting products, the tables and robots caught my eye here as well. They are in the price range of $500-$2,000 and you could earn worthwhile high-ticket commissions by promoting them.
Promoting Global Table Tennis is a great choice if your audience resides more in Europe.
You can become an affiliate for them by filling out a simple application on their website.
5% Commissions
Cookie Length: –
Table Tennis University
Table Tennis University is an online course for table tennis created by Tao Li (former Chinese national champion) and Tom Lodziak.
The course has 3 levels:
Level 1: Starter Skills (Free)
Level 2: Core Curriculum ($297)
Level 3: Mastery Modules ($197)
If I was in the table tennis niche, this course is something I'd definitely promote on my website or YouTube channel.
It's a digital product so it comes with great commission rates (20%), it solves a clear problem, and best of all; it comes with a free module.
The free module makes people so much more likely to sign up under your affiliate links, and once they see what the course is like, they are more likely to buy the rest of it.
With 20% commission rates, your cut for the level 2 modules is $59.40 per sale and for any level 3 sales, it's $39.40 per sale. If they buy both, it's $98.80 in total.
All the payments for affiliates are made through PayPal. You can start promoting this course by first enrolling in the free course and then sending an email to them.
Before you apply, you should have a bit of content on your website or YouTube to make sure you get accepted.
I highly recommend promoting this one.
20% Commissions
365-Day Cookie Length
CounterStrike Table Tennis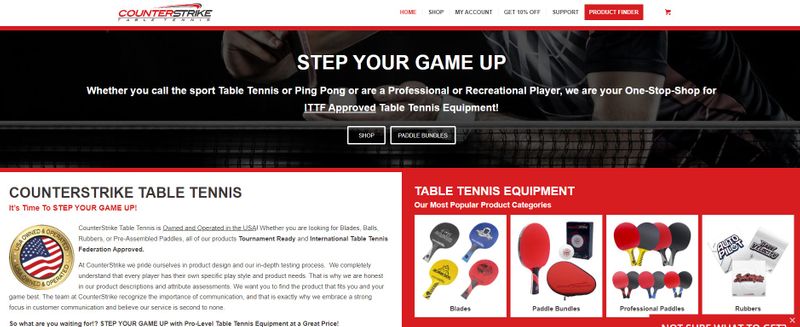 CounterStrike Table Tennis is a US-based online store selling table tennis equipment.
Even though they're selling some accessories and apparel, this store is heavily specializing in paddles and blades.
You can even build your own custom paddles by selecting from different blades and rubbers. They also offer to assemble it for you if you want.
The custom paddles and paddle bundles seem like decent choices to promote here.
What's also great is that they ship products to many places around the world so you can promote to different audiences.
Applying to their affiliate program happens on their website by filling out an application. They offer 7% commissions and a 24-hour cookie duration which is a bit short in my opinion.
7% Commissions
1-Day Cookie Length
Eastfield Co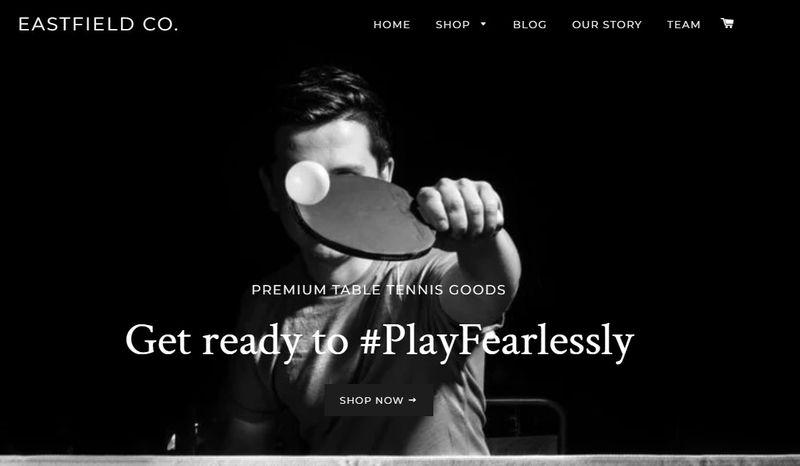 Eastfield Co was founded in 2014 in the UK, and they're offering table tennis sporting goods for fashion-conscious people.
They have a small but mean product selection in the following categories:
Bats
Blades
Rubbers
Clothing
Accessories
One great aspect is that they're offering free delivery on UK & USA orders, and the shipping fees for the other 26 European countries they ship to aren't bad either (£4.95).
Their affiliate program is hosted on the Refersion network which is responsible for the payments, tracking, & reporting for affiliates. They also offer support if you need it.
The 15% commission rates here are also surprisingly good (& higher) compared to many other table tennis brands. You don't see that often with physical products.
15% Commissions
7-Day Cookie Length
Table Tennis Express
Table Tennis Express is a Canadian online store selling table tennis equipment and gear.
They have all the goodies such as paddles, blades, rubbers, apparel, tables, robots, & accessories. They have an exceptionally large selection of products except for the paddles (only 8 to choose from).
The tables and robots section is always good to have (for affiliates) as it comes with the opportunity to earn high-ticket commissions.
Something worth noting is that they only ship within the US & Canada so make sure your audience resides there before you start promoting.
5% Commissions
Cookie Length: –
Power Pong
Power Pong sells table tennis robots, robot accessories, coaching, and paddles & blades.
There are currently 4 robots available and they were designed by Attila Malek who is a former national champion table tennis player.
The goal for these robots is to offer a fully realistic training experience, and just by looking at the control panel of these things, you can tell they have tons of features.
All these robots cost between $1,297 and $1,947 so there are definitely high-ticket commissions to be made here. Even just the accessories cost multiple hundreds.
They also ship to US, UK, NZ, AU, & Canada so you have a rather wide demographic available for you to promote.
The 10% commission rates are also great for physical products of this price caliber.
Although, one thing is bugging me and it's related to some contradictions in the affiliate page.
On the affiliate page, they are advertising how you can earn up to $300 commission for promoting these robots, but when you see the commission details page, the robots are excluded and have 0% commission rates.
It might be a mistake, so I'd contact them and ask before joining this affiliate program. Otherwise, it seems like a fantastic brand to promote.
10% Commissions
Cookie Length: –
How To Start A Table Tennis Affiliate Website (& Make Money)
If you already have an engaged audience waiting for you somewhere, you probably know what to do next with these above-mentioned affiliate programs.
But if you're entirely new to affiliate marketing, I'd like to show you how to get started on building your table tennis website so you can share your passion with the world (& make money).
I've been looking into racquet sports recently, and something they all seem to have in common is that they're not overly competitive (when it comes to affiliate websites).
Not only that, but they come with an engaged & passionate audience (who also spend a lot of money).
According to Statista, in 2021 the wholesale sales for table tennis equipment amounted to 65 million in the US. And this is just in the US.
With a simple affiliate website, you could definitely get a piece of that. I don't think it'd be too hard to establish a "go-to" source for all things related to table tennis.
You could cover topics like:
Beginner guides
Product reviews
Rules of the game
Tips & tactics to use
Nutrition & exercises
Creating a YouTube channel would also work well with a niche like table tennis. You could show people how the game works and also use it to drive traffic to your website.
Now, YouTube is optional, but it's something you could do eventually.
When it comes to money, along with affiliate offers, I'd add display ads to the website and perhaps do info products once you get visitors to your website.
If all this sounds interesting and you'd want a more detailed guide on how to do all this (successfully), then make sure to check this guide out;
Start your table tennis affiliate website for free.
The whole process is a lot easier than you think.